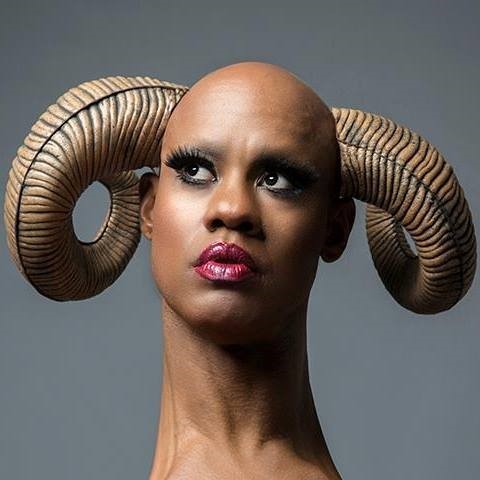 Kevin Aviance
Photo: Kevin Aviance Facebook
[Editor's note: This biography was created using fragments of Stephen Maglott's research and other source material]
Kevin Aviance was born Eric Snead in Richmond, Virginia, on June 22, 1968. He is a popular female impressionist who performs in clubs as a dancer and a musician, and has created a line of women's shoes. He became a member of the House of Aviance, a performance group and sponsor of House Balls in Washington DC and New York, acquiring their name in the process.
Kevin was raised in Richmond, Virginia, dedicating himself to the study of music and theater from a young age. His career as a performance artist and club personality began in Washington DC, continued in Miami and eventually landed him in New York City, the epicenter of the club and music scene, in 1989.
His movie roles include "Flawless" and the independent film "Punks" (written and directed by Ian Patrik Polk of "Noah's Arc" fame). In addition to his feature film work, he appeared in Madonna's 1994 "Secret" video and has made guest appearances on "The Tyra Banks Show" and "America's Next Top Model." His successful music ventures include several number ones on the Billboard Dance Chart and his track "Strut" being used as the theme song in the documentary series "Indie Sex."
On June 10, 2006, while leaving a popular gay bar in the East Village, Kevin was beaten and robbed in an anti-gay hate crime, suffering serious injuries. Even as he recovered, Kevin insisted on taking part in New York City's gay pride parade just a few weeks later. His assailants pleaded guilty and were sentenced to prison in 2007.
In December 2016, Billboard magazine ranked Kevin as the 93rd Greatest of All Time Top Dance Club Artists. He recently recorded a cover of Britney Spears' "Gimme More" for inclusion on "The East Village Mixtape 2: The Legends Ball."
We celebrate Kevin for his contributions to the arts and the world.