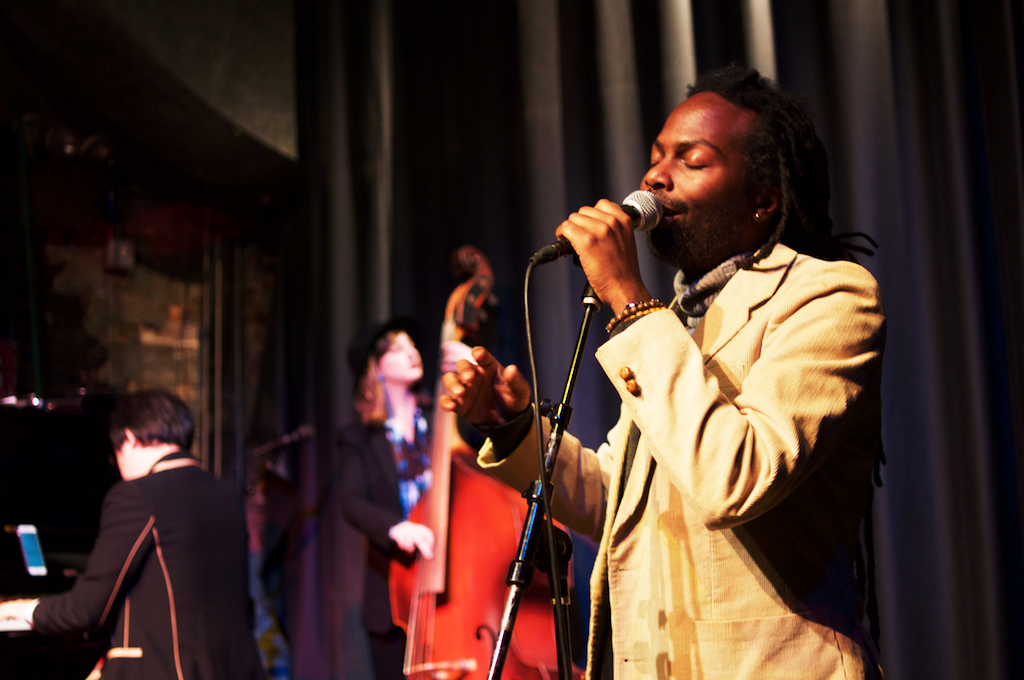 Nhojj
Nhojj was born on June 24, 1972. He is an extraordinary vocalist, composer, poet, advocate and writer who uses music, words and images to create change. His work focuses on inspiration, same gender love, and embracing oneself.
Born John Martinborough, Nhojj is the son of Gordon, a church minister, and Waveney, an elementary school principal. He has two older siblings, Esther and Sam. Nhojj attended Saint Margaret's Primary School and Saint Roses High School in Guyana, and Caribbean Union College High School in Trinidad, where he graduated in 1988.
Following high school, Nhojj enrolled at Caribbean Union College, where he obtained his Associate of Science degree in Natural Science. He followed that with an Associate of Applied Sciences degree in Radiologic Technology from Hostos Community College of the City University of New York. Nhojj graduated with honors, and while working nights and weekends as an X-Ray Technologist, earned his Bachelor of Business Administration degree in Economics from New York University (NYU).
While a student at NYU, Nhojj began to explore his sexuality. There were many free counseling sessions available to students and he took advantage of as many as his schedule would allow. It was during one storytelling group session that Nhojj came out. He was so afraid of the reaction he would get that he had flashbacks of being teased as a child in Guyana. He was sure that he'd be rejected by the group, but they accepted him and that gave him the courage to face his parents with the news and to stand with pride during the difficult years that would follow. His family loved him, but for many years his parents couldn't accept his sexual identity. He is thankful that now, even though they hold different beliefs, there is love and acceptance.
Nhojj started singing as a child in his father's church and continued through elementary and high school, even performing for the presidents of both Guyana and Trinidad. But he didn't start working on his debut album until after graduating from NYU. The process took two years and he released "I've Been Waiting for You" in 2001. He followed that with the OUTMusic Award-nominated "Someday Peace Love & Freedom" in 2003, and a gospel CD, "Coming Home," in 2005. The successful "Soul Comfort" was released in 2008, followed by the "Love Songs" (2009) and "Love is Love" (2013) compilations.
In 2015, his documentary film "Out on the Tracks" won the LGBTQ Just Film Award and was nominated for a Big Apple Film Festival award. It documents his OutVoice #1 album "Made To Love Him: Celebrating Love" recording sessions and affirms the LGBTQ community through same-gender versions of popular love songs spanning the last ten decades.
To date, Nhojj has released seven albums (five studio), more than a dozen singles, and an Unplugged Live DVD filmed by Emmy-nominated director Bill Cote. He has toured England, Germany, Canada, the United States and the Caribbean, and has shared stages with Norah Jones, Regina Belle, Taylor Dayne, Diana King and Staceyann Chin. Nhojj has won three OUTMusic awards, and received congratulations from Centric TV, Soul Sessions, and The Advocate.
Nhojj's most notable accomplishments are being the "first" in several respects. He was the first gay indie artist to reach #1 on the MTV Music chart with his same gender loving video, "Love." In late 2009, Nhojj opened doors when he became the first Black male to win an OUTMusic Award, when the Alliance of LGBT Recording Artists & Performers voted "Love" OUTStanding R&B/Soul Song of the Year. Despite the perceived and actual homophobia in communities of African and Caribbean descent, Nhojj has been uncompromising in his message, leading to high praise by black media groups like BET's Centric Soul Sessions, who praised him "…for delivering high quality Jazzy-Soul for nearly a decade…for being a Black history and a gay history first!"
Inspired by James Baldwin, Nhojj started writing essays in 2011. Baldwin's work was instrumental in helping him to accept and embrace himself, providing a mental framework for the singer/songwriter to build upon. "The words and ideas that Baldwin presented opened the closet doors and I was able to step into the sunlight," Nhojj says. His first piece, "Homosexuals…Dirty Words…and Me," was published in the Guyanese newspaper Stabroek News, and "LGBT Warriors of the Caribbean" was published in the Huffington Post.
Musically, he is inspired by artists like Sade, Maxwell, Bob Marley and Michael Jackson. Marley wanted to make the world better and Nhojj shares that desire. Maxwell and Michael Jackson both have soft high voices and Nhojj shares that sensitive male vocalist trait. He has a natural affinity for relaxed, mellow, smooth vocals and beautiful harmonies. Sade is the embodiment of those qualities.
What attracted Nhojj to music was not only his desire to sing but also for creative freedom. He loves singing and playing his guitar, enjoys telling stories with music, and showing how much we have in common, regardless of how different we may seem. "I want to make the world better…one song at a time," Nhojj says, a statement that underscores a classic soul tradition of having a "message in the music."
The Black and SGL/LGBTQ community is very important to Nhojj. He raised over $1,500 for Guyana's Human Rights Organization SASOD (Society Against Sexual Orientation Discrimination) to build an LGBT Center in Guyana and to help celebrate their 10-year anniversary. He regularly donates performances to Lifebeat Hearts & Voices, a program which produces concerts for people living with HIV/AIDS. He wrote the theme song for the documentary "You Are Not Alone," a film that sheds light on depression in Black gay men. His music has been featured in the LGBTQ films "Finding Me," "Finding Me Truth," "Blueprint," and "Drama Queenz." Nhojj's music video "Amazing Grace" supports marriage equality, and he uses all his videos to show positive images of men loving men.
Offstage, Nhojj spends a lot of time alone, meditating and enjoying time in nature. He loves reading; his favorite genres are personal transformation and science fiction by Black authors like N.K. Jemisin, Octavia E. Butler and Nnedi Okorafor. He also likes watching foreign and independent movies on Netflix, and listening to music on Spotify and Rdio. Nhojj is a member of the SGL men's group, Adodi.
Self-evolution is important to Nhojj and embracing oneself—flaws as well as the beauty. He believes everyone has gifts and talents and beauty within them; it's just a matter of each person recognizing and accepting their own beauty as unique as it may be. He states, "That is where our power lies."
We thank Nhojj for the beauty of his inspiring music, his activism, and the many contributions to the SGL/LGBTQ community.
You can learn more about Nhojj and his music at www.nhojj.com.