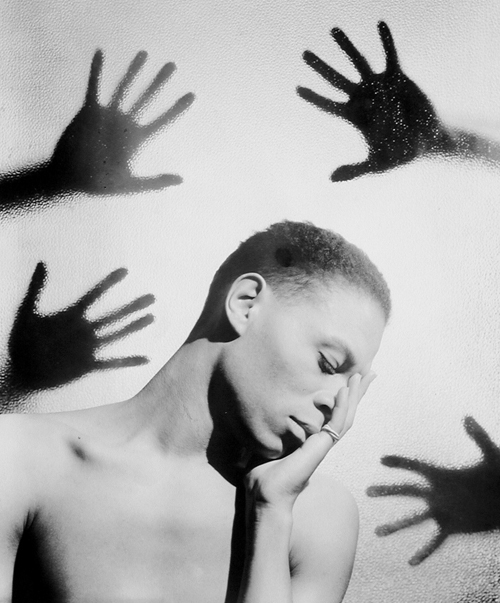 Jimmy Daniels
Photo by George Platt Lynes
Jimmie Daniels died on June 29, 1984. He was an acclaimed cabaret performer, actor, model, nightclub host and owner. Daniels' music primarily included the songs of the Gershwins, Rodgers and Hart, Cole Porter, and Harold Arlen. He worked in New York, Paris, London and Monaco.
James Lesley Daniels was born in Laredo, Texas, in 1908, but grew up in Little Rock, Arkansas. In the 1920s, he left Arkansas for New York at the height of the Harlem Renaissance to attend Bird's Business College in the Bronx, where he learned to be a secretary. He returned to Little Rock and was hired by an insurance company, but grew tired of office work and came back to New York in 1928 to pursue a career on the stage.
Daniels landed a role in Katherine Cornell's Broadway show, "Dishonored Lady," and performed in local theater, including the Chamberlain Brown Stock Company in Mount Vernon, New York. He would soon transition from acting to music, landing his first professional singing gig at Harlem's Hot Cha nightclub.
During much of the early and mid-1930s, Daniels toured Europe with performances at venues that included the Summer Sporting Club in Monte Carlo, Ciro's in London, and Le Reubon Blue in Paris. He also sponsored a series of parties at the Bronze Studio and was the headlining performer at the Sunday night suppers at Ship Grill in New York.
Around 1934, Daniels met and started a relationship with prominent architect Phillip Johnson, who was White and seven years his senior. The pairing would only last a year, with Johnson recalling years later that "a terrible man stole him away—who had better sex with him, I gather. But I was naughty. I went to Europe and I would never think of taking Jimmie along." Daniels' lovers would eventually include Kenneth Macpherson, a Scottish novelist, photographer and filmmaker who was bisexual. Macpherson's wife, the wealthy Winifred Elliman (known as Bryher in the literary world), was a lesbian whose wealth supported Macpherson, who in turn helped support Daniels. It was Elliman who commissioned Black, gay artist Richmond Barthé to sculpt a bust of Daniels.
Before entering military service and performing for troops in the early 1940s, Daniels opened the Jimmie Daniels Nightclub on West 116th Street in Harlem. At the time, the "New Yorker" gave a back-handed compliment to the club bearing his name by calling it a "model of dignity and respectability" by "Harlem standards." Following the military, Daniels expanded his New York musical influence in 1950 when he became host at the Bon Soir in Greenwich Village, a club where he would be employed for ten years. The Bon Soir was a venue that attracted a mixed clientele—Black, White, straight, gay. It was also during this time that Daniels shared a home with fashion designer Rex Madsen.
Daniels was immensely popular at Bon Soir. Regular Grant Sprandling said, "If you didn't know where you were going, you would miss the entrance to the small supper club down a steep staircase below street level protected by an unobtrusive black awning. The bar to the right as you entered was awash with handsome gentleman in grey flannel suites, the rage in the 50s…brilliantly handsome. Jimmie cast a spell that made those of us who had just arrived at the club feel we were, for a while part of the famous and glamorous. The ambiance of the Bon Soir was a balance between elegant and intimate, risqué and respectable."
Business at Bon Soir suffered after Daniels was let go by management, but he refused their offers to be re-hired. Instead he began hosting a series of parties at the L'Etang Supper Club in Downtown Manhattan. Daniels also began to visit Cherry Grove on Fire Island, where he attempted to buy a cottage in the 1960s. According to "Cherry Grove, Fire Island: Sixty Years in America's First Gay and Lesbian Town" by Esther Newton, prominent property owner Jimmy Merry hired Daniels to manage his fledgling Tiffany Room (now the Ice Palace). One of Merry's employees recalled that a cross was burned on the lawn of Daniels' home and he dropped plans to live there. Daniels would also provide entertainment at the Fire Island Pines' Blue Whale Bar.
In his later years, Daniels continued to perform at parties and clubs such as Jan Wallman's Restaurant in Greenwich Village, and often lived with and cared for his oldest, dearest friend, the legendary Alberta Hunter. Daniels suffered a stroke and died at St. Clare's Hospital in Manhattan, just a few days after performing at the Kool Jazz Festival's "'Evening of the Music of Harold Arlen" at Carnegie Hall. He was 76.
We remember the legacy of Jimmie Daniels and his legendary contributions to the world of entertainment.