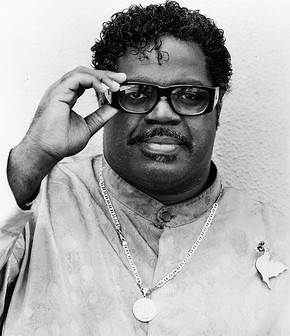 Raymond Myles
Raymond Myles was born on July 14, 1958 (to October 11, 1998). Known as the "Little Richard of Gospel," he was a performer, music teacher and recording artist acknowledged by his New Orleans' musical peers as perhaps the greatest gospel talent of his generation. Myles and his choir, the Raymond Anthony Myles Singers (RAMS), developed a huge following in New Orleans and toured extensively in the southern United States and in Europe.
Raymond Anthony Myles was born the ninth of ten children in New Orleans, Louisiana, into a family that was described as poor, but strong. Growing up in the church, he was anointed as a child prodigy by Mahalia Jackson when he was five years old (and later sung at her funeral). Seven years later, he recorded a single, "Prayer from a 12-Year-Old Boy," which called for world peace and an end to the Vietnam War. It became a hit in the southern United States. According to those who knew Myles, he was bullied endlessly by his brothers. "They tried to beat the gay out of me," he once said.
"Billboard" magazine writer Leo Sacks, who saw Myles perform at the New Orleans Jazz & Heritage Festival in 1982, eventually offered to produce Myles' first full-length studio album of original material. Reviews for 1995's "A Taste of Heaven" ranged from "its glories runneth over" and "instant chills" to "earth-moving power" and "the masses should be made aware of what New Orleans has known for years: Raymond Anthony Miles is a major talent worthy of a national stage."
Despite Myles' undeniable talent, every major gospel label rejected "A Taste of Heaven." Sacks recalls, "In their view, the perception that he was gay was a liability too great to overcome with fans of evangelical gospel. The burden fell upon my shoulders, as Raymond's producer, to break this heartbreaking news." Sacks says that Myles responded, "But don't they know…don't they know that I'm talented? If I'm a Christian, doesn't that make me a child of God, too?"
Sacks, who worked on a documentary about Myles, contends his friend's career was held back by Myles' sexuality, and the rejection led him to cruise the streets for sex and pick up other dangerous habits. Sacks adds that Myles was not accepted by church hard-liners and was prevented from raising his two children. Daughter Carmen Daniels said, "I'm still devastated that I didn't get to have the relationship with him that I always wanted."
Myles was also a music teacher at Abramson High School in New Orleans, and mentor to troubled students. Eunice Love, who sang with the RAMS, credited him with saving her life when she was a suicidal teenager.
His final album, "Heaven Is the Place," was recorded live at Fairview Baptist Church for Allen Toussaint's NYNO label. "Billboard" called it "a collection of sparkling originals and re-inventions of gospel standards," and observers felt it would be the recording that put Myles into superstardom. The RAMS traveled to Europe, and played three weeks of shows at the Theater at Madison Square Garden put together by Harry Connick Jr.
On October 11, 1998, just hours after playing the Ninth Ward's Free Music Festival, Myles was found lying on his back on a street corner, mortally wounded by a gunshot wound to the heart. Authorities believe he was shot in his Lincoln Navigator during what they characterized as a carjacking, yet also said that Myles knew his killer. Prosecutors had initially sought the death penalty against his alleged assailant, but the suspect took a plea and was convicted of being an accessory to murder. Myles was just 41 years old.
In the days and weeks following Myles' death, there was a huge outpouring from the New Orleans community. A benefit memorial at Tipitina's French Quarter was followed by more than 7,000 mourners turning out to view Myles' body lying in state at the Municipal Auditorium. Over 4,000 people filled the Greater St. Stephen Full Gospel Baptist Church for his funeral, before he was laid to rest at Providence Memorial Park. His tombstone inscription reads "Maestro."
On the issue of Myles' self-acceptance, the spoken introduction to a track on "A Taste of Heaven" declares: "You know, I've discovered that some of y'all are so unhappy with yourselves. Too many of you are trying to keep up with the Joneses instead of just being who you are…And you know what else I found out? I found out, my friends, that before you can learn to love anybody else, you've got to first learn to love yourself."
We remember Raymond Anthony Miles for his immeasurable contributions to the world of music, and for his support and love for our community.