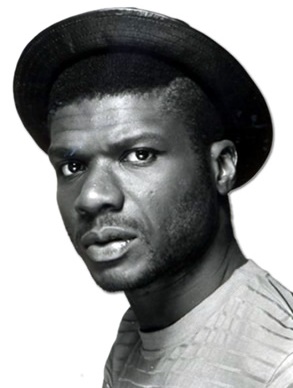 Larry Levan
Larry Levan was born on July 20, 1954 (to November 8, 1992). He was a legendary disc jockey, producer and remixer most known for his time at New York City's Paradise Garage nightclub.
Born Lawrence Philpot to unmarried parents Lawrence Philpot and Minnie Levan in Brooklyn, New York, Levan excelled in school despite a congenital heart condition and asthma. He was bullied while attending Erasmus High School, however, due in part to his orange dyed hair and flamboyant personality. He dropped out of high school and became a dressmaker in Harlem's ball culture.
It was during this time that Levan met fellow designer and lifelong friend Frankie Knuckles, who was a Black gay man like Levan. Levan was introduced to the underground downtown dance scene by boyfriend David Mancuso, who ran The Loft, a members-only dance club, out of his home, complete with non-alcoholic drinks, a state-of-the art sound system, and a mostly white, gay clientele he wanted to expose to the Black dance culture he enjoyed so much.
Levan and Knuckles got their start as DJs at the Continental Baths in 1973. Of his first night during Memorial Day weekend, Levan recalled, "I was doing lights and the DJ walked out. The manager who was like, a six foot three inches, Cuban guy, said, 'You're going to play records tonight!' I told him that I didn't have any records. 'You've got five hours!'" Levan managed to gather up some vinyl, spin records that night, and stay on as DJ at the Continental Baths for a year. Levan's style was greatly influenced by that of dance music pioneer Nicky Siano of The Gallery, one of Levan's romantic partners.
In 1977, at the height of the disco era, Levan started a residency at the Paradise Garage in Greenwich Village, where he attracted an eclectic mix of Black, Latino and punk patrons. Levan's reputation as a groundbreaking DJ quickly spread, with WBLS-FM host Frankie Crocker even mentioning Paradise Garage on the air and building his playlists around Levan's sets. Levan achieved cult status, and his sets became affectionately known as "Saturday Mass."
Even as Paradise Garage's popularity swelled in the 1980s, Levan became an equally prolific producer, as well as a remixer of hits like Gwen Guthrie's "Ain't Nothin' Goin' On but the Rent," "Heartbeat" by Taana Gardner, and "Don't Make Me Wait" by Levan's own group, the Peech Boys. It was also during the time that Levan became hooked on PCP and heroin, and many of his friends were succumbing to AIDS. By 1987, the club would shut its doors and its owner would die of AIDS-related complications. After DJing at Choice in the East Village and unable to find longtime work elsewhere, Levan turned to selling his valuable record collection to support his drug habit.
In the final years of his life, Levan enjoyed a renewed popularity overseas, where he spent three months at London's Ministry of Sound remixing, producing and fine tuning the club's sound system. He toured Japan to critical acclaim in 1992, and entered rehab to kick his heroin habit.
Following injuries sustained in Japan, Levan checked himself into the hospital when he returned to New York. He was released to the care of his mother but had to be re-admitted with hemorrhoid symptoms. Levan never recovered and died on November 8, 1992 of heart failure caused by endocarditis.
In 2004, Levan was inducted into the Dance Music Hall of Fame for his outstanding achievement as a DJ. In 2014, a petition was started to rename King Street, the site of the former Paradise Garage, "Larry Levan Way."
For more on Levan's extraordinary career, visit Red Bull Music Academy Daily.
We remember Larry Levan for his pioneering work as a DJ, and his contributions to the club scene, dance music, and the LGBTQ community.