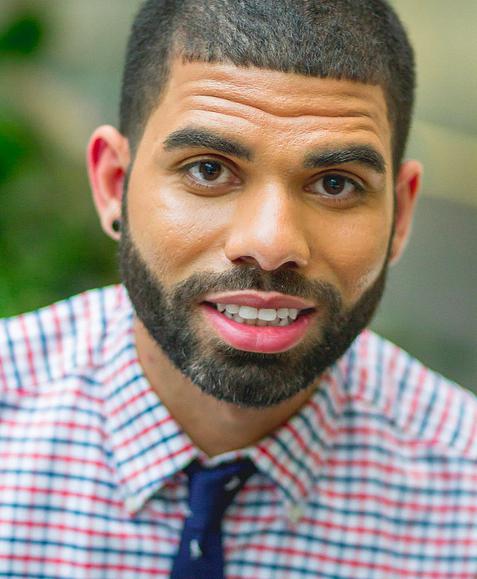 Dr. Nathaniel Langford Currie
Dr. Nathaniel Langford Currie was born on July 25, 1982. He is a clinical social worker, educator, social justice advocate, and humanitarian whose resilience and determination to make a difference in the lives of others has served to inspire many who know him and those who have benefited from his work.
Nathaniel Langford Currie was born in Manchester, New Hampshire, to Nathaniel Forrest Nalley, a construction worker, and his mother, Deeanne Dearborn, a diner cook and waitress. He has multiple biological and adopted siblings, including well-known jazz/blues singer, educator, and actress Kim Nalley; Chance Nalley, a 2015 recipient of the Presidential Award for Excellence in Mathematics and Science Teaching; and photographer Kalley Mahilko.
At the age of three, Nathaniel was removed from his teenage mother's custody and placed in foster care. He spent four years in foster care in four different homes that took him from New Hampshire to California and back—all before the age of seven. Nathaniel was lovingly adopted by Myrian Currie-Bergeron on May 10, 1990. While the transition period from foster care to permanency was often difficult for him, Nathaniel excelled in art, music (he played the trumpet), geography, history, and outdoor activities such as fishing, adventure camping, and kayaking. He attended Amherst Middle School and Souhegan Cooperative High School, both in Amherst, New Hampshire.
As a gay youth, Nathaniel felt the need to bury his same-gender attractions and desires. He says he watched his every move so he didn't come off as gay or feminine, always conscious of exactly what he was doing, or equally important, not doing. He dated girls because he thought he should, but always had a curiosity for same-gender romance, sex, and companionship. He adds, "It wasn't until my young adulthood when these desires were fulfilled that I found myself capable of experiencing them with women." He often wondered if he had been free from the oppression of a dominate heteronormative culture, how he would have responded, but states, "Coming out was not difficult for me."
A family member read some entries he had written in a journal and showed them to his mother, who was more disgusted by that person's invasion of privacy than the contents of the journal itself. When his mother asked him about the journal entry, Nathaniel told her, "I think I am bisexual." She made it very easy for him, allowing him to tell his siblings when he was ready, and not questioning him when he continued to date girls. Eventually all of Nathaniel's romantic interests were male, and he says his mother always showed interest in his dating life. "I know I am lucky to have had a parent that didn't put me through any extra trauma or distress when I was going through something so personal and often scary. So…thanks mom!"
Nathaniel went on to attend Plymouth State University, in Plymouth, New Hampshire, where he obtained his Bachelor of Science Degree in Social Work. As an undergraduate, he discovered his love for community and humanitarian work, and got involved in university programs and projects such as the Student Senate, Campus Compact, Habitat for Humanity, and the board of the New Hampshire chapter of the National Association of Social Workers (NASW).
After graduation, Nathaniel left New Hampshire for San Diego, California, where he spent three years working in agencies focused on child and adolescent mentoring, behavioral intervention, and family cohesion. He was accepted to Simmons College School of Social Work in Boston, Massachusetts, in April of 2008, and he graduated in May of 2011. With his Master of Social Work degree in hand, Nathaniel moved to Washington, DC, accepting a social worker position at DC's child and family service agency, and a Psychological Associate position at Basics Group Practice in Prince George's County, Maryland.
Nathaniel went on to hold clinical positions with Johns Hopkins Medicine and Us Helping Us People into Living, and clinical contracting posts for a number of agencies, including the Arlington County Division of Child & Family Services, DC Care, and the Wanda Alston Foundation. At the doctoral program at the University of Pennsylvania, in Philadelphia, his dissertation research examined patient experience in the systematic introduction of PrEP in primary care.
While talking about his work, Nathaniel reflects on his mission to foster a healing community of diversity, strength, and well-being that is socially relevant and respectful, grounded in health and scholarship, and that promotes the social prosperity of individuals and the communities in which they live.
Nathaniel approaches his life's work with determination and passion, saying "I always knew I was going to be a social worker. In high school I knew I wanted to help other people like me… men, gay men, Black men, adopted youth, people looking for guidance. Social work was just a great fit for me all along. I remember my college advisor once saying to me when I questioned if I should continue with majoring in social work or switch to something else, 'Nathan, if you flip to social worker in the dictionary, there would be a picture of you next to the definition.'" Nathaniel never forgot that, and took it as a sign that he was on the right path.
Nathaniel's work focuses on men's health and wellness, but he says that "my interest is in community, particularly the Black community…sometimes that work focuses on youth, sometime male, sometime gay/queer, sometimes it reveals itself as my work with families. My interest in the Black community is strong and steadfast…I believe that the Black community must be responsible as a collected effort in alleviating our ills and building our futures. If we sit around waiting for an outside source to come to the rescue we will be waiting a long time."
He believes in the adage, "together we shall rise" to describe his perspective, and adds, "It takes a village to raise a child, yes, but it also takes a village to care for their elders, to support their grieving and unwell, to keep their men out of prisons, and to make education available throughout the lifespan. It is my hope that my work both daily and cumulatively inspires and impacts the Black community—our community."
Much of Nathaniel's work involves those who are impacted and affected by HIV. He speaks eloquently of his experience as a clinician, explaining that it is not just the actual diagnosis of HIV that causes such emotional distress for his patients, but the community stigma of having HIV, and the social and medical history of HIV.
"Many of my patients and friends tell me that they have experienced rejection in dating and in their families due to fear or lack of education on the subject," he says. "Other patients tell me that they would rather not know their status than to be rejected or talked about. HIV is no longer a death sentence, but for so many it can feel like a social or romantic death sentence. It is NOT!"
His work in HIV is so fulfilling because he can help his clients, who are often his peers, see that there is so much to life after a diagnosis, adding, "You cannot talk about the Black community without addressing HIV, that is how I first became interested in the area…it was the clients and friends I made in the field that keep me engaged and passionate daily."
Nathaniel moved from Baltimore to New York City earlier this year. He enjoys travel, humanitarian work, mountain biking, kayaking, and reading, and is an avid collector of art, pottery, and spices during his travels. Nathaniel is also an adoring uncle and godparent.
You can learn more about Nathaniel Currie's inspiring work at www.nathanielcurrie.com.
We thank Dr. Nathaniel Currie for his numerous contributions to social work, HIV/AIDS education, and social justice, and for his support of our community.