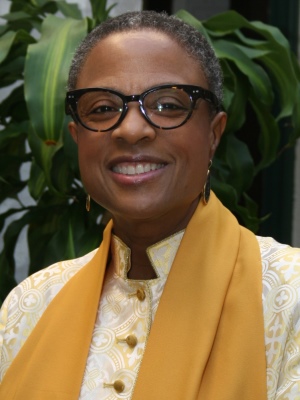 Rev. Dr. Yvette Flunder
Reverend Dr. Yvette Flunder was born July 29, 1955. She is a respected cleric, writer, lecturer, gospel performer, social justice advocate, and community builder.
Yvette Adrienne Flunder was born in San Francisco, California, to John (Buddy) Conner, who was a professional jazz and blues singer, and her mother, Ruth Ella Langston, an ordained minister. She attended high school at the Church of God in Christ's Saints Academy in Lexington, Mississippi, graduating in 1969. She recounts an insulated religious life with all activities and ministries focused on the church, where she served as a teenage evangelist missionary.
As a young adult, she returned to San Francisco and attended local colleges, earning a degree from the College of San Mateo. She moved on to the Pacific School of Religion in Berkeley, California, where she earned a degree in Ministry Studies in 1995 and an Master's of Arts degree in Christian Ethics in 1997. This began a career in social justice ministry that continues in her ministerial work today.
Bishop Flunder is a third-generation preacher with roots in the Church of God in Christ (COGIC). She experienced a self-imposed exile from COGIC as she was conscious that being same-gender loving and an active member of her denomination would cause conflict. During her sabbatical, she continued working toward social justice with careers providing services for the elderly and those living with HIV/AIDS. She found herself opening to new theologies as she knew that she was in a right relationship with God—just not the Church of God in Christ. This led her to say "yes" when Bishop Walter Hawkins of Love Center Ministries asked her to come and preach for them. She joined their church and remained a member for nearly ten years.
Yvette was later ordained by Bishop Hawkins and went on to serve as Associate Pastor and administrator for the Oakland-based Love Center Ministries. In 1984, she began performing and recording with Walter Hawkins and the Family and the Love Center Choir. Other gospel music recordings include "There's Power" with the City of Refuge Praise Ensemble, "We Won't Be Silent Anymore" with The Fellowship Mass Choir, and "How Sweet the Sound," with the Grammy Award-winning, classical vocal ensemble Chanticleer.
Bishop Flunder remained with Love Center until she joined fifteen charter members to found the Oakland, California-based City of Refuge United Church of Christ in 1991. They wanted to unite a gospel ministry with a social ministry through a message of action. City of Refuge United Church of Christ continues to be a thriving inner-city congregation that has experienced steady numerical and spiritual growth.
Bishop Flunder is also an ordained Minister of the United Church of Christ and the Metropolitan Community Church, and a graduate of the Ministry Studies and Master of Arts programs at the Pacific School of Religion in Berkeley, California. She received her Doctor of Ministry degree from San Francisco Theological Seminary in San Anselmo, California.
In June 2003, Bishop Yvette Flunder was consecrated Presiding Bishop of The Fellowship of Affirming Ministries (TFAM), a multi-denominational fellowship of primarily African American Christian leaders and laity representing churches and faith-based organizations from all parts of the United States, Mexico, Asia, and Africa. TFAM is in covenantal relationship with The United Church of Christ, The Metropolitan Community Church, and The Centers for Spiritual Living.
Bishop Flunder is highly respected for her activism and measured response to the growing HIV/AIDS crisis in America and throughout the world. Responding to the needs of the AIDS epidemic, Bishop Flunder and her staff have provided housing, direct services, education, and training for persons affected by HIV/AIDS in the Bay Area, throughout the USA, in Mexico, and in three countries in Africa. Programs have included substance abuse intervention, transitional housing for homeless youth, mentorship programs, and green justice work.
Bishop Flunder is much sought after as a preacher, educator, conference speaker, and singer. She has been a lecturer, adjunct professor, and speaker at numerous seminaries, including Lancaster Theological Seminary, Duke, Drew, Eden, Yale, Auburn, Howard, Brite Divinity, and New York Theological Seminary. She is published in several periodicals and edited volumes, and is the author of "Where the Edge Gathers: A Theology and Homiletic of Radical Inclusion" (Pilgrim Press, 2005).
Bishop Flunder is a former trustee and an adjunct professor at Pacific School of Religion, Berkeley California, and an active voice for the Human Rights Campaign and the National Black Justice Coalition. She has served as past president of the board of directors for the Northern California Nevada Conference of the United Church of Christ; as a board member of the Shanti Project; as chair of the San Francisco Inter-religious Coalition on AIDS and the Black Adoption Placement and Research Center; as a founding member of the African American Interfaith Alliance on AIDS; as a member of the Alameda County Ryan White Consortium, the San Francisco HIV/AIDS Planning and Prevention Council, and California Ryan White Working Group; and as a consultant to the Congressional Black Caucus Health Brain Trust. She is a member of the Presidential Advisory Council on HIV/AIDS, and a board member of Demos.
In December 2014, Bishop Flunder served as the keynote speaker for the White House observation of the 26th anniversary of World AIDS Day. She was also named the 2015 Spiritual Hero in the January edition of the "Science of Mind," produced by the Centers for Spiritual Living. True to her call, she continues to be a prophetic and progressive Christian voice and leader in the movement of justice for all of God's children—from the streets of Oakland to the halls of national government and international shores.
Bishop Flunder was invited to Yale Divinity School as the prestigious Hoskins Visitor for 2016-2017. She was portrayed by actress Phylicia Rashad in the Dustin Lance Black ABC mini-series, "When We Rise."
Bishop Flunder's proudest accomplishments include her three decades of partnership in ministry and life with Shirley A. Miller (also a renowned gospel music artist and "mother" of City of Refuge), and as a co-parent of two beautiful daughters and two magnificent grandsons.
Her plans for the future include a continued expansion of City of Refuge and the Green Justice project, which allows for community members to have access to fruits and vegetables, and work against obesity and diabetes.
Over the years, Reverend Dr. Yvette Flunder has received numerous awards and honors, including an Honorary Doctorate from Eden Theological Seminary. She believes in the value of a theological education and how it helped her emerge from a traditional theological background and provided her with an outlet to articulate her religious and spiritual journey.
Beyond her proficient accomplishments, Bishop Yvette Flunder is a prophetic visionary, gifted with a golden voice that channels Mahalia Jackson in soul shaking vocal artistry. When it comes to authentic gospel, she has shown the ability to connect with audiences. Her ministry reveals her divine calling as she strives to heal hearts and replenished followers spiritually. You can hear Bishop Flunder here.
We thank Rev. Dr. Bishop Flunder for her passionate, profound gifts that have helped recalibrate the moral compass of religion to point to a more just, faithful and genuinely beloved community.