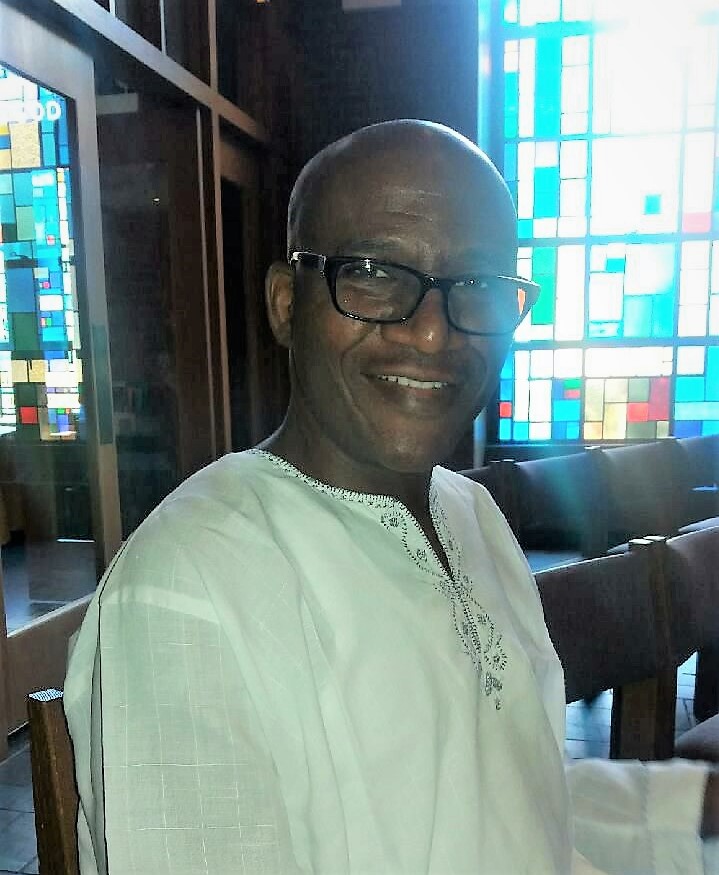 John Adewoye
John Adewoye was born on July 30, 1959. He is a respected chaplain and a knowledgeable human rights activist in the United States serving the needs of African LGBTI immigrants seeking asylum or refuge from oppression and persecution.
John Ademola Adewoye was born in Oro, in Nigeria's Kwara State, to the family of Michael and Princes Agnes Oladiyun Adewoye. He is the last of four surviving children, and has two sisters and a brother. His father was a lawn man, while his mother was an entrepreneur, trading in cooking oil. He was reared in a staunch Catholic family, and attended mass almost daily.
John says his childhood was filled with "thrilling experiences," but a trauma for his mother. He loved to experiment with cross dressing, a mystery she never quite understood. John says he outgrew that obsession, but the memory of that experience gave him courage to identify and honor his true nature when it was appropriate. When he was a child, he was interested in becoming a nun, a chapter of his life journey that his father recounted during his ordination reception.
John's parents read and wrote Yoruba, a classic African language spoken by around 30 million people. They were very determined to have their children receive a western education. John attended Saint Andrew Catholic Primary School, in Oro, from 1966 to 1972, and went on to attend high school at Our Lady and Saint Kizito Seminary in Ede, Osun State, from 1973 to 1979.
Education was of great importance to the Adewoye family, but school was a cruel place for John as a young gay boy growing up in Africa; he fought regularly due to name calling and bullying. But by his final year in elementary school, he made up his mind not to go any further, and declined high school just to avoid the continuing ordeal. After he grounded himself for a year at home, he was reminded by his grand aunt of his childhood aspiration for theological studies.
When the seminary high school entrance form was promoted in his church, John's father was proud and filled with the anticipation of having a son who would be a priest, and he was excited because he thought the school would be free of bullying. But it turns out the difference was minimal, and John continued to be called names, but never challenged to physical fighting. By the time he hit puberty in high school, he had boyfriends and enjoyed sexual activity that was both exciting and new.
John would later be expelled in his final year of high school after he participated in a revolt against the school principal who, by all standards, was different from the fatherly principal he had in his first year. That experience seemed to be the beginning of his activism.
John attended College at Saints Peter and Paul, in the Bodija district in Ibadan, Oyo State; the school is a Nigerian affiliate of the Urban University of Rome, Italy. He then studied philosophy and theology for seven years, and graduated with the United States equivalent of a Masters of Divinity degree. When he moved to the U.S., he worked hard to obtain his Masters of Social Work degree from Chicago State University in 2006.
John has served as a hospital chaplain at the University of Chicago Medical Center since October 2000. In his 17 years of service, he has provided emotional support to hospitalized patients and their families, respecting each patient's faith background and utilizing his nurturing and spiritual encouragement to reunite patients with their families and their communities.
John Adewoye also works with LGBTI asylum seekers in his free time. He founded the Center for Integration and Courageous Living to serve asylum seekers in the LGBTI community effectively. He is also the co-founder and current leader of Chicago LGBTI Asylum Support Partners, and has provided psychosocial support for asylum seekers for the past ten years.
LGBTI asylum seekers are those looking for safe haven from legally homophobic countries, including Russia, and many countries in Africa and the Middle East. Asylum seekers fleeing persecution often go to safe countries without knowing anyone there. John has welcomed many and provided them with accommodations and essentials at his home. He has also connects people with pro bono lawyers and other services, assisting some to gain freedom from immigration detentions in the state of Illinois.
As a man of faith and compassion, John Adewoye loves serving humanity, and is moved by Jesus' statement: "When you do it to the least of these people, you do it to me." John sees this as an empowering affirmation that he believes "is about human rights." John looks to the Black community as "the builders of our world, especially through slavery, and as the earth's original peoples, we are the very cradle of humanity." But he adds, "Yet the most oppressed group of people worldwide are our creator's greatest gift: the people of Africa."
According to John Adewoye, "Of great importance to me is the plight of the SGL/LGBTI community, and how to change things for better." Hence, he founded the Center for Integration and Courageous Living to create change and confront homophobes through social media and other means of communication. John is currently the executive director of the Center, as well as leader of Chicago Asylum Support Partners (CLASP), and chair of the board of directors of the Queer Alliance.
John also volunteers with Gay Liberation Network Chicago, and has traveled to Springfield, Illinois with Equality Illinois, and to Washington, DC, for advocacy work through the Creating Change Organization and the LGBT Freedom and Asylum Network (LGBT-FAN). In 2012, he participated actively in demonstrations at the Nigerian House in New York City against anti-gay, same-sex prohibition bills. He is a member of Solidarity Alliance, a coalition of Nigerian LGBTI activists and organizations, working to make life better for the LGBTI communities in Nigeria.
John is a gifted poet and has sung with the Chicago Gay Men's Chorus for more than a decade. He admits that he isn't a great singer, but says the chorus gives him a voice and a stage to be "as open as possible to the world, especially to other LGBTI immigrants who need to enjoy their new-found freedom in their new home."
John Adewoye is married, and he and his husband, also named John, make their loving home in Riverdale, Illinois.
We thank John Adewoye for his contributions as a cleric and activist, and for his brave support of our community.