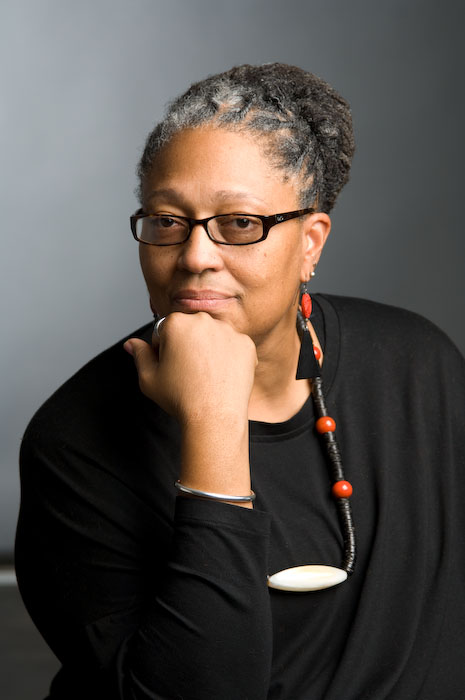 Dr. Emilie M. Townes
Dr. Emilie M. Townes was born on August 1, 1955. She is a highly acclaimed minister, scholar, accomplished administrator, author, and activist.
Emilie Maureen Townes was born in Durham, North Carolina, to Ross Emile Townes and Mary Doris McLean Townes, both college professors and administrators. She attended both Fayetteville Street and Watts Street Elementary Schools, and Hillside High School, where she graduated in 1973. Following high school, she enrolled at the University of Chicago, and obtained her Bachelor of Arts degree, followed by a Master of Arts and her Master of Divinity degrees, also from the University of Chicago, and her Ph.D. from Northwestern University. She was awarded an Honorary Master of Arts degree from Yale University in 2005, an Honorary Doctor of Divinity degree from Washington and Jefferson College in 2008, an Honorary Doctor of Humane Letters from Garrett-Evangelical Theological Seminary in 2010, an Honorary Doctor of Humane Letters degree from Franklin College in 2013, and a Doctor of Letters from The University of the South in 2017.
Emilie M. Townes became the first African American to serve as Dean of Vanderbilt Divinity School in 2013. She also serves as the E. Rhodes and Leona B. Carpenter Professor of Womanist Ethics and Society. She enjoys working with students, colleagues, and her staff to help them do their best work by creating a supportive environment that values diversity and rigor, and seeks to live into both. Dr. Townes hopes to continue Vanderbilt's fine tradition of integrating ministerial preparation with scholarly preparation, and to inspire her students to engage in "justice-making" in their communities. She is deeply committed to activism in the academy, and believes that scholars have a responsibility to be intelligible public intellectuals to help folk think more deeply about the issues of our day.
Her unique experiences and her enthusiasm for teaching the faith leaders of tomorrow have brought Emilie M. Townes much acclaim in the studies of divinity and ministry. She previously served as the Andrew W. Mellon Professor of African American Religion and Theology at Yale Divinity School from 2005 to 2013; as the Carolyn Williams Beaird Professor of Christian Ethics at Union Theological Seminary in New York from 2001 through 2005; as the Professor of Christian Ethics at Union Theological Seminary from 1999 through 2001; as Visiting Professor of Christian Ethics and African American Theology at Yale Divinity School from 2003 to 2005; and in several similar capacities at Saint Paul School of Theology in Kansas City, Missouri, and at DePaul University, McCormick Theological Seminary, and Chicago Theological Seminary, all in Chicago, Illinois, where she began in 1988.
Dr. Townes is active in some of the most prestigious academic organizations, and served as the first African American woman elected to the office of president at the American Academy of Religion in 2008. Townes was elected a Fellow in the American Academy of Arts and Sciences in 2009, and served a four-year term as president of the Society for the Study of Black Religion from 2012-2016. She is a member of the American Theological Society, the Society of Professional Church Leaders, and many other academic organizations.
Emilie M. Townes is the editor of two collections of essays, "A Troubling in My Soul: Womanist Perspectives on Evil and Suffering and Embracing the Spirit," and "Womanist Perspectives on Hope, Salvation, and Transformation." She has also authored "Womanist Ethics, Womanist Hope," "In a Blaze of Glory: Womanist Spirituality as Social Witness," "Breaking the Fine Rain of Death: African American Health Issues and a Womanist Ethic of Care," and her groundbreaking book, "Womanist Ethics and the Cultural Production of Evil." She is co-editor with Stephanie Y. Mitchem of "Faith, Health, and Healing in African American Life." Her most recent co-editorship is "Womanist Theological Ethics: A Reader," authored with Katie Geneva Cannon and Angela Sims, and published in November of 2011. She continues her research on women and health in the African diaspora in Brazil and the United States. You can find her books through your local independent bookstore, or on Amazon.
Dr. Townes may be best known for her countless lectures, speeches, and professional papers on the many intersections through which spirituality manifests itself in the African American, womanist, and same-gender loving communities. Her work is focused on social justice and theology, and the role that faith plays in our day-to-day lives.
Emilie M. Townes and her spouse, Laurel Schneider, have known each other since the mid-1990s, and were married on May 24, 2012, in Marquand Chapel on the campus of Yale Divinity School, surrounded by a host of family and friends to celebrate their love and commitment.
To say that Emilie M. Townes is an important theologian would not begin to adequately describe her life's work. She is a critical thinker who has done much to include in ongoing discussions about faith those who have historically been marginalized and dismissed. She has empowered others in academia to embrace the diversity of our society, in discussions about faith, ethics, and social justice.
We thank Dr. Emilies M. Townes for her loving ministry, brilliant academic works, and her ongoing support of our community.