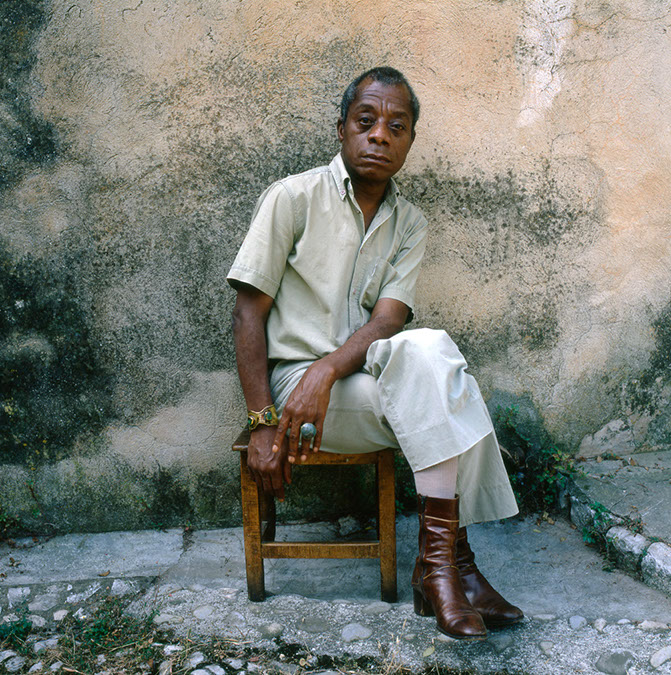 James Baldwin
Photo: Dmitri Kasterine
James Baldwin was born on August 2, 1924 (to December 1, 1987). He was an important 20th century novelist, writer, playwright, poet, social critic, essayist, and civil rights activist who offered a vital literary voice during the era of civil rights activism in the 1950s and 1960s.
James Arthur Baldwin was born in Harlem, the eldest of nine children born to Emma Berdis Jones; he would never know the identity of his biological father. At a very young age, his mother married David Baldwin, a factory worker who would later adopt him. Baldwin's family was poor, and the relationship between father and son was strained. David Baldwin was also a minister, and at the age of 14, James Baldwin became a junior preacher at the small Fireside Pentecostal Assembly in Harlem. Baldwin was an avid reader, and said that he began plotting novels at about the time he learned to read. He attended the prestigious DeWitt Clinton High School in the Bronx, where, along with Richard Avedon, he worked on the school magazine.
It was also during this time that he began to realize that he was gay, and came to view Christianity and the time he spent in the pulpit in a negative light. Still, his church experience significantly shaped his worldview and writing. Critics frequently note the impassioned cadences of Black churches are often evident in his prose. After high school, Baldwin studied at The New School, finding this intellectual community to his liking. When he was 20, Baldwin met and became a roommate of actor Marlon Brando in Greenwich Village. Baldwin wrote short stories, essays, and book reviews, in between odd jobs to pay the bills.
In 1948, Baldwin walked into a restaurant knowing he wouldn't be welcomed as a Black man, and threw a glass of water at a waitress who refused to serve him. Disillusioned by the ways Blacks and homosexuals were treated in the United States, Baldwin left that year for Paris, France. Not only did Baldwin want to remove himself from American bigotry, but yearned to become a writer who would be read as not "merely a Negro; or, even, merely a Negro writer." He would live as an expatriate in France for most of his later life, also spending time in Switzerland and Turkey. During his life and after it, Baldwin would be seen not only as an influential African American writer but also as an influential exile writer, viewing the United States from the vantage point of an expatriate.
His first novel, "Go Tell It on the Mountain," appeared in 1953 to excellent reviews, and immediately was recognized as establishing a profound and permanent new voice in American letters. Baldwin's play, "The Amen Corner," was first performed at Howard University in 1955, and his acclaimed collection of essays, "Notes of a Native Son," was published the same year. A second collection of essays, "Nobody Knows My Name," was published in 1961, between his novels, "Giovanni's Room" in 1956, and "Another Country" in 1961.
As an openly gay man, James Baldwin became increasingly outspoken in condemning discrimination against lesbian and gay people. He was one of the first openly gay, Black celebrities in the fifties and sixties, and was both vilified and adored for his outspoken honesty. "Giovanni's Room" is noteworthy for bringing complex representations of homosexuality to a reading public with empathy and artistry, which fostered a broader public discourse on issues regarding same-sex desire. His publisher first told him to "burn" the book because the theme of homosexuality would alienate him from his readership, especially among Black readers. The book was considered too risqué by American publishers, and originally was published in Europe, where it was an instant hit.
After returning to the United States in 1957, Baldwin immersed himself in the civil rights movement and joined the Congress for Racial Equality (CORE). He appeared at the March on Washington for Jobs and Freedom in August 1963, and traveled to Selma, Alabama, where he joined marchers who walked 50 miles from Selma to the capitol in Montgomery in 1965.
The appearance of "The Fire Next Time" in 1963, just as the civil rights movement picked up steam across the American South, galvanized the nation and continues to reverberate as perhaps the most prophetic and defining statement ever written about the continuing costs of Americans' refusal to face their own history. It became a national bestseller, and Baldwin was featured on the cover of "Time" magazine. In 1964, "Blues for Mister Charlie," his play based on the murder of a young Black man in Mississippi, was produced by the Actors Studio in New York. That same year, Baldwin was made a member of the National Institute of Arts and Letters, and collaborated with the photographer Richard Avedon on "Nothing Personal," a series of portraits of America intended as a eulogy for the slain Medger Evers. A collection of short stories, "Going to Meet the Man," was published in 1965, and in 1968, "Tell Me How Long the Train's Been Gone," his last novel of the 1960s, was published.
In the 1970s, he wrote two more collections of essays and cultural criticism, "No Name in the Street" in 1972, and "The Devil Finds Work" in 1976. He produced two novels, the bestselling "If Beale Street Could Talk" in 1974, and "Just above My Head" in 1979, and also a children's book, "Little Man, Little Man: A Story of Childhood," published in 1976. He collaborated with Margaret Mead on "A Rap on Race" in 1971, and with the poet-activist Nikki Giovanni on "A Dialogue" in 1973. He also adapted Alex Haley's "The Autobiography of Malcolm X" into "One Day When I Was Lost."  In the remaining years of his life, Baldwin produced a volume of poetry, "Jimmy's Blues" in 1983, and a final collection of essays, "The Price of the Ticket." Baldwin's last work, "The Evidence of Things Not Seen," was published in 1985, prompted by a series of child murders in Atlanta.
Baldwin was made a Commander of the French Legion of Honor in June of 1986. Among the other awards he received are a Eugene F. Saxon Memorial Trust Award; Rosenwald, Guggenheim, and Partisan Review fellowships; and a Ford Foundation grant.
On December 1, 1987, Baldwin died of stomach cancer at his home in Saint-Paul-de-Vence in France, where he had permanently settled seventeen years earlier. He was buried at Ferncliff Cemetery in the Westchester community of Hartsdale, New York.
Posthumous honors for Baldwin include the establishment of the National James Baldwin Literary Society (1987); the James Baldwin Scholars Program at Hampshire College in Amherst, Massachusetts (1992); his face on a United States postage stamp (2005); and induction into the LGBT Legacy Walk (2012). In 2014, New York City's 128th Street, between Fifth and Madison Avenues, was named James Baldwin Place in celebration of what would have been Baldwin's 90th birthday. The neighborhood is where Baldwin lived and attended public school.
In 2016, Baldwin's unfinished manuscript, "Remember this House," formed the basis of the Academy Award-nominated, Raoul Peck-directed documentary, "I Am Not Your Negro." Earlier this year, Barry Jenkins, the Oscar-winning director of "Moonlight," announced that he will adapt a 1974 Baldwin novel, "If Beale Street Could Talk," into a motion picture of the same name.
The impact of James Baldwin's passionate and eloquent voice cannot be overlooked; he is widely considered one of the greatest writers of his generation, and his thoughts and words still resonate with readers around the world. But for same-gender loving men and women of African descent, he represents a revolutionary voice of defiance and distain for the racism and homophobia of America. Baldwin's bravery in being one of the first Black intellectuals and artists to be publicly out has not gone unnoticed. He has come to be viewed as an inspiring muse, a wise teacher, and an uncompromising voice in the struggle for fairness, justice, and equality.
We remember the legendary James Baldwin in appreciation for his powerful writing and commentary, his advocacy for civil rights, and his many contributions to our community.