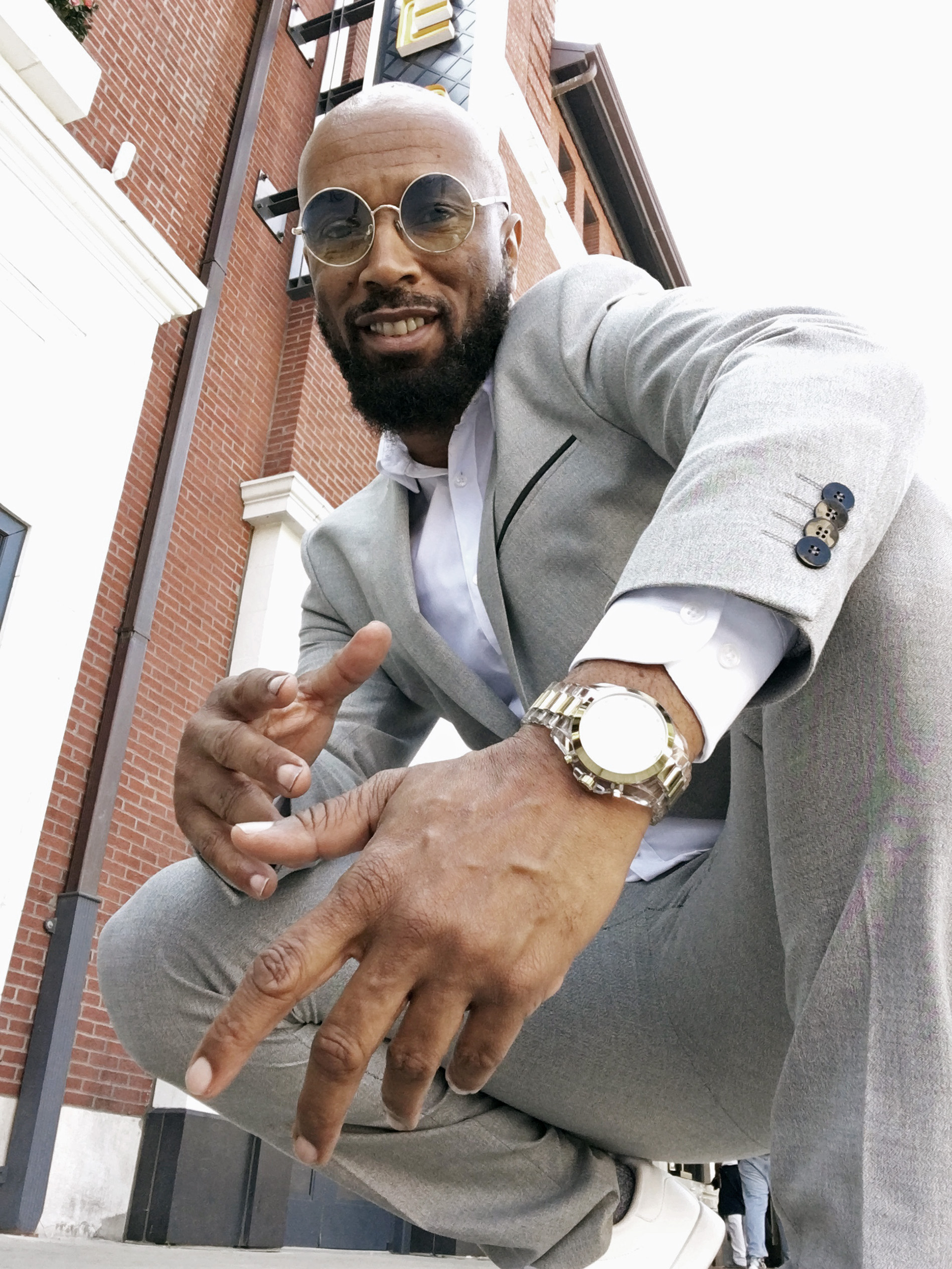 Ricky Day
Ricky Day was born on August 17, 1964. He is a trendsetting Harlem-based artist, public speaker, photographer, and visionary whose creative and professional pursuits have included talent management, marketing, event production, community activism, and politics.
Ricky L. Day was born in St. Louis, Missouri, to Vester Day, a line cook who later founded Great Western Caterers in Los Angeles, California, and his mother, Vivian, a candy striper at Barnes Hospital (where Ricky was born) who went on to a career in retail sales. Ricky has three siblings: Lisa Bailey, Philip Day, and Kaalan Day. He attended Normandie Avenue Elementary School, John Burroughs Junior High School, and Palisades High School. While in high school, Ricky was a key member of several student organizations, including vice president of the Human Awareness Club, and the first African American student body vice president at Palisades High School.
Following his graduation from high school, he attended Los Angeles City College, and California State, Northridge. At Los Angeles College, Ricky served as program director at the campus radio station, and in a nod to his future pursuits, he was active in planning and producing several student events on campus.
While attending college, Ricky took a job as a tour guide at Universal Studios Hollywood. This "summer job" would go on to be the launching pad for many of his future experiences and successes. Ricky quickly rose through the ranks to become a tour guide trainer, special effects stage foreman, and operations manager. A co-worker from Ricky's training class phoned him with an offer that would change his life. Pam Cornfeld informed Ricky that her cousin (John Landis) was a film director, and they needed a stand-in for the music video he was directing; she thought Ricky would be perfect. He landed the job, which turned out to be serving as the stand-in for Michael Jackson on his now historic "Thriller" musical video. For nine days, Ricky worked alongside the "King of Pop," and formed a brief, but profound bond.
"Michael was one the kindest people I ever met," Ricky recalled. "We talked about life, love, the relationships we both shared with our respective mothers, believing in oneself, and the merits of hard work and passion. Michael was my big brother for those nine days, and the interactions and experiences we shared changed the trajectory of my life, and inspired my lifelong interest in the arts, as well as my desire to make the world a better place. He also introduced me to all his celebrity friends who visited the set. The most incredible moments of the shoot were when MJ introduced me to Jacqueline Kennedy Onassis, who was a dear friend of his, and editing Michael's autobiography. Being in the presence of greatness inspired a pursuit of greatness in my own life."
Ricky's employment at Universal Studios Hollywood lead to a stint as Special Events Manager at Universal CityWalk, as National Manager of Promotions and Publicity at Hard Rock Café, and as Director of Marketing for Harlem USA. Ricky's career in marketing has seen him launch new Hard Rocks in several cities, co-produce the launch of Universal CityWalk in Los Angeles, produce grand opening events for both Harlem USA and DC USA shopping centers, execute the marketing campaign for the off-Broadway show "Harlem Song" at the Apollo Theater, and produce concert series, live music, nightlife, and many more popular events.
"What I love most about what I've done and continue to do is that I've been blessed enough to inhabit a space where I can be creative and generate revenue to sustain myself, while at the same time use my skills and experiences to inspire others and help them see and realize their own potential as well," Ricky said. "Hard Rock Café was my favorite company to work for because they are committed to giving back to the communities in which they do business, so all of our initiatives were created to make life better for our neighbors in the cities we did business in."
Ricky is a self-taught visual artist (painting, video, and photography) who also composes original music. Ricky's music has appeared on television shows like "The Nanny" starring Fran Drescher, as well as several independent films. His photography has appeared in numerous magazines, blogs, and websites, including "Candid Magazine," "Ammo Mag," "Sheen," "Bleu Magazine," and "UrbanPopLife.net." Ricky's clients, past and present, include Ford Models NY, Click Models, Boss Models NY, Major Models, U Model Management, Signature Talent Agency, Interscope Records, MBK Entertainment, public relations powerhouse PMK-BNC, Nivea, Eucerin, Aquaphor, Biersdorf, Bevy Smith's "Dining With Bevy, Life With Vision," Chef Roble, True Indian Hair, accessories line Ank Man, and many others.
As a visual artist, Ricky has exhibited in multiple group shows in NYC and beyond. His exhibitions include the group shows Curate NYC at Rush Arts Gallery, The Great LGBT Photo Show at Leslie Lohman Gallery, Latent: An En Foco Photo Exhibition at Umbrella Arts, and White Lies: Black Noise at Rush Arts Gallery, all in New York City. Solo exhibits include A Portrait of The Life at Billie's Black, and This is Urban Pop at Chi Chiz, both in New York, and Introducing Ricky Day at Bus Boys and Poets, in Washington, DC.
"Artistically I like to create projects that blur the lines between art, commerce, and pop culture, while communicating messages that I hope can be inspiring to those who experience the artwork and or performances," said Ricky. "A great example of this is my project 'All Black Kings Go to Heaven,' which is a portrait series, book, and short film about African-American males. I'm hopeful the project will inspire a generation to believe in themselves and their dreams, possibly help others to see young men of color as the beautiful human beings they are, and to inspire non-Blacks to place equal value on Black lives as they do their own lives and property."
Ricky launched his own company, Urban Pop Enterprises, in 2006, which houses his photography, filmmaking, and fine art brands. Ricky also manages the career of recording artist/rapper Kamau Kenyatte. He is currently serving as Director of Marketing and Operations at Blur Communications (www.blurcommunications.com), a full service boutique marketing, advertising, and communications firm owned by Joseph W. Tolton, also a Black SGL man. Blur's clients past and present include the Fashion Institute of Technology (FIT), The Fellowship of Affirming Ministries (TFAM), UnitedHealthcare, Turks and Caicos, and more. Ricky is also a producer of the untitled feature length documentary film about Pastor Michael A. Walrond Jr., currently in production and co-directed by Kurt Williamson and Warren Oliver.
Ricky identifies as a Same-gender Loving (SGL) man who nonetheless has a deep respect and admiration for women. Like so many in his generation, he struggled with coming to terms with his sexuality for many years. "I've always cared very deeply about God and wanted him to love me and welcome me into his kingdom," Ricky said. "Although I came from a very loving and supportive family, I felt it was necessary to deny who I was, and to try and pray it away because I thought it was wrong in the eyes of God. Of course, as I would later realize, this was foolishness and not required because I've come to know and accept that God loves me as he created me, and Jesus made it quite clear in his teachings and interactions that he loves and even seeks out those whom society would cast out. My so-called coming out moment was quite anti-climactic, since by the time I had the conversation with my family and close friends, they all already knew who I was anyway."
The black SGL/LGBTQ community is very important to Ricky. This passion can be seen in both his work, and the causes he supports.
"My art is really about, and an examination of what I call the performance of self," said Ricky. "I believe that self is a character that we perform for the audience of human beings in this theater we call life. This self is constructed from the lessons and examples shared with us by our family, friends, peers, and society as a whole. Mass media is the primary tool for putting the raw materials in the world from which we construct self, so for me it's important to contribute positive images and examples to the library of life. As humans, in order to be a 'thing,' we must first imagine it. And for many it's hard to imagine yourself being something you haven't seen or experienced before. I think it's critical for SGL/LGBTQ people as well as ALL HUMAN BEINGS to love ourselves, because joy comes from within. And it is impossible to experience joy, let alone love for anyone else, without learning to love yourself, first."
Ricky has been a mentor to many LGBTQ youth over the years, and as such has been, in many cases, a surrogate father to young people who needed a mature point of view to help them along in their journey to wholeness. He is a member of First Corinthian Baptist Church (FCBC), where he serves on the Connect Media ministry and Sheperd's Circle pastoral ministry, and volunteers for multiple events on a regular basis. Ricky served as Events Director and a key advisor to his friend, Pastor Mike Walrond, in his bid for the U.S. Congress. Ricky is a supporter of The Fellowship Global, and its mission to fight for the rights of our LGBTQ brothers and sisters in Africa as spearheaded by his good friend, Pastor Joseph W. Tolton.
Ricky makes his home in Harlem, New York. He is a passionate family man who loves children and time spent with a romantic partner. He is currently single, but looking forward to developing a loving long-term relationship in the near future. "Love matters to me and I'd like to have a long term relationship, however I'm not desperate for it, and I enjoy my time alone to be creative and to commune with the Creator," Ricky said.
Ricky enjoys working out, traveling the world, time spent with friends and family, Sunday brunches, long walks, drives up the California coast (with the top down), intimate conversation, spending time in service to others (feeding the homeless, volunteering at church, etc.), and sharing quiet time with close friends and his partner (when there is one in the picture). He is passionate about standing for those who cannot stand for themselves.
"It's important to me to be a true disciple of Jesus, NOT a so-called Christian," said Ricky. "Jesus was not this watered down Christmas card character he is made out to be. Jesus was a loving soul and a rebellious man of integrity who also spoke truth to power as he saw it, and this is why he was killed. What good is knowing what's right unless you embody it, share it, and live it? What good is having love in your heart unless you put that love into action in service of others and of God? I like to surround myself with people who challenge me to be a better person every day and I like to be that person for others as well."
You can explore Ricky's artistic output at www.rickydaystudio.com, and find him on social Instagram and Twitter with the handle @RickyDay.
We thank Ricky Day for his numerous contributions to the arts, and his support of our community.