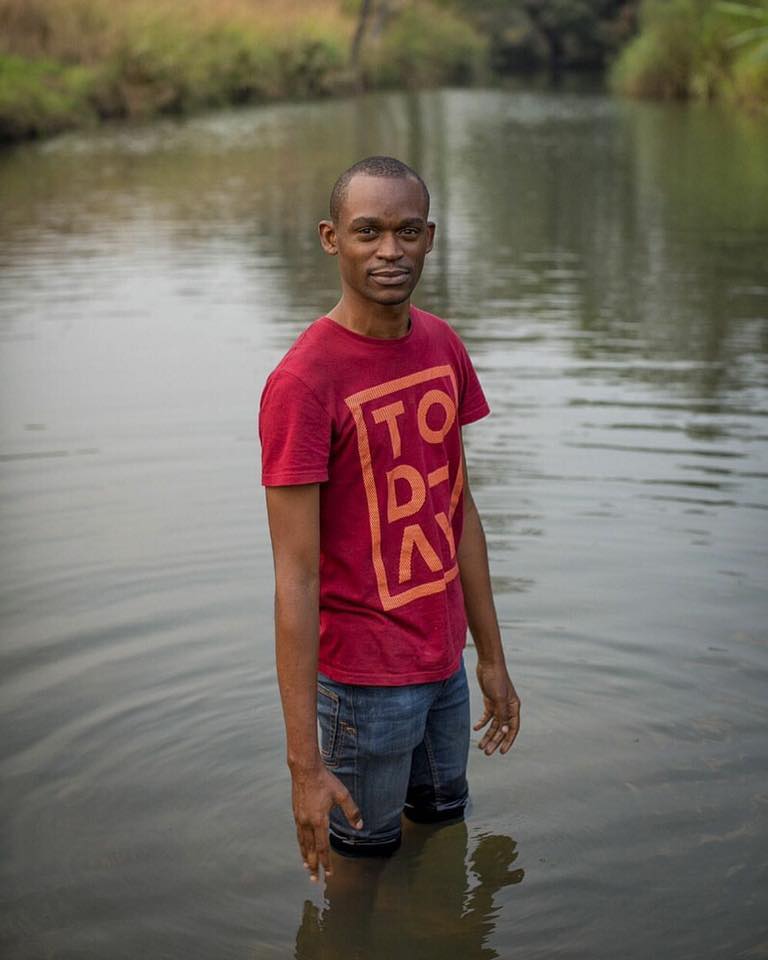 Scaly Kep'na
Scaly Kep'na was born on August 17, 1986. He is a human rights and youth activist, musician, radio host, atheist, and founder of the Jeunialissime organization in the Democratic Republic of Congo (DRC).
Scaly Patou Izai Kep'na was born in Kinshasa, DRC, the third child and first boy in a large, Christian family. Scaly has four sisters—two older and two younger—and two younger brothers. He attended the Ku Ntwala primary and secondary schools, and the College La Fountaine, all in Kinshasa. Scaly earned his Bac +5 (the equivalent of a master's degree) in Design of Information Systems from the National Pedagogical University in Kinshasa.
While growing up, Scaly struggled with his sexuality, even though he had never had sex with a boy—or anyone, for that matter. "I always felt different from my childhood," he recalls. "At puberty, those strange feelings became more and more unbearable, for I realized that sometimes I had a sexual attraction for boys. It was a very embarrassing situation because the people around me and my faith at the time considered this kind of preference abominable."
Despite praying for "all of this to disappear" and ignoring his feelings with all his strength, it wasn't until he turned 18 years old that Scaly was able to find peace, stop "self-stigmatizing," and accept himself for who he is. Scaly confided in a cousin about his sexual orientation, only to have the secret spread to the cousin's brother, and eventually to Scaly's extended family, parents, and siblings. Nearly all of his friends abandoned him, and the relationship with his family deteriorated significantly after his coming out in 2011.
"My parents wanted to know if what was said was true, and I agreed," Scaly says. "My father told me he did not want a homosexual son, and didn't want to pay for my studies. One sister told me that she would rather have a criminal brother than a homosexual brother." According to Scaly, relatives wanted to hurt the partner he met just months before coming out (the same man he is with today), and he had to protect him—even as he tried to deal with his own family's rejection.
Although three of his siblings supported him, and his mother tried to keep the family together for four years ("I admire her very much for that," says Scaly), the atmosphere at home became unbearable, and he moved out in 2015. Looking back, it was a tormented period in his life, but Scaly was relieved to no longer have to keep his secret.
"I wanted to be loved and accepted as I really am," Scaly states. "That's what made me disclose myself to my friends. So those who did not want me would leave, and I would stay with those who I now regard as my true friends."
Being an openly gay man also inspired Scaly to question his own pre-conceived prejudices about the LGBTI community, and to begin advocating for young people and others who are struggling with the same issues he encounters every day. Although there is no law banning same-gender relationships or activity in the DRC, activists like Scaly know that could change at any time. According to Scaly, at least one member of Parliament has been trying to pass a bill that would penalize homosexuality, and there remains discrimination and hatred with roots in deeply-held religious beliefs.
"For the LGBTI community, living in the DRC is a constant exposure to stigmatization— which is actually mental violence—and, depending on the environment, one is also exposed to physical violence which, in the worst cases, can be rape or assassination," Scaly points out. In his work as an activist, Scaly has been told by many in the LGBTI community that they have been rejected by their families. According to one study, nearly half of LGBTI young people interviewed in Kinshasa were unemployed and depended on their families for survival.
In 2012, Scaly founded his nonprofit organization, Jeunialissime, to support young people in his community and to inspire others to respect everyone's human rights. The group discovered that radio was the perfect forum to confront the stigma and discrimination that still exists in the Congolese society, and to allow LGBTI youth in the DRC to speak openly about their lives and concerns. The weekly "Jeuniafrica" radio show, produced with the Children's Radio Foundation and available on SoundCloud, provides a safe space for debate and dialogue in a way that is unavailable through mainstream media.
"We, those who do not fit heteronormative norms, live in a cultural context that refuses to integrate us and respect our humanity," says Scaly. "We have a choice to accept or change this situation. Whatever our choice, let us give ourselves the right to be happy in our lives."
When not busy being an activist, Scaly lives in Kinshasa with his partner, and enjoys singing and being a computer scientist. "Music and computers allow me to invent universes where I can express my soul and exercise my creativity," he says.
You can learn more about Scaly's work in the DRC by viewing this profile.
We thank Scaly Kep'na for his tireless advocacy in the Democratic Republic of Congo, and for his support of our community.