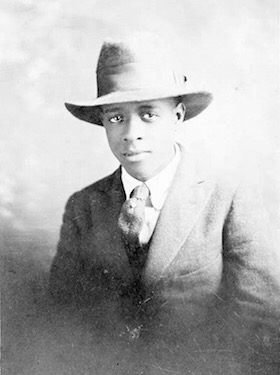 Wallace Thurman
Wallace Thurman was born on August 16, 1902 (to December 22, 1934). He was a celebrated Harlem Renaissance novelist, editor, poet, playwright, and literary critic.
Wallace Henry Thurman was born in Salt Lake City, Utah, to Oscar and Beulah Thurman. His father abandoned the family when Wallace was less than a month old; father and son would not reunite until 30 years later. His mother was married and divorced several times, and she and Wallace lived in Salt Lake City with her mother, Emma Jackson, who ran an illegal saloon from the family home.
Thurman began grade school in Boise, Idaho, but returned to his grandmother's home in Salt Lake City after becoming ill. Thurman would live in Chicago, Omaha, Nebraska—where he finished grammar school—and Pasadena, California, before returning to Salt Lake City and graduating high school. In addition to suffering childhood heart problems, Thurman caught influenza during the worldwide flu pandemic while living in California; he eventually recovered.
Despite his life of chronic illness, loneliness and family volatility, Thurman wrote his first novel at age 10, and immersed himself in reading everything from Plato and Aristotle to Shakespeare, Havelock Ellis, and many others. He went on to study pre-med at the University of Utah from 1919 to 1920, before transferring in 1922 to the University of Southern California in Los Angeles. He never received a degree, but while in LA he befriended writer Arna Bontemps, and wrote a column, "The Inklings," for a black-oriented newspaper. Thurman also founded the magazine "Outlet," with the goal of bringing Harlem's literary renaissance to the West Coast. The publication lasted only six months, and Thurman moved to New York City.
In 1925, Thurman became a reporter and editor at "The Looking Glass," and the managing editor of the Black periodical "The Messenger" a year later. "The Messenger" was a journal of Harlem's radical socialists, and Thurman published works by Langston Hughes and Zora Neale Hurston. He left in the autumn of 1926 to join the staff of a white-owned publication, "World Tomorrow."
By this time, Thurman was fully immersed in the Harlem scene, and his editorial acumen made him well known in literary circles. His rooming house at 267 West 136th Street became the self-named "Niggerati Manor," the headquarters for the African American literary avant-garde and visual artists of the Harlem Renaissance. The walls were red and black, and Thurman's roommate, Richard Bruce Nugent, painted murals on the walls, some of which contained homoerotic themes.
Thurman collaborated with Hughes in founding the experimental and acclaimed literary magazine "Fire!! Devoted to the Younger Negro Artists" in 1926, along with contributions from Hughes, Hurston, Gwendolyn Bennett, Bontemps, Nugent, Aaron Douglas, and other prominent writers of the era. Despite its all-star lineup, "Fire!!" folded after only a single issue.
Thurman's 1927 essay, "Negro Artists and the Negro," took on African American expression through art, and decried the popular tendency to present Black music, fiction, and poetry in a conventional manner. He claimed that many of the artists receiving praise from white and Black critics alike were more interested in sociology and propaganda, with Hughes and Eric Walrond among the exceptions.
In 1928, Wallace Thurman was asked to edit a magazine called "Harlem: A Forum of Negro Life." Its contributors included Alain Locke, George Schuyler, and Alice Dunbar-Nelson. Like "Fire!!" before it, the publication was short-lived. In August of that year, Thurman married a former schoolteacher, Louise Thompson. The news of his marriage surprised his friends, who knew him as a partygoer and "not the marrying kind." The union lasted only six months, with Thompson declaring that Thurman was a homosexual who refused to admit it. It is widely agreed today that Thurman was, at the very least, bisexual.
Thurman adapted his short story, "Cordelia the Crude: A Harlem Sketch," into the play "Harlem," which debuted on Broadway in 1929. The same year, his first novel, "The Blacker the Berry: A Novel of Negro Life," was published. The work is now recognized as a groundbreaking work of fiction because of its focus on numerous issues, including homosexuality, abortion, and ethnic conflict between African Americans and Caribbean Americans. It also didn't shy away from criticizing intra-racial prejudice. As a dark-skinned Black man, Thurman felt shunned by both whites and the lighter-skinned members of the Black community in Harlem.
In 1932, he published "Infants of the Spring," a satire of Black socialites and what he believed were the overrated creative figures of the Harlem scene. Thurman often argued that African American artists should embrace expression on their own terms, rather than as a way of appealing to Anglo-American respectability. Some reviewers welcomed Thurman's bold insight, while others vilified him as a racial traitor. Thurman never again wrote on African American subjects.
Thurman co-authored "The Interne" in 1932, his final novel written with Abraham L. Furman. The novel is an exposé of unethical behavior at City Hospital on Welfare Island (now Roosevelt Island) in New York City. Later, he became a reader for a major New York publishing company, the first African American to work in such a position. Thurman struggled with debt throughout much of his life, and had to resort to writing under pseudonyms to make ends meet.
Wallace Thurman died at the age of 32 from tuberculosis, at the same City Hospital he once wrote about.  His illness may have been exacerbated by a long battle with alcoholism.
We remember Wallace Henry Thurman for his contributions to literature, and for his support of our community.