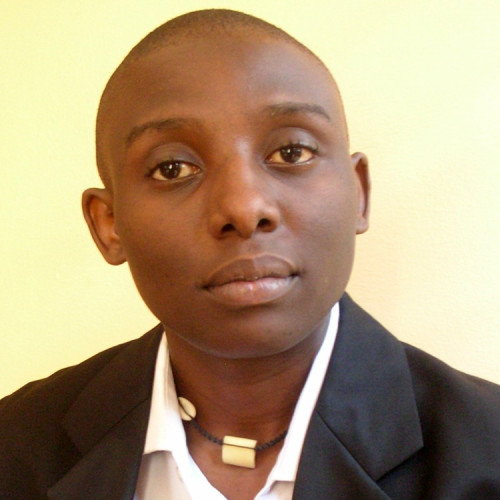 Victor Mukasa
Victor Mukasa was born on August 16, 1975. He is a transperson, human rights defender, consultant, and a founding director of Sexual Minorities Uganda (SMUG) (2004-2007). He has also served in varying capacities with the East and Horn of Africa Human Rights Defenders Network (EHAHRDN), Freedom and Roam Uganda (FARUG), Trans Support Initiative, Uganda (TSI-Ug), and the Pan African e-networks AfricanSolidarity and Trans Africa. Mukasa is the current executive director of Kuchu Diaspora Alliance-USA (KDA-USA).
Mukasa was born into a conservative Catholic family in Kampala, Uganda. As a biological girl who behaved and loved to present as a boy, Mukasa was punished by his father, and ridiculed by most of his family and classmates for being true to himself. As part of a church ceremony, Mukasa was stripped naked, and his clothes and shoes were burned to "kill the male spirit." He attended schools for girls, St. Mary's College Namagunga, Trinity College Nabbingo, and studied banking law at the Uganda Institute of Bankers.
In 2005, Mukasa's home was raided by police without a search warrant, and a fellow activist found at his home, Yvonne Oyoo, was arrested. Following the raid, Mukasa publicly declared his intent to sue the Ugandan government for violation of his and his colleague's human rights. When he did, Mukasa started getting threats from government officials to withdraw the case. He went into hiding within Uganda with the help of Amnesty International and several other regional and international human rights organizations.
While in hiding, he set up a legal team that later represented him and Oyoo in the civil suit, Victor Mukasa and Yvonne Oyoo vs. Attorney General of Uganda. As Mukasa waited for court hearings to begin, he fled to South Africa, where he joined the Africa team of the International Gay and Lesbian Human Rights Commission (IGLHRC) as a researcher on East Africa. Eventually, Uganda's High Court sided with Mukasa and Oyoo, and ruled that the country's human rights laws extend to all citizens, including the LGBTI community.
In 2009, Mukasa was named International Grand Marshal of the Toronto Pride Parade.
Mukasa returned to Uganda in 2011, but facing oppression there, fled to the United States the following year. During a 2015 panel hosted by the Center for American Progress, Mukasa said, "At some point it became unbearable. It became unbearable and you're just like, 'I have to leave. I have to leave to save my life. There are people who are here for safety. There are people there who need safety."
Mukasa has also served as a board member for Gender DynamiX (South Africa), Behind the Mask (South Africa), Coalition of African Lesbians (Pan African), and the International Lesbian and Gay Association (ILGA). He was also project coordinator for the Human Rights Defenders Project at the Coalition of African Lesbians (CAL). Mukasa spearheaded the Nairobi Trans* Declaration in 2007, and the first-ever Pan African Transgender workshop supported by IGLHRC. The initiative led to the formation of several transgender organizations in Africa as well as the Proudly Transgender and African project.
Mukasa is executive director of KDA-USA, a human rights organization he founded with LGBT activists in February 2014, to support refugees and to amplify the collective voice of human rights struggles back home in Africa.
Mukasa, who is the father of two daughters, aged 7 and 17, currently lives in the United States.
We thank Victor Mukasa for his tireless work for the LGBTQ/LGBTI community in the United States, in Uganda, and beyond.