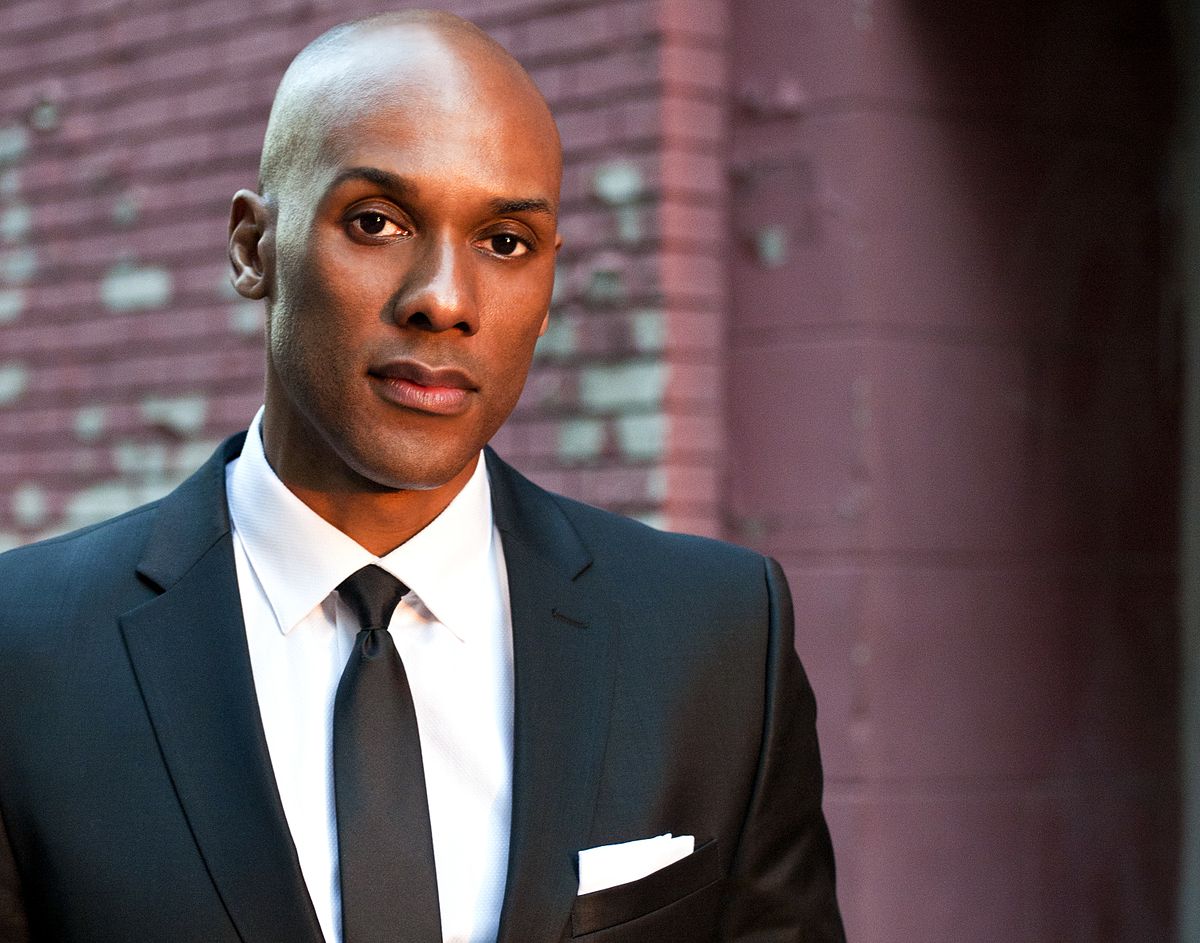 Keith Boykin
Keith Boykin was born on August 28, 1965. He is a CNN political commentator, a New York Times best-selling author, assistant adjunct professor of political science at Columbia University, journalist, actor, and public speaker.
Keith Boykin was born in St. Louis, Missouri, to William Boykin, a bus driver, salesman and businessman, and Shirley Hayes, a federal government employee; he has a sister, Krystal. Although the couple separated when Boykin was just a boy, the family remained close, and Boykin was raised in the nearby suburb of Florissant.
"I was lucky to have a family that believed in my dreams and I suffered no lack of creativity in my fantasies," wrote Boykin in his book, "One More River to Cross: Black and Gay in America." Often, I would close my door and dream about anything and everything, from what it would be like to go to college to imagining the life of the President."
When Boykin was 15, his mother moved to California, and his father to Florida, where Boykin attended Countryside High School in Clearwater. Boykin already had politics in his blood—he was student body president of his mostly white high school in Florida, just as he had been at his elementary school back in Missouri. It was during this time that Boykin recalls feeling the first indications that he was not the same as other boys.
"We were all different from the majority of our neighbors," he recalled in "One River to Cross: Black and Gay in America." "But something else was different about me, and I felt it distinguished me not only from my friends but from my family as well. I knew something inside me was happening and I was frightened that I would not be able to deal with it." Boykin dated girls while in high school, but admits to taking an all-too-curious interest in watching his fellow male students at wrestling practice.
Boykin graduated high school and left Clearwater to attend college at Dartmouth in New Hampshire, where he was editor-in-chief of the college newspaper, a track athlete, and exchange student in Spain. After earning a degree in government in 1987, Boykin spent the next year and a half working for Michael Dukakis' unsuccessful presidential campaign, during which he met then-Arkansas governor and future president Bill Clinton. Boykin moved to Atlanta before being accepted by Harvard Law School. He was a leader in the campus diversity movement, and general editor of the "Harvard Civil Rights-Civil Liberties Law Review." Boykin also interned at several law firms.
But it was also during his education at Harvard Law that Boykin began to accept that he was gay. Thanks to a friendship with a fellow student, he was able to begin reconciling his own feelings with the negative stereotypes of the LGBTQ community he had learned while growing up.
"Since I was not particularly effeminate and had never desired to dress in women's clothes, I thought I could not possibly be gay," he stated in "One More River to Cross: Black and Gay in America." "I identified homosexuality not by sexual behavior but primarily by failure to conform to gender roles." He eventually came out to his family, even as he struggled with his religious beliefs and the fear that he would be "ostracized" by his friends, and denied opportunities in the political world.
After receiving his Juris Doctor degree from Harvard Law in 1992, Boykin took a job at a San Francisco law firm before being snatched away by the Bill Clinton/Al Gore presidential campaign. After Clinton's election, Boykin became a Special Assistant to the President, and Director of Specialty Media. He was the highest-ranking openly gay person in the Clinton White House, and helped to organize the nation's first meeting between LGBTQ leaders and a sitting U.S. President in April 1993.
Boykin left the White House in 1995 to write "One More River to Cross: Black and Gay in America." He says the book "chronicles the experiences of hundreds of black lesbians and gay men and explores their interactions with the white gay community and straight black community. Other topics tackled by the work include the Black church, homophobia, and racism. The book was nominated for a Lambda Literary Award—the first of four nominations for Boykin.
That same year, Boykin participated as an openly gay man in the Million Man March on Washington, DC, and became executive director of the National Black Gay and Lesbian Leadership Forum (NBGLLF). The following year, President Clinton fueled speculation that it was Boykin who was the mystery author of the runaway best-seller "Primary Colors," a fictional account of a presidential campaign that mirrored the characters and events of the 1992 Clinton/Gore campaign. Several months later, columnist Joe Klein revealed that he had actually penned the novel.
Boykin's second book, "Respecting the Soul," was released in 1999 and won the Lambda Literary Award. Over the next two years, he taught political science at American University in Washington, DC. Beginning in December 2003, Boykin served as a founder and first president of the board of the National Black Justice Coalition, a civil rights organization with a mission of fighting racism and homophobia. A year later, Boykin starred in the Showtime television series "American Candidate," was named by "Out" magazine as one of the "100 Most Intriguing People of 2004," and he released his third book, "Beyond the Down Low: Sex, Lies, and Denial in Black America." Boykin was awarded a Gold medal in wrestling at the Gay Games in Chicago in 2006.
From 2006 to 2008, Boykin became a regular fixture on television screens as co-host of the BET J series "My Two Cents," interviewing celebrities, politicians, and public figures. During this time, he began making regular appearances as a commentator on CNN, MSNBC, CNBC, and BET. His work included analysis of the 2008 presidential and vice-presidential debates, and the 2008 Democratic National Convention.
Boykin's most recent book, "For Colored Boys Who Have Considered Suicide When the Rainbow Is Still Not Enough," was released in 2012 to widespread acclaim. The compilation of writing from some of the most dynamic LGBTQ/SGL voices in America sheds light on gay men of color "coming of age, coming out, and coming home to their families and communities." The effort was rewarded with the American Library Association Stonewall Award for Nonfiction in 2013.
Boykin's profile was raised significantly during the presidential campaign and eventual election of Donald Trump in 2016. He has not been shy about his dislike of Trump, particularly when the White House did not observe Pride Month in June 2017.
Boykin's other accomplishments include editing the online news site "The Daily Voice," serving as associate producer of the 2007 feature film "Dirty Laundry," and appearing on the 2014 BET drama series "Being Mary Jane." He has appeared on VH1, Fox News, NPR, and numerous national media programs, including "Anderson Cooper 360" and "The O'Reilly Factor." Boykin has been featured or quoted in the "New York Times," "The Washington Post," "USA Today," "Vibe," and "Jet," and has appeared on the covers of "A&U," "Out," and "The Advocate."
Boykin has written for the "Village Voice," the "San Francisco Chronicle," the "St. Petersburg Times," "The Advocate," "Black Issues Book Review," and "The Crisis." His syndicated column appeared in several newspapers across the country, including the "New York Blade," the "Washington Blade," "Southern Voice," and "Houston Voice."
He delivered a landmark speech to 200,000 people at the Millennium March on Washington in 2000, and gave a stirring speech about the AIDS epidemic in front of 40,000 people in Chicago's Soldier Field in July 2006. In 1997, President Clinton appointed Boykin to the U.S. presidential trade delegation to Zimbabwe, along with Rev. Jesse Jackson, Coretta Scott King, and Rodney E. Slater.
Today, Boykin makes his home in New York City.
We salute Keith Boykin for his considerable contributions to our community.