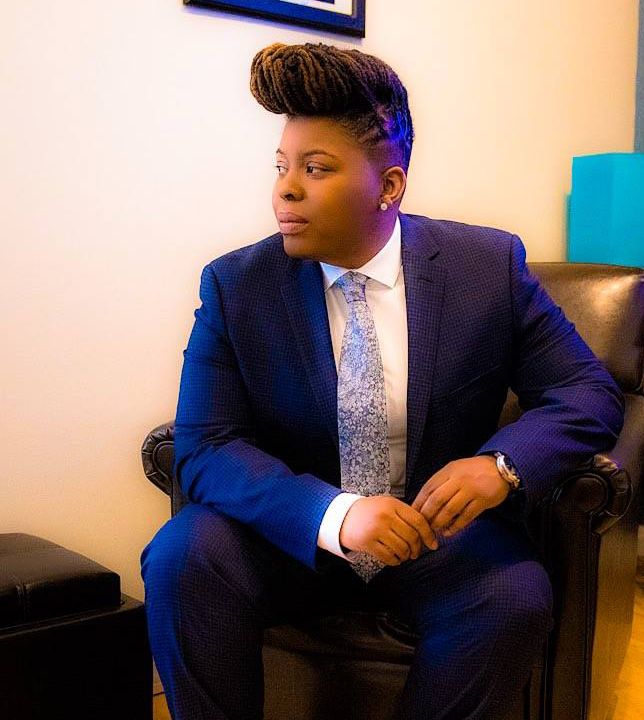 Anna DeShawn
Anna DeShawn was born on August 30, 1983. She is a media professional, social entrepreneur, and community lover.
Anna DeShawn was born in Chicago, Illinois, to Anthony Rainey, an educator, and Vivian Rainey, a business manager. She has one sibling, Dione, who is an educator. DeShawn grew up in a religious household, and attended a Lutheran private school, Luther South High School. It didn't make it easy for her as a young Black girl exploring her burgeoning sexual feelings.
"When I…came to…realize my own sexuality, my own identity, the fact that I loved being with women, I had…quite a few moments of wondering whether or not I was just going straight to hell for how I felt," she said in a video for My God is Not a Bully. DeShawn interviewed more than 40 individuals for the My God is Not a Bully project, which explored people's relationships or non-relationships with God, and how they have reconciled their sexuality.
Despite her struggles, DeShawn was very active in school, participating in volleyball, basketball, softball, track, choir, band, Kingdom Workers, and the National Honor Society, and serving as student body president. After graduating high school, DeShawn earned a bachelor's degree in radio and television production at Drake University in Des Moines, Iowa, and received her MS in communications from Ithaca College in New York. In college, DeShawn was active in softball, was president of the Coalition of Black Students, and served with the Student Activities Board, the Donald V. Adams Leadership Academy, and as student orientation leader.
DeShawn's career in communications has included positions at the Center for the Advancement of Distance Education (CADE), RainHead Communications, and INXPO. She currently serves as board president of Affinity Community Services (ACS), a social justice organization serving the needs of the Black LGBTQ community of Chicago with a particular focus on Black women. Affinity's work spans nearly a quarter century of activism and advocacy, and DeShawn says she is proud of the work of the organization, which has provided her a home away from home to be all of who she is.
"I am invested in us thriving and not just surviving. This world wouldn't be a quarter of what it is without Black LGBTQ people showing up, speaking up, and being true to all of who are," said DeShawn. "We've been living at the intersections before 'living at the intersections' was a coinable phrase. Our history tells us that we were on the front lines just like everyone else…Black LGBTQ people were intentionally left out of history, and we must intentionally write ourselves back in. To see our history and all the beauty within it would make anyone proud."
Deshawn also is part of the communications team for the Church Within a Church Movement, a collection of LGBTQ theologians, scholars, and members who intentionally disrupt privilege, fight against religious violence, develop justice ministries across the country, and celebrate the spectrum of identities. In addition, DeShawn has raised more than $4,000 for her favorite Chicago-area non-profits as part of the annual Purple Tie Affair hosted by E3 Radio, the socially conscious online media platform she founded in 2009.
To get out her message even further, DeShawn has started an audio blog (alog), Anna's Got a Word. Archives of her former radio program can also be found on e3radio.org. "I love the power media has to change thoughts and minds," she told the Ubuntu Biography Project. "In the work that I do we utilize the Internet to not only get the message but to make the world smaller. The content we produce brings people together."
Anna DeShawn makes her home in Chicago, where she enjoys playing basketball with her friends and spending time with her family. She married the love of her life on March 25, 2017. As for the future, she hopes to continue harnessing the power of media to get out powerful messages about often marginalized communities.
"I'm determined to ride media into its next era by utilizing online radio streams to tell the stories that need to be heard," she told the Ubuntu Biography Project. "We must build our own. We must own our own. I want to be a part of the social entrepreneur movement that believes I can be a successful business owner while still giving back to my community."
We thank Anna DeShawn for giving a voice to Black LGBTQ, and for all of her contributions to our community.