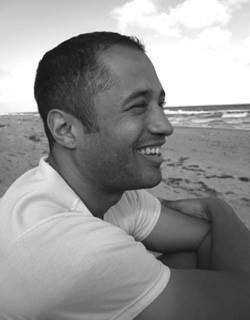 William Brandon Lacy Campos
William Brandon Lacy Campos was born on August 31, 1977 (to November 9, 2012). He was a poet, writer, social media personality, prolific blogger and columnist, as well as a policy wonk, organizer, and warrior focusing on civil rights, feminism, LGBTQ equality, and HIV/AIDS.
Known simply as Brandon to his many friends, William Brandon Lacy Campos was born in Duluth, Minnesota, to Deborah Carey Watt and William Edward Lacy. His great-great uncle was historian Dr. Carter G. Woodson, the second Black man to be awarded a doctorate from Harvard University, and the founder of Black History Month. Campos had a troubled youth, suffering physical and emotional abuse early on.
He attended schools in Minneapolis, and graduated in 1995 from Patrick Henry High School, where he served as a member of the Student Council. While still in his teens, Campos became co-chair of the National Queer Student Coalition, and began writing a column for "Oasis" magazine in March of 1996. He was a graduate of the National LGBT Task Force's Youth Leadership Training Institute in 1999. Campos continued his education at Warren Wilson College in Swannanoa Valley, North Carolina; the Universidad de Puerto Rico in Rio Piedras, where he majored in feminist studies; and at the University of Minnesota in Minneapolis, where he graduated in 2002 with a bachelor's degree in Political Science and Spanish.
William Brandon Lacy Campos worked in Oakland, California, at the Center for Media Justice, a national movement to strengthen the communications effectiveness of grassroots racial justice efforts. He previously served as Associate Director/Fellow for the Democratizing Elections for Liberty Tree Foundation in Madison, Wisconsin. Campos arrived in New York City in June of 2009, and accepted a position as Development and Marketing Manager for Words Without Borders. Eager to meet other activists and writers, he joined his friend Charlie Vázquez, who was hosting a monthly reading series in the East Village called "Hispanic Panic."
Campos served as co-executive director of Queers for Economic Justice (QEJ), and was a prominent figure within the nation's social activist and "artivist" communities. While at QEJ, he worked on LGBTQ issues of social justice in New York City. His service began there in June of 2011, when he accepted a position as Development Director.
Campos was an emerging voice who garnered respect and admiration in the writing, spoken word, and arts communities across the United States. In March 2011, he contributed to the anthology, "From Macho to Mariposa: New Gay Latino Fiction." A few months later, Campos published his poetry collection, "It Ain't Truth If It Doesn't Hurt" (Rebel Satori Press) with illustrations by his friend and former partner, David Berube. He was the author of the blog, "My Feet Only Walk Forward", and a contributor to the "Huffington Post," discussing Black masculinity, image, perception, and stigma. Campos also contributed a regular column to "The Body" magazine, entitled "Queer, Poz and Colored." In 2009, MyLatinoVoice.com named him the "number two, queer Latino blogger to watch."
His poetry was published in the "Ganymede" literary journal, and he was a contributor to the "Queer Twin Cities History Project," a 2010 LGBTQ oral history collection. Campos also contributed to Emanuel Xavier's poetry collection, "Mariposas: A Modern Anthology of Queer Latino Poetry," as well as to "Beyond Resistance! Youth Activism and Community Change: New Democratic Possibilities for Practice and Policy for America's Youth."  He was the host and author of the "Naked Poetry" series on YouTube.
In 2006, the "Minneapolis Star Tribune" named Campos a "Young Wonk to Watch," for his insane love of breaking down complex public policy issues into language the rest of us could understand. In addition, Campos guest lectured at several colleges and universities on the intersection of race, sexual orientation, and art as a tool for social change. He performed Off-Broadway as the opening act for Bebe Zahara Benet's "Queendom." He also created the Alfred C. Carey Prize in Spoken Word Poetry in honor of his grandfather.
William Brandon Lacy Campos was a board member of the Audre Lorde Project, and an active supporter of the Hetrick-Martin Institute. He became a model, spokesperson, and an early supporter for Volttage.com, a dating site aimed at eliminating stigma, and providing support to the HIV-positive community. Campos was also a founding member of "Lavender Greens," the Green Party's LGBT Caucus. He was a regular presenter and participant at the National LGBT Task Force's annual "Creating Change Conference," and co-chaired the United States Student Association's Queer Student Coalition.
Campos lived with HIV for years and, in his online writings, made no effort to contain his fury at those who contributed to the ongoing stigma faced by those in his situation. Always candid and often blunt, he described himself as "a poet, playwright, journalist, amateur chef, and life commentator doing his bit to put his foot in the asses of the regressive masses, while putting filling and nutritious food on plates of folks that ain't got much and deserve better."
In a 2012 speech at the Civil Liberties and Public Policy Conference at Hampshire College, he called for HIV to be a central concern of the movement for reproductive freedom. "Let me be clear," he extoled his audience. "HIV isn't over. It's relevant to your work. It's relevant to your lives. It is not just a disease that affects white gay men. It isn't a disease that impacts only men of color on the down-low. In fact, it isn't a disease that impacts only men. Women, and specifically women of color, and even more specifically African American and Latina women, are the fastest-growing population of people living with HIV. And with 300,000 women living with HIV in the United States, and women representing more than 50 percent of HIV cases around the world, you cannot in justice or in faith, remove issues of HIV from reproductive justice."
On November 6, 2012, at Tufts University's annual Black Solidarity Day, he tackled a recurrent theme in his life—his status as a multi-racial man. "I am standing in front of you a Black, white, Ojibwe, Afro-Boricua, HIV-positive queer man," he told the gathering. "And I am just as Black as any of you. You are my community, you are my salvation. I am in community with my queer and trans Black family, and being queer or trans doesn't make you less Black than anyone else. No more high yellow and midnight blue conversations when talking about skin, unless it's to talk about how that high yellow or midnight blue person rocked your socks last night."
William Brandon Lacy Campos held nothing back when talking about his addiction to crystal meth, and his battles with depression, racism, and homophobia. He wrote candidly about his HIV-positive status, and as a gay man of color living with HIV, he literally bared his soul for all to see. Campos spoke out not just for the LGBTQ community and those living with HIV, but for those who may have felt that they had no voice. He was a dedicated blogger whose raw honesty, anger, and emphatic certainty could startle and even put people off.
Campos died unexpectedly in New York City on November 9, 2012. The artist and activist was only 35 years old. At the time of his death, he had been putting the finishing touches on his debut novel, "Eden Lost," and working on his second poetry collection, "Songs My Ancestors Sing to Me When I Am Dreaming." Services were held near Campos' parents at United Methodist Church in Ronceverte, West Virginia; he is interred at Mt. Zion Baptist Cemetery in Sinks Grove, West Virginia.
Tribute events were held in his adopted hometown of New York City, and on the one-year anniversary of Campos' passing, Café SouthSide in Minneapolis formally dedicated its revamped library in his memory. He is remembered as a man who touched the lives of others everywhere he went, with a smile that could light up a room, and a passion for social justice that ignited souls. "He was someone who took the time to actually connect with people face-to-face, person-to-person, and who cooked from his soul—as he fed not only stomachs but hearts," said friend Aundaray Guess.
"I am living this life as lovingly as I can be as flawed as I am," Campos reportedly stated in one of his last Facebook messages. "My saving grace is that the God in which I believe has sent me more love than I Could believe my due and that love I have been able to share to u. To u amor."
We remember William Brandon Lacy Campos, and thank him for his passionate activism, and for making a difference in the lives of others.