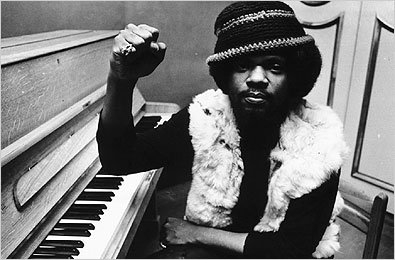 Billy Preston
Billy Preston was born on September 2, 1946 (to June 6, 2006). He was a celebrated musician whose versatility included R&B, rock, soul, funk and gospel. In addition to his successful, Grammy Award-winning career as a solo artist, Preston collaborated with some of the greatest names in the music industry, including The Beatles, The Rolling Stones, Nat King Cole, Little Richard, Ray Charles, Elton John, Eric Clapton, Bob Dylan, Sam Cooke, Aretha Franklin, and Sly Stone.
William Everett "Billy" Preston was born in Houston, Texas, but moved to Los Angeles with his family at the age of three. It was here that Preston began playing piano, and by age ten he was performing organ onstage as backup to gospel artists such as Mahalia Jackson, James Cleveland, and Andrae Crouch. When he was twelve, Preston appeared in the W.C. Handy biopic "St. Louis Blues" with Nat King Cole.
Even as he was progressing musically, Preston was being molested, as he would later reveal to his manager. He was sexually abused by the pianist in a touring company of "Amos 'n' Andy" when he was just nine years old. The abuse continued for the entire summer after Preston told his mother and she did not believe him. Later, he was molested by a local pastor. The incidents would have a negative impact on Preston for the remainder of his life.
In 1962, Billy Preston joined Little Richard's band as an organist, and it was while performing in Hamburg, Germany that Preston first met The Beatles. In 1963, he played the organ on Sam Cooke's "Night Beat" album, and released his first gospel album, "16 Years Soul," that same year. In 1965, he released his secular debut album, "The Most Exciting Organ Ever," and also performed on the mid-1960s ABC-TV musical variety series, "Shindig!" as a member of the show's house band.
In 1967, he joined Ray Charles' band, which caught the attention of several prominent musicians, most notably, The Beatles. He would later contribute to their albums "Abbey Road," the "White Album," and "Let It Be," and become one of the men known as "the fifth Beatle." Signed to the Beatles' Apple Records label in 1969, Preston released the album "That's the Way God Planned It," and made notable contributions to "The Concert for Bangladesh", the George Harrison-organized charity concert.
Billy Preston's solo career with A&M Records also peaked at this time, beginning with 1972's "Outa-Space," an instrumental track featuring the clavinet. The song reached #2 on the U.S. Hot 100, #1 on the R&B chart, and won the Grammy Award for Best Pop Instrumental Performance. It sold over one million copies, and was awarded gold record status in June of 1972. He quickly followed up with the #1 hits "Will It Go Round in Circles" and "Nothing from Nothing," and the #4 hit, "Space Race."
In addition, Preston was co-writer, with The Beach Boys' Dennis Wilson, of "You Are So Beautiful," recorded by Preston and later a #5 hit for Joe Cocker. Stephen Stills (of Crosby, Stills and Nash) asked Preston if he could use Preston's phrase "if you can't be with the one you love, love the one you're with," a line Stills used to create his own hit record. On October 11, 1975, Preston joined Janis Ian as the first musical guest on the first episode of "Saturday Night Live." After five years with A&M, Preston switched labels to Motown in 1976.
In 1980, Preston returned to the top ten with the Syreeta Wright duet "With You I'm Born Again," reaching #4 on the Billboard Hot 100 Singles Chart. It would mark the beginning of a downfall in Preston's personal and professional life in the 1980s and 1990s. He would be arrested and convicted of insurance fraud after setting fire to his own home in Los Angeles, and he was subsequently treated for alcohol and cocaine addictions. Preston was arrested for sexually assaulting a 16-year-old Mexican boy, after picking him up at a gathering point for day laborers. That year, Preston entered no contest pleas to the cocaine and assault charges. He was sentenced to nine months at a drug rehabilitation center and three months of house arrest.
Preston was invited to become a member of The Band in 1991, after the death of their piano player, Stan Szelest. He completed one tour, but his legal problems put an end to the collaboration before they had a chance to record together in the studio.
Preston overcame his problems by the mid-1990s, having toured with Eric Clapton, recording with Gary Walker, one of the vocalists in his Los Angeles-based band, and performing with a wide range of other artists. He also toured with Ringo Starr and appeared on his live album "Ringo Starr and His All-Starr Band." In 1997 and 1998, he played organ during the choir selections on the UPN comedy show, "Good News."
In 2005, Preston recorded "Go Where No One's Gone Before," the main title song for the anime series "L/R: Licensed by Royalty." He played clavinet on the song "Warlocks" for the Red Hot Chili Peppers album, "Stadium Arcadium," released in 2006. Preston's final contributions were the organ on the Neil Diamond album, "12 Songs," his keyboard work on "The Road to Escondido" by Eric Clapton and J. J. Cale, and some of the first tracks on the "Reach" album by Is'real Benton.
In March 2005, Billy Preston appeared on the fourth season finale of "American Idol," performing piano with Vonzell Solomon on "With You I'm Born Again." He made his last public appearance in late 2005 at the Los Angeles press junket for the re-release of the "Concert for Bangladesh" film. Appearing to be in good spirits, he addressed the press, and performed a set of "Give Me Love," "My Sweet Lord," and "Isn't It a Pity," featuring Dhani Harrison on guitar and Ringo Starr on drums.
Four days before he fell into a coma, Preston's manager, Joyce Moore, spoke with Preston by phone after he attended a group therapy session. Preston was angry, and revealed that he told the group he was gay. When asked by Preston why she was crying, Moore responded, "Because you're well. The reason that you had the drug problem was because you couldn't come to terms with who you've become. For you to say it out loud in therapy means you're cured. You'll never have to do [drugs] again. You're safe; you're okay, Boo."
After laying in a coma for nearly six months, Billy Preston died in Scottsdale Arizona, on June 6, 2006. Kidney disease, hypertension, and years of drug abuse led to his death at age 59.
Four year later, in his autobiography "Life," Keith Richards of the Rolling Stones wrote, "And he [Preston] was gay at a time when nobody could be openly gay, which added difficulties to his life." Friends say Preston feared the Black church and the music industry would never accept him.
We remember Billy Preston in deep appreciation for his passionate music, and his many contributions to our community.