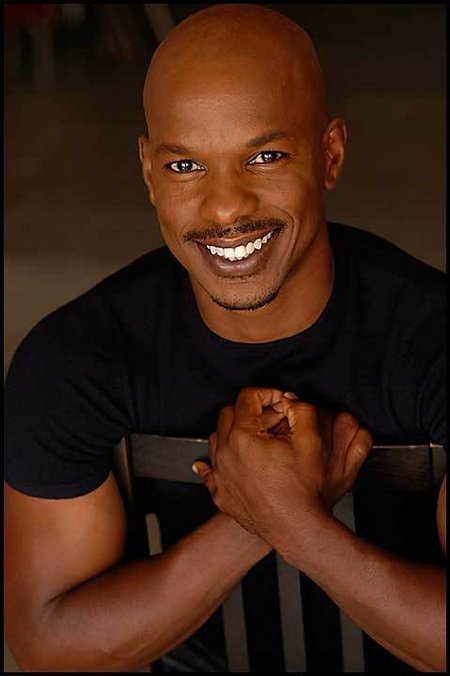 Doug Spearman
Doug Spearman was born on September 3, 1962. The "Noah's Arc" star is an accomplished actor, writer, producer, director, photographer, and humanitarian.
Doug Spearman was born in Washington, DC, and grew up in Hyattsville, Maryland, at the height of America's civil rights movement. Although his parents had no qualms about his being gay while growing up, the one place his parents put their foot down was on his ambitions to take to the stage, or worse, Hollywood.
From the moment Spearman could turn on a television by himself, he's been enthralled by movies, television series, and plays. When he was four, his mother sent him to see "The Nutcracker" performed live. According to family lore, Spearman came home that day, grabbed his mother by the hand, sat her on the living room sofa, and proceeded to re-dance the entire ballet for her. At the age of seven, when he discovered that the flying monkeys in the "Wizard of Oz" were actually people and not real animals, Spearman's career path was set.
His parents steered him away from attending drama school in Chicago, and toward a more respectable field of study at Indiana University. Spearman still pursued a course of matriculation that would lead him to theater, by double majoring in telecommunications and theater, and minoring in art history.
For twenty years, Spearman worked as a writer, producer, and director in the advertising and marketing departments of several major local television stations around the country, as well as writing and producing for ABC, CBS, NBC, and UPN.  In 2005, he retired as the creative director managing all the branding for ABC Daytime to pursue his burgeoning acting career, full-time.
Doug Spearman may be best known for his role as Professor Chance Counter on the television series "Noah's Arc" on MTV's LOGO network, and the feature film of the same name. "Noah's Arc" ran from October 19, 2005 to October 4, 2006. It was groundbreaking in its portrayal of the lives of four gay, Black and Latino men dealing with love, relationships, gay marriage, gay bashing, and acceptance.
In addition to his starring role in "Noah's Arc: Jumping the Broom," Spearman also starred in the motion picture "Cradle 2 The Grave" with Jet Li and DMX. He has also had roles on "Star Trek Voyager," "The Drew Carey Show," "The Hughleys," "Charmed," "Gideon's Crossing," "MADtv," "America's Most Wanted," "Girlfriends," "Profiler," and "All My Children." He is said to accept any good roles that are accompanied by good paychecks.
Spearman has enjoyed a long and successful career as a television creative director, writer, and twice-Emmy-nominated producer and commercial director. As a producer and director, he's worked for NBC, ABC, CBS, BET, and UPN, the Disney Channel, and E! Entertainment Television. Spearman has helped launched several networks, including UPN, SoapNet, and LOGO. His awards include a Broadcast Promotion and Management Executives Silver Medal Award, and a New England Ad Age Best of Award. As a director, Spearman's had the opportunity to direct such talented actors as William Shatner, Morgan Freeman, Halle Berry, Dixie Carter, Martin Sheen, and Candice Bergen, to name a few.
On stage, Spearman has starred in such productions as the American premiere of the British drama "The Ice Pick" at the Celebration Theater in Los Angeles; the "Men's Room" in Moscow; "The Bullpen Boys"; "A Few Good Men"; the world premiere of the Tony Award-winning South Coast Repertory's production of "The Hollow Lands" by Howard Corder; and in 2010, at the famous Edinburgh Play Festival as Dionysus in an all-male version of the Greek classic "The Bacchae."
In 2006, Doug Spearman created a television and film development and production company called The Ogden Group Entertainment. That year, he also produced and directed his first documentary, "Aretha," on the life of Aretha Franklin, which aired in January of 2007. In 2009, the Director's Guild of America commissioned Spearman to write a film entitled "Pirates 3.0." The film was produced by Randal Kleiser and directed by Jeremy Kagen, and shot entirely on the lot at Warner Brothers studios. Doug is currently co-writing and directing the web-series soap parody "Santa Juanita."
Spearman is also a much read and accomplished social commentary writer who has written articles for edweb.com, ABC Radio, "Frontiers" magazine, Germany's "Männer," "The Advocate," and dot429.com.
His community involvement includes work for the Human Rights Campaign, GLADD, The Black AIDS Institute, SMYLE in Washington, DC, Lifeworks Mentoring in West Hollywood, and Outfest. Spearman also serves as a member of the board of directors for Equality California, the state's largest LGBTQ advocacy organization, as well as The Relational Center in Los Angeles, and The Celebration Theater in Hollywood.
Doug Spearman has been honored with many awards, including a Leadership Award by the Human Rights Campaign, which was presented before the United States Senate; The Connie Norman Award from Christopher Street West (CSW) for outstanding achievement in fostering racial, ethnic, religious, and gender unity within the LGBTQ community; The Advocacy Award from the United Teachers Association; and an Image Award from the Jordan Rustin Coalition in Los Angeles.
In 2012, Spearman wrote, produced, and directed his award-winning first feature film, "Hot Guys with Guns," which appeared in more than forty film festivals on five continents and is available on media platforms including iTunes, Apple TV, Netflix, Hulu, and Amazon Prime.
In 2014, Spearman began production on his latest film, "From Zero to I Love You," a new project he wrote and is directing with Scott Bailey, Darryl Stephens, Al Sapienza, Jay Huguley, Keili Lefkovitz, Richard Lawson, Steven Bowman, and Gregory Zarian. It's a contemporary love story set in Philadelphia about two men who meet their soul mates under unlikely circumstances. You can view a short compilation here. And please support Spearman's fundraising efforts through GoFundMe.
More recently, Spearman appeared in "The Shoot" (2014), "Halfway to Zen" (2016), "Trouble Is My Business" (2016), and in an episode of "Great News" (2017). He will appear in the upcoming NBC series "Law & Order True Crime: The Menendez Murders," which premieres on September 26, 2017.
Doug Spearman is a proud member of the Bel Air Polo Club and the Gay Polo League, and currently lives in Los Angeles.