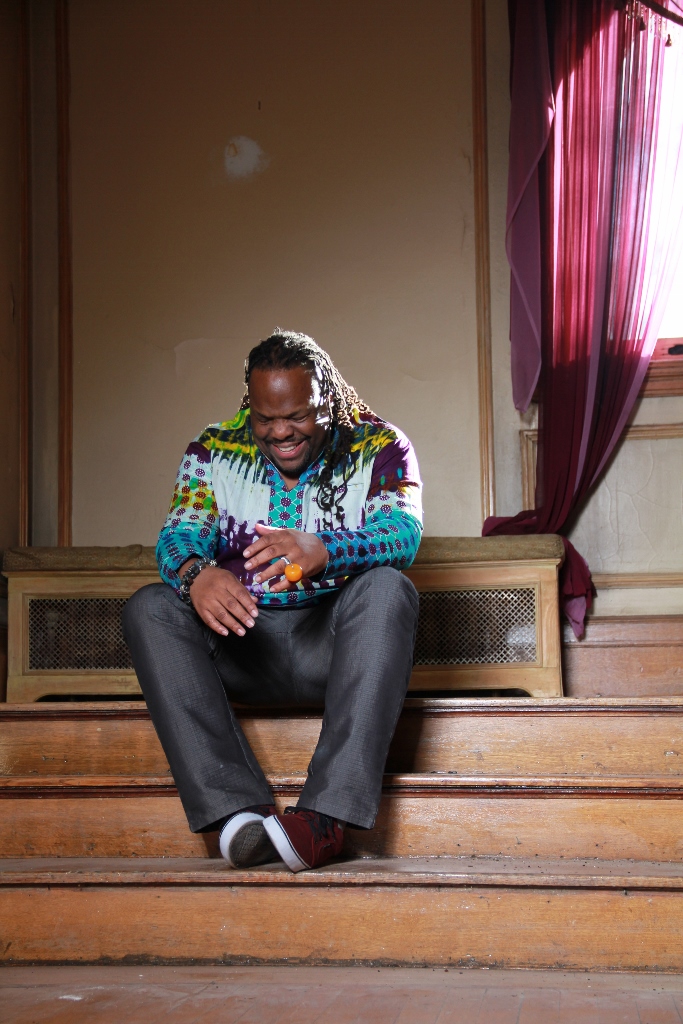 Kevin E. Taylor
Reverend Kevin E. Taylor was born on September 4, 1964. He is a highly respected pastor, author, television producer, writer, researcher, activist, empowerment coach, and proud father.
Kevin Edward Taylor is one of eight children born in Washington, DC to Lee Williams and Louise Taylor. He was raised in the nation's capital, where he attended Thomas Jefferson Junior High School, and graduated from Woodrow Wilson High School. As a kid, Taylor had to endure so much stress over being overweight and asthmatic, that being gay was something that few noticed.  When they did, Taylor said, "it was often in a sexual way—when boys would say that they wanted to experiment with me or offered sex directly. That wasn't in my plan, so I was a proud virgin until college."
Taylor attended Guilford College, a Quaker liberal arts institution in Greensboro, North Carolina, where he studied accounting, English, and Spanish as a triple concentration. He was a Dana Scholar for many semesters, and studied abroad in London, England, during his junior year. Taylor also graduated as president of the African American Cultural Society, and served as a presidential host, giving tours of the campus to visitors. In addition, Taylor is a graduate of Leadership Tomorrow, a nationally recognized leadership training institute, and a Rutgers-Newark Media and Arts Entrepreneurial HUB Fellow, a specialized graduate level program that paired entrepreneurs with coaches and programs to foster growth in their respective industries.
Following graduation, Kevin Taylor was employed at the District of Columbia's Department of Recreation Centers and Playgrounds as a budget analyst. He then went to work for Black Entertainment Television (now Viacom Corporation /BET Networks) in Washington in 1991, and moved with the company to New York City in 2000. Taylor began as a music researcher, and worked his way up through several positions, including talent coordinator, a producer of specials, senior producer, supervising producer of series and specials, and, from 2008 to 2017, he was the show writer for "Lift Every Voice." Taylor has been honored for his interviews, and for his production of "Access Granted" (Aaliyah's "Rock the Boat") and "Testimony" with Mary J. Blige (both nominated for an NAACP Image Award).
As a man who wears many hats, and appears to wear them all well, Kevin E. Taylor serves as the executive producer and CEO of TM3 (TaylorMade Music Momentos), a Newark, New Jersey-based area programming, development, and production company for various TV networks. He has successfully created and developed programs for client networks, and maintained a successful creative development and video production company for more than fifteen years.
Reverend Taylor is the senior pastor of Unity Fellowship Church NewArk, which he co-founded in 2012 after bringing together two ministries. He serves as president of the National Office of Communications for the Unity Fellowship Church Movement, and is the editor-in-chief for the National Office's online periodical. Known affectionately as "Rev. Kev" to his community, Taylor is highly regarded as an approachable and caring pastor who is deeply concerned about social justice issues, and the well-being of his members.
Reverend Kevin E. Taylor is an accomplished writer and author of numerous scripts for television, speeches for elected officials, as well as press releases and biographies for recording artists and other professionals. He is the author of eight independently published books, including "Never Too Much: this is my story of big words, big dreams and an audacious big life" (his autobiography). Additionally, "Unclutter," "It's Time for Some Action," and "Get Off Your Ass and Do Something!" are all self-help/empowerment books, while "Jaded" and its sequel, "Envy: the darkest shade of green," as well as "Because He Lives" and "Meet the Hendersons," are his novels, which are unapologetic in their passion and purpose of showing fully realized relationships among Black gay men. Taylor's works are available at his website.
Kevin Taylor's new show is "Now What?! With Kevin E. Taylor," and can also be found at his website. The first two seasons of his talk show, successfully crowdfunded, featured singers Rachelle Ferrell, B. Slade, Kelly Price, athlete/activist Sean James, gospel house legend Kenny Bobien, "SWERV" publisher Jamil Fletcher, singer and violinist Tona Brown, and actor/playwright Keith Hamilton Cobb, to name a few. A tour based on the show will launch soon, and take Taylor's combination of empowerment, motivation, no-nonsense engagement, and spirituality on the road around the country.
Reverend Kevin E. Taylor is a recognized lecturer and empowerment speaker, who has addressed audiences at colleges, universities, and community groups for the past twenty years. In addition, he has conducted a series of workshops on everything from pitching a TV show to uncluttering your life. "It seems like I'm a multi-tasker who's got too much on his hands, but I'm successful at it because I don't try to do it all at one time," said Taylor. "I know how to focus on each task at hand."
Taylor serves the community in so many ways, appearing on Rev. Al Sharpton's nationally syndicated radio show five times, effortlessly taking slings and arrows from people who didn't understand how he could be gay and a pastor. He handled himself equally as well on VH1's "Out in Hip Hop," when he spoke to the nation after a gay couple in the hip hop industry came out.
He has been recognized for his extraordinary leadership with the Bayard Rustin Angelic Troublemaker Award from his alma mater, Guilford College; the Kwanzaa Community Leadership Award in NYC; the Community Service Award from the Rashawn Brazell Memorial Fund; the Gold World Medal for Youth Programming on "24 Hours with Dru Hill"; a Special Program Development Award from Black Entertainment Television (the only employee to ever be so honored); and many other awards. Taylor has been recognized with several platinum and gold plaques from artists Mariah Carey, Natalie Cole, Toni Braxton, Dave Coz, and Barry White, for his contributions to the music business.
Reverend Kevin E. Taylor fancies himself an extraordinary cook, a painter, and photographer, and these hobbies help to keep him sane and the creative juices flowing. He's single and has a son, Ga'Vel Qwame Taylor—his heart and soul—who is the father of Kevin Taylor's pride and joy, his lovely granddaughter, JaiDyn.
We thank Reverend Kevin E. Taylor for his numerous contributions to the church, literature, and the media, and for his unwavering support of our community.