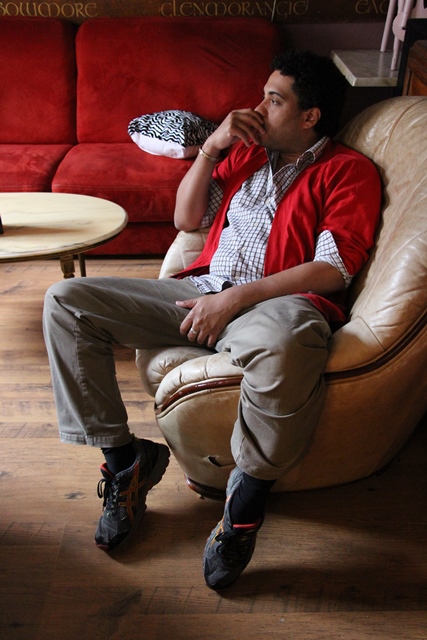 Jann Halexander
Photo: Jeff Bonnenfant
Jann Halexander was born on September 13, 1982. He is a singer, musician, composer, actor, producer, blogger, and activist.
Halexander was born Aurélien Makosso-Akendengué in Libreville, Gabon, the son of Léonard Makosso-Akendengué, a Gabonese diplomat, and Anne-Cécile Frébeau, a French national and a teacher of piano and philosophy. Both bi-racial and bisexual, Jann Halexander adopted his stage name from South African artist Jane Alexander, whose sculptures personify unique hybrid beings.
Jann Halexander grew up in the Gabonese Republic, a West African nation which gained its freedom from French colonialism in 1960. He has lived in many parts of the world, and has drawn musical influences from everywhere he goes. Halexander earned his baccalaureate degree from the Université Blaise-Pascal in 2000. In addition to Gabon, he lived in Canada in the late 1980s, studied geography in Angers, resided in France's historic Loire Valley for four years, and lived in Cape Town, South Africa and Cologne, Germany. He has made his home in Paris since 2001.
As a child, Halexander felt very different and alone. He didn't particularly enjoy sports, except swimming, and he rarely discusses his childhood in the Gabon capital of Libreville. He felt, looked, and acted different from others around him, and sensed the need to prove that he was a human being of value, deserving of acceptance and respect.
Jann Halexander is a prominent and vocal presence within European culture and arts circles. His advocacy for the LGBTQ community, and the growing African diaspora within Europe, is well known and appreciated. Primarily a French-speaking singer, he has a following in the United States, Canada, South Africa, Russia, and beyond.
With a growing fan base throughout Europe, Halexander loves to perform in public, and feels at ease on stage. He has played major concerts recently in France at Paris, Bordeaux, and Marseille; in Berlin and Cologne, Germany; and in Brussels, Belgium. Halexander knows that his eclectic fans love Lady Gaga, Mylene Farmer, Mozart, and him. He adds, "If you're open minded [about loving diverse music forms], I don't think it's a problem."
Halexander's compositions are most often in the sparse traditions of French folk music: simple piano accompaniment but with surprising lyrics that address complex issues of race, acceptance, family, love, and death. He has released ten albums, and thousands of his CDs and DVDs have sold since 2003. In July of 2013, Halexander composed a short requiem for the late gay, English football star, Justin Fashanu.
In 2016, Halexander released the song, "Papa, Mum," about the difficulties of love, feelings, and family. Earlier this year, he performed at Le Café de la Danse in Paris, joining other Gabonese artists calling for peace and respect of human rights in Gabon. He also released a new album, "A Vous Diraise-Je," which he says is about "love, always love."
Jann Halexander is a featured actor in "Statross le Magnifique," a 2006 film by director Rémi Lange. The film is the first part of a trilogy about Statross Reichmann, an incarnation of the western world and all of its contradictions.
Halexander was active in several LGBTQ associations, including Tjenbered, and the bisexual advocacy group, Bicause. He has been involved in organizing cultural conferences about racism, homophobia, and culture, and sees himself as an activist for inclusion and tolerance.
Halexander hopes to continue touring and performing. He believes his greatest impact can be in "creating more fraternity in the world, and an end to discriminations."
We thank Jann Halexander for his numerous contributions to music, and for his support of our community.