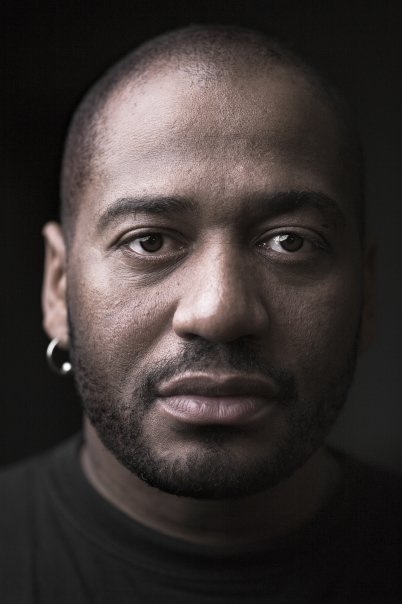 David Allan Blair
David Alan Blair was born on September 19, 1967 (to July 23, 2011). He was an award winning multi-faceted artist, poet, singer-songwriter, writer, performer, musician, community activist, and teacher.
Known simply as "Blair," David Alan Blair was one of five children born to Hildegard Blair and the late Herbert Blair, and grew up in Newton, New Jersey. Detroit, Michigan became his adopted home, beginning in the 1990s, and he often claimed he was "made in Detroit." He loved the Motor City and that love was reciprocated. They had claimed each other for more than a decade.
Passionate about his adopted home, he quickly became engaged in the community, even as he pursued his art. He first ventured to Michigan after meeting several activists who were based there, and he visited, hoping to get a better understanding of grassroots civic action. Blair soon was leading protests that shut down a club where a racist attack occurred. He began to use his gifts of music and spoken word to create change, and both the artist and activist were emerged. In the words of "Metro Times" journalist Melissa Giannini, "Blair focused his work on the hope that rises from the ashes of despair."
As a poet and musician, David Alan Blair performed at venues, large and small, across the nation and around the world. His performances took him to South Africa, Europe and Siberia. He was nominated for seven Detroit Music Awards, including a 2007 nod for Outstanding Acoustic Artist. Blair was named Best Solo Artist by the "Real Detroit Weekly" Readers Poll, and Best Urban Folk Poet by "The Metro Times." In 2007, he won the Seattle-based BENT Writing Institute's Mentor Award. In addition to receiving numerous honors, he taught classes and lectured on poetry and music in Detroit Public Schools, The Ruth Ellis Center, the Hannan House Senior Center, the YMCA of Detroit, and at various universities, colleges, and high schools across the country.
David Alan Blair was selected as a 2010 Callaloo Fellow, and he was a National Poetry Slam Champion. His first book of poetry, "Moonwalking," was released by Penmanship Books. As a solo artist, and in collaboration with The Urban Folk Collective, he self-released more than seven records. His album, "The Line," with his band The Boyfriends, was released in 2010 on Repeatable Silence Records. He produced "Burying the Evidence," a one-man show combining music, theater, and spoken word.
By his own admission, Blair was heavily influenced by the communities he was part of. In an interview for the "Michigan Citizen" he stated, "Because I'm Black and gay, the Black gay community means a lot to me as a writer, artist, performer, and as a listener." His adopted hometown was also a major influence on his life and work, as evident in his performance of his poem, "Detroit (While I Was Away)," which he performed at the 2009 TEDx Detroit conference.
In the midst of an oppressive Detroit heat wave in July of 2011, David Alan Blair sought refuge at the Corktown Inn, where he'd often go for the air conditioning during summer's hottest days. Detroit was under an advisory, with a heat index of 98 degrees, and Blair had mentioned to friends the day before that he hadn't been feeling well. On Saturday, July 23, his body was discovered by a maid. In a solemn announcement on GLAAD's website, they stated that he appeared to have died of natural causes.
(The following description of Blair's service was paraphrased from the "Metro Times"):
When news of his passing hit the Internet, Blair's Facebook page became a moving, real-time memorial. The shock and grieving swept over Detroit as thousands gathered to celebrate his life, and work. Then, on the following Sunday, an incredibly diverse array of Detroiters collected to march behind the banner that simply stated "Detroit Loves Blair." Black, White, Hispanic, Asian, straight, gay, transgender, whole families, and lone mourners marched to such melodies as "Swing Low, Sweet Chariot." With a police escort following behind, Blair's Detroit family slowly marched a half mile north toward the First Unitarian-Universalist Church of Detroit.
The church was filled to capacity, and in its pews sat some of Detroit's most serious community leaders, musicians, and poets, including Blair's partner, Dan Stalter. The shared message was that we who remain must continue to fight for those who are underrepresented, and to produce our heart's work, whatever that might be. Let life be curious. Be proud. Write poems, write songs—share them with lovers and strangers, as David Alan Blair did.
Blair worked with many community organizations and often worked with children. He had recently worked with the Capuchin Rosa Parks Youth Music Class, teaching them the power of call-and-response singing. At his service, they took to the stage and started belting out "When the Saints Go Marching In," just as he'd taught them. The call was heard, and Blair's congregation responded with cathartic resonance. Then the brass section, led by parade marshal Larry Gabriel, brought the song and the people out of the church in a New Orleans "second line" procession, and marched the surrounding blocks of Detroit. And the people sang. There was a palpable sense of soulful rejoicing. With Technicolor handkerchiefs and umbrellas raised above marchers' heads, passersby were astonished at the sight.
To live a life that touches the lives of others is to be revered and appreciated long after you're gone.  Several online memorials, including rememberingblair.wordpress.com,  continue to celebrate his unyielding lust for life. The David Blair Memorial Fund was set up in his honor for Detroit artists in need of healthcare. The David Blair Memorial Chapbook Prize was also named in his memory.
Today we celebrate the life of David Alan Blair, and thank him for his many contributions to our community.