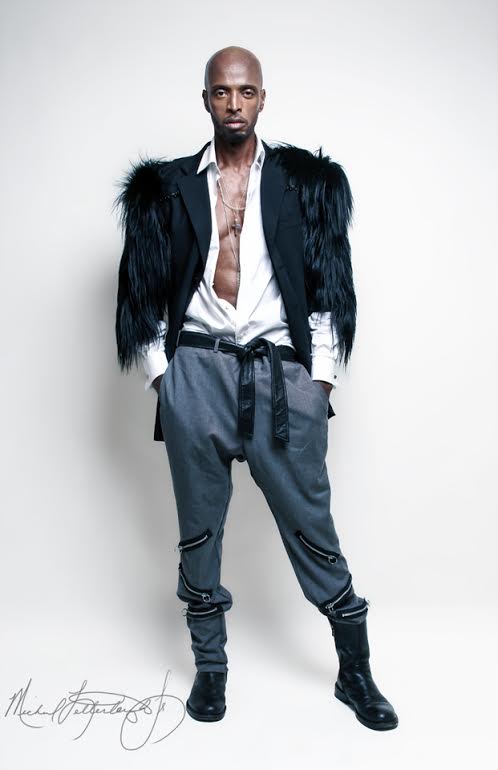 Jason Duval Hunter
Photo: Michael Letterlough, Jr.
Jason Duval Hunter was born on September 20, 1968. He is a writer, producer, director, actor, mentor, supporter of the arts, and advocate for several causes, especially for child abuse survivors and issues surrounding sexually abused males.
Jason Duval Hunter was born in Brooklyn, New York, to Willie George Lovelace, who was a "rolling stone," and his mother, Mary Louise Hunter, who served as a single parent of ten children. His stepfather, Bishop Edward Speight, played an important role in Hunter's young life, filling in for his absent father. He attended Norman Thomas High School, and graduated in 1987.
As a child, Hunter had been subjected to verbal, physical, and sexual abuse by an older male cousin—an experience that left him conflicted when it came to his sexual feelings toward men. As a young teenager and adult, Hunter looked at his attraction to men as something that was a result of the childhood abuse, and therefore, inherently wrong. He felt if he had intimacy with men, it would nullify his childhood abuse.
Hunter faced many challenges coming to terms with his sexuality. He says that he "went into the exploration of the LGBTQ community kicking and screaming." It was tough to explore the possibility that he was gay, so Hunter became homophobic to avoid having to go down that road. Today, he is very confident and secure in himself after many years of exploration and therapy. Hunter says he realizes that his sexual identity does not need to be explained or validated by anyone other than himself and his God.
Following high school, Hunter enrolled at the State University of New York at Buffalo's Department of Theatre and Dance, where he fell a few credits short of obtaining his theatre (acting) degree. He became a member of Kappa Alpha Psi Fraternity in 1991, promoted to Vice Polemarch, Dean of Pledges, and was awarded its Nupe of the Year award in 1992. It was also at SUNY Buffalo that Hunter met celebrated actor and professor, Stephen McKinley Henderson, one of the many people who have provided him with friendship and tutelage.
"It was amazing to work with him," says Hunter. "He welcomed me into his class and introduced me to the craft of acting. He nurtured my talents and gifts, and called me on my youthful insecurities as an actor." When Hunter left SUNY Buffalo, he recalls Professor Henderson's advice to "go to New York and just start getting into the business of doing. You are not going to come into who you truly are as an artist until you are in your 40s." That knowledge and wisdom his professor imparted over 20 years ago allowed Hunter to understand and appreciate the process to get where he is today.
Hunter followed his formal education by returning to New York City and immediately launching his acting career, booking roles in all aspects of theatrical productions with the new Curan Repertory Theatre Company, where he became its Associate Artistic Director. Hunter never went the "starving artist" route, and was fortunate enough to have maintained a flexible position at Morgan Stanley Dean Witter's Internal Temporary Department, which provided him with steady income as he pursued his acting career. Years later, Hunter got a second day job as a licensed real estate broker.
Hunter served on the board of directors of The O'Brien Dennis Foundation (now known as the O'Brien Dennis Initiative), a nonprofit geared toward providing resources and a safe place for male childhood sexual victims to transition from victims of abuse to survivors, and to lead fulfilling lives. He is proud of his participation in "The Untold Stories: Men without Voices Photo Exhibit" for the organization. Participants posed for famed photographer Michael Letterlough, who came up with the concept of taking a black and white picture of each participant as adults, holding a color photo of their childhood selves during the time that they were being molested. The organization was also honored by President Barack Obama, for whom Hunter volunteered to help re-elect in 2012.
Currently, Hunter is working full time in the entertainment business through his own company, The Hunt 4 Love Productions, LLC. He produced "Cybersex – The Play," which deals with the details of his childhood sexual abuse, and the impact it had on his adult sexuality. The play was successfully presented by the My True Colors Festival in Harlem, and was an official New York City Gay Pride event. Hunter says he loves creating art that reaches audiences "in ways that they sometimes immediately benefit from, and sometimes the benefit does not hit them for a while." He recognizes his ability to touch others, and to spark positive changes in his audiences.
Hunter is also passionate about helping others, and provides opportunities for fellow artists to express and practice their craft. In addition to taking on managing duties for two clients, he mentors two young artists. On social media, Hunter has two active movements: #Hunt4LoveSupportsArtist, where he looks for other artists to support in big and small ways, and #Hunt4LoveSupportCauses, the banner under which he holds two to three charity events a year.
In addition to his work with "Cybersex – The Play," Hunter appeared in a 1998 episode of "New York Undercover," in ten episodes of the popular web series "Street Behavior" as Detective Travis Brown, and in "Finding Me: The Series." He released his first project as a music recording artist last summer. The single, "IGNORE," is currently available on iTunes, iHeart Radio, Spotify, and Bandcamp. The song was created as a result of his work as a performing artist in Times Square, New York. Hunter's street performances have been featured in "The New York Times," and captured by the Associated Press. 
What is most important to Hunter is that we start listening to one another, to "take five minutes to listen to someone's story of where they have come from, what they have been through to make them into who they are today," he says. "Then take another five minutes to hear what they want for their future, and then take a moment to encourage that person's dreams and aspirations." Hunter truly believes that taking time to put a person's life into this context will give us more compassion and respect for one another, and that this shift in consciousness will lead us closer to acceptance and equality.
Hunter makes his home in New York City, is single and is happily dating. He hates labels, but says if he had to choose one, it would be bisexual. He feels that he is worthy of love, and believes he could find bliss with the right man, or the right woman. He says, ultimately, God's will…will be done.
We thank Jason Duval Hunter for his numerous contributions to the arts, for his commitment to serving others, and for his support of our community.