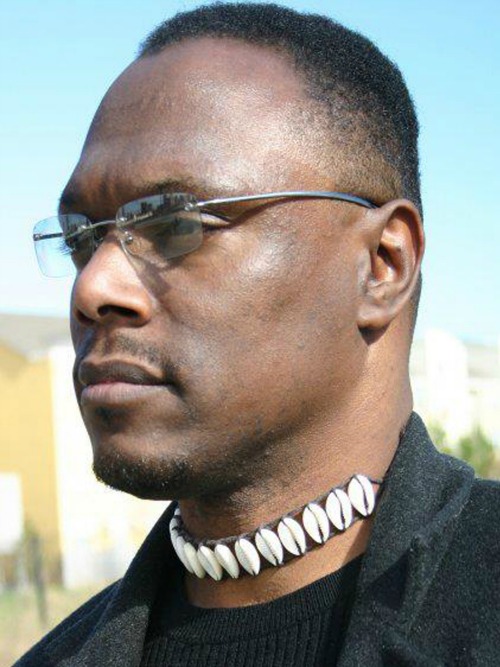 Cleo Manago
Cleo Manago was born on September 21, 1960. He is a Black human rights activist, socio-political analyst, behavioral health specialist, writer, and filmmaker who coined the term Same Gender Loving (SGL) for LGBTQ people who are Black or of African descent. He is also the founder and CEO of AmASSI Health and Cultural Centers, and Black Men's Xchange (BMX).
Manago was raised in "South Central" Los Angeles, attended Carson High School, and graduated from Compton High School in 1978. His further academic studies include Transformative Learning and Cultural Anthropology at the California Institute of Integral Studies; Religion at Christ University, Bengaluru, India; and Public & Community Health at the New College of California. Manago is also a community faculty member at Charles Drew University of Science and Medicine in Los Angeles, and a former doctoral student at the California Institute for Integral Studies in San Francisco.
At the height of the HIV/AIDS crisis in 1989, Manago was at the forefront of turning national attention to the epidemic in the Black community. In addition to research work, he developed successful programmatic implementation models for prevention, and consulted with the Centers for Disease Control (CDC) and other public health agencies on the limits of existing models in addressing health disparities for communities of color.
That year, Manago founded the Black Men's Exchange, the oldest and largest community-based movement in the United States devoted to promoting healthy self-concept and behavior, cultural affirmation, and critical consciousness among SGL, gay-identified and bisexual African-descended males and their allies. It has chapters in Baltimore, Boston, New York, Washington, DC, Chicago, Cleveland, Houston, Los Angeles, San Diego, Seattle, Atlanta, Charlotte, Fort Lauderdale, Jackson (Mississippi), Miami, New Orleans, Cape Town (South Africa), and Brasilia (Brazil).
He also started the African, American Advocacy, Support-Services & Survival Institute (AmASSI) Health and Cultural Centers, whose mission is "to serve the community with culturally affirming services focusing on advocacy, health, well-being, self-respect, responsibility and leadership development." The organization's goal is improve Black well-being, and to end health disparities, self-concept and inter-group conflict among diverse people of African descent. It also combines skills building and educational programs regarding the primary and secondary prevention of HIV disease, substance abuse, and various health threats, with cultural affirmation and critical thinking.
In Gil L. Robertson's book, "Not in My Family: AIDS in the African-American Community," Manago wrote, "I was deeply in love with my partner. We loved each other. It almost killed me to watch him die of AIDS. After he died, I was a complete mess." But Manago says the loss inspired him in his work, particularly with the founding of Black Men's Exchange, and the reinforcement among Black men of their value.
"I fell in love with a man of high integrity, a loving, decent brother who just couldn't believe some of the things that were true about him," wrote Manago. "He figured that because he was a black homosexual male, he was not a valuable human being…but meeting so many beautiful black men caught up in the mythology that they were worth less than others advanced the work that much further. This may not change completely in our lifetime, but I am convinced it will one day change."
Manago's 1994 health strategy, Critical Thinking and Cultural Affirmation (CTCA), addresses positive mental, sexual, and community health, while promoting self-actualization, cultural empowerment, and responsibility. It has been applied in major cities such as Los Angeles and New York, and evaluated by the CDC at Loyola University in Chicago for national replication.
Manago has also made a mark in producing, writing, and directing. His two most noted works include the short films "I AM A MAN: Black Manhood & Sexual Diversity," and "Getting the Language Right: HIV Healing in Young Black America." His film, "In My Own Image," is a documentary telling the story of 40 SGL Black men of diverse backgrounds, locations, and ages, who convened for a historic gathering to discuss trauma, healing, political power, and advancing the state of Black men.
In addition to frequent appearances on Black Entertainment Television (BET), Manago has been featured on CBS, NBC and ABC News, and selected by the "Los Angeles Times" as one of the top 100 most influential African American leaders in the city. His written work has been featured in "Ebony," "The Black Scholar," the "Los Angeles Times," "The Oakland Tribune," and scholarly journals and books, including "Atonement: The Million March," and "Male Lust: Pleasure, Power, and Transformation."
Cleo Manago is unapologetically Afrocentric, and has been considered everything from a social activist and a visionary to anti-white and a demagogue. He has denounced the use of terms like "gay" and "queer" because they stem from the mainstream white, patriarchal, homosexual community. Manago believes mainstream LGBTQ activism is attached to white privilege and ideology, and single-focused gay organizations that often exclude marginalized communities. Even within the Black LGBTQ community, Manago has found himself the center of disagreement.
At the Millions More Movement (MMM) march in 2005, Manago was asked to address the event by the Nation of Islam, in favor of more mainstream Black LGBTQ organizations such as the National Black Justice Coalition (NBJC), and its founder and then-president Keith Boykin. Observers believed Manago was chosen because he was more closely aligned with the theology of Nation of Islam leader Louis Farrakhan promoting a deliberate separation from the dominant, white heterosexual and queer cultures.
In a Nation of Islam press release, Manago stated, "The Nation of Islam is to be heralded and applauded for including our community on this great day. It is shameful that there are false leaders being appointed to the SGL community that are attempting to dilute the power behind that event with untrue messages about non-inclusion on that day. Keith Boykin for instance, has spread lies in the media to dilute unity in our communities. But rest assured, the Millions More Movement will not be stopped, diluted or deterred. This is history in the making."
We thank Cleo Manago for his steadfast support of our community, and, as stated on his Facebook page, "Just living this maze called my life, with the goal of being of transformative benefit to Black people."