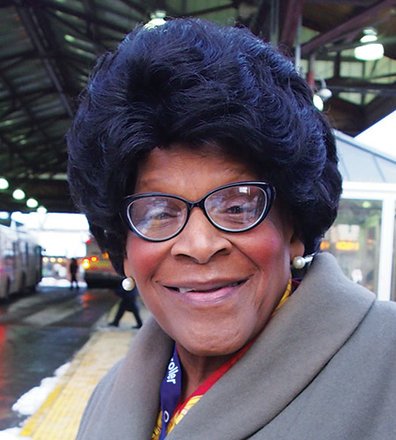 Althea Garrison
Althea Garrison was born on October 7, 1940. When she was elected as a Republican to the Massachusetts House of Representatives in 1992, Garrison became the first trans person elected to a state legislature in the United States.
Althea Garrison was born in Hahira, Georgia, attending Hahira High School before relocating to Boston to attend beauty school. She went on to receive an associate's degree at Newbury Junior College. Later, she earned a bachelor's degree in administration from Suffolk University, a master's degree in management from Lesley College, and a certificate in special studies in administration and management from Harvard University.
According to records in the Suffolk County (Massachusetts) Probate Court, Garrison petitioned for a name change to Althea Garrison in 1976. The petition stated that the name "is consistent with petitioner's appearance and medical condition and is the name by which he [sic] will be known in the future."
When Garrison first ran for public office, she did so as a Democrat, vying for a spot in the Massachusetts State House in 1982 and 1986. In 1991, she ran for a District 7 seat in Boston City Council, again unsuccessful. It wasn't until Garrison ran for the 5th Suffolk district in the Massachusetts House in 1992 that she was finally able to win an election, beating Democratic candidate Irene Roman by more than 400 votes. A path to victory was made easier for Garrison after she successfully challenged the validity of signatures collected for the Democratic primary by then-incumbent representative Nelson Merced.
Following the election, Garrison was asked by "The Boston Herald" if she was a man, and denied it. During her one-term tenure, Garrison held pro-union platforms and was known to side with the Democrats on many votes. However, she opposed same-sex marriage and abortion. When she ran for a second term in 1994, Garrison was defeated by Democratic candidate Charlotte Golar Richie.
During her career, Garrison became known as the "perennial candidate," running for more than a dozen seats in various levels of government as a Republican, Democrat, and Independent. Although she has not won a race since 1992, Garrison made a go of it in numerous elections, including those held in 2000, 2001, 2002, 2003, 2005, 2006, 2010, and 2011.
Besides her legislative career, Garrison has worked in human resources for the Massachusetts state comptroller's office, and served for four years on the Metropolitan Area Planning Council.
When Danica Roem become Virginia's first openly trans legislator in 2017, initial reports incorrectly claimed that she was the first trans person elected to any state legislature. That honor, of course, goes to Althea Garrison. The difference between the two women is that Roem was publicly out as trans during the campaign, while Garrison was not.
When reflecting on her historic, trailblazing election, Garrison told "Newsy": "I don't mind being the first, but I don't think it's special…like most people do. I'm a normal working stiff." She also hasn't ruled out running for office again.
"If I give up, then I'm a person that quits, and I don't quit. And in order to win you have to run. If you don't run, you can't win."
We thank Althea Garrison for blazing a trail for trans people, and forever changing the political landscape of the United States.