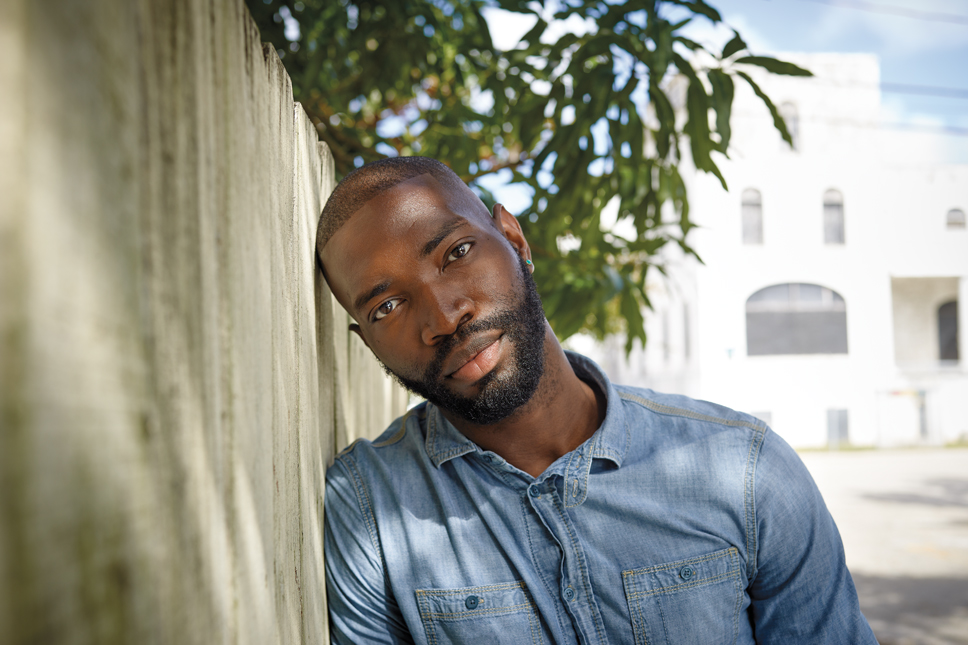 Tarell Alvin McCraney
Photo: Jeffrey Salter
Tarell Alvin McCraney was born on October 17, 1980. He is an Oscar-winning screenwriter, playwright, and actor who was the recipient of the first New York Times Outstanding Playwright Award for "The Brother/Sister Plays."
Tarell Alvin McCraney grew up amid poverty and uncertainty in Miami, Florida's Liberty City neighborhood. His father left home early on, and his mother reportedly battled crack addiction, and died from AIDS-related complications when he was 22. McCraney pursued magnet drama programs at the Charles Drew, Mays Middle, and South Miami High schools. He graduated from New World School of the Arts High School, receiving the exemplary artist award and the Dean's Award in Theater.
Social programs in the arts were an integral part of McCraney's childhood, and he found an early mentor in Teo Castellanos, who directed an improv troupe that McCraney joined as a teen, and who later welcomed McCraney into D-Projects, a contemporary dance and theater company that looks at social issues through intercultural performance work.
Growing up in Liberty City, McCraney recalled, "…there was a dearth of gay people in the media but there were gay people within my neighborhood. There were transgender people within my neighborhood. The way in which the community interacted with these people was so peripheral and marginalizing that I didn't get a chance to know how they could be integrated into the world around us. That's on us as a community and us as people. It's important for us to be representational as people in communities and not get this xenophobic idea of living in this homogenized world."
Rejected by Juilliard in 1999, McCraney went on to the Theater School at DePaul University in Chicago, and received his Bachelor of Fine Arts degree in acting. In May of 2007, he graduated from Yale School of Drama's playwriting program, where he received the Cole Porter Playwriting Award upon graduation. At Yale, he was an assistant to August Wilson, whose 10-play, 10-decade cycle about the African American experience was among McCraney's inspirations to write with ambitious scope.
As an actor, McCraney has worked with directors such as Tina Landau of the Steppenwolf Theater Ensemble in Chicago, David Cromer, BJ Jones (artistic director of the Northlight Theatre, where McCraney co-starred in the Chicago premiere of Joe Penhall's "Blue/Orange"), and Peter Brook and Marie-Helene Etienne of the Bouffes du Nord, in Paris, France.
In 2008, Tarell Alvin McCraney became RSC/Warwick International Playwright in Residence at the Royal Shakespeare Company. In April of 2010, he became the 43rd member of the Steppenwolf Theatre Ensemble, and in 2013, was awarded the prestigious Windham Campbell Prize from Yale University in its inaugural year.
His "Brother/Sister Plays" are three related dramas about a community of African Americans living through decades in a housing project in a Louisiana bayou—and, in the final moments, facing a hurricane of Katrina proportions. The celebrated plays explore Yoruba mythology and include "The Brothers Size," "In the Red and Brown Water," and "Marcus: Or the Secret Sweet." They have been performed at McCarter Theater in Princeton, The Public Theater in New York, Steppenwolf Theatre in Chicago, and in the Bay Area at Marin Theatre Company, ACT, and Magic Theatre, as well as the Young Vic in London.
McCraney also wrote "Wig Out!," the winner of the GLAAD Award for Outstanding Play, set in New York drag clubs, which explores McCraney's experiences as a gay Black man.  Other plays include "The Breach," "American Trade," "Without/Sin," "Run Mourner, Run" (adapted from Randall Kenan's short story), "Head of Passes," and "Choir Boy."
Tarell Alvin McCraney was named by London's "Evening Standard" as their Most Promising Playwright in 2008, and a year later, was awarded the New York Times Outstanding Playwright Award for "The Brothers Size."  He has also been honored with the Steinberg Playwright Award in 2009, the prestigious Windham–Campbell Literature Prize in 2013, and received a "Genius Grant" from the MacArthur Fellowship that same year. In addition, he has been awarded a Whiting Writers Award, and a National Endowment for the Arts Award.
Tall and lean like a dancer, McCraney also has great passion for dance. "I have the build but not the talent," he says, and harbors a dream of one day creating a ballet. In his writing, McCraney tries to conjure similar choreographic effects, "those glimmers when you feel that this isn't even words anymore, almost like a song, almost like a dance."
In 2016, his autobiographical play, "In Moonlight Black Boys Look Blue," was adapted into a screenplay for the coming-of-age movie, "Moonlight." McCraney won an Academy Award for Best Adapted Screenplay, an honor he shared with the film's director, Barry Jenkins. McCraney's other awards included the Writers Guild of America, Film Independent Spirit Awards, Seattle Film Critics, and the Gold Derby Award.
Oprah Winfrey's OWN network has announced an hour-long coming-of-age drama series created, written, and executive produced by McCraney, whose life story will serve as the basis for the series. McCraney will also pen "Cyrano the Moor," a live-action musical starring David Oyelowo that will mash up William Shakespeare's "Othello" and the classic French play, Cyrano de Bergerac.
At the Yale School of Drama, McCraney is currently the Eugene O'Neill Professor in the Practice of Playwriting Department; the Chair of Playwriting at the School of Drama; and the Yale Repertory Theatre Playwright-in-Residence.
As for being an openly gay Black man, McCraney said in an interview with "The Guardian": "It's interesting because I never had a coming out moment. Especially because…people were telling me I was gay from the off. There was never a moment when I had to sit everybody down and have a conversation. There were these small moments when I would be with my boyfriend and have to explain to my brother that this is my boyfriend, he's not my friend or my partner but he's my boyfriend. My brother was like 'oh cool' and we moved on."
We thank Tarell Alvin McCraney for his compelling playwriting, his powerful advocacy for the disenfranchised in America, and for his inspiring contributions to our community.