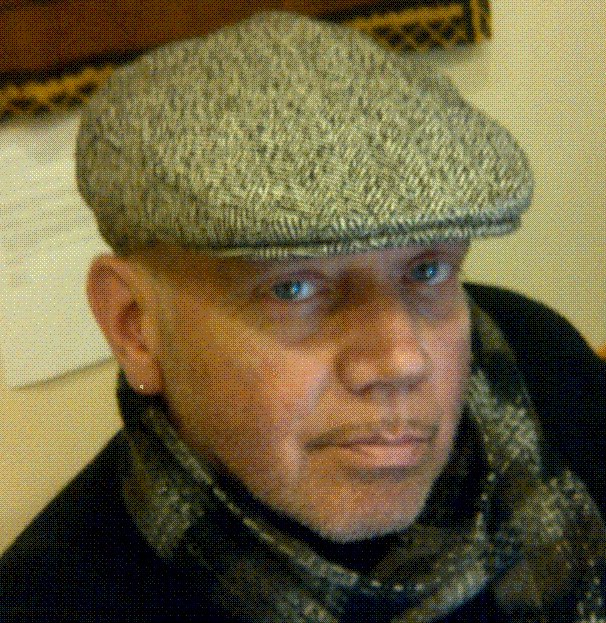 Stephen A. Maglott
Please visit the Legacy page for memories of Stephen, including a poem written for him by friend and Project honoree Tim'm T. West, and recollections from Karen Williams, the last person profiled by Stephen in the hours preceding his death. On the Press page, you can hear an interview on Michelle Brown's radio blog program, "Collections," with Aundaray Guess and Mark Zustovich discussing the continuation of the Ubuntu Biography Project in Stephen's memory.
Stephen wrote hundreds of biographies for the Ubuntu Biography Project, but was humbly hesitant to document his own. Prior to his passing in the summer of 2016, Stephen worked with West to create his own life story. For the first time, it is presented here in its entirety, with revisions made in 2017 based on writings left behind by Stephen. 
---
Stephen Maglott was born on October 26, 1953 (to August 13, 2016). He was a social justice activist, civil servant, political operative, and creator of the Ubuntu Biography Project.
Stephen A. Maglott was born in Bangor, Maine, the son of George F. Maglott and Frances Alley Maglott. His birth family consists of three brothers, and two adopted sisters of Indigenous American and Puerto Rican descent. Maglott moved first to Boston, MA when he was six, and shortly thereafter to New York.
Nurtured in his formative years in both Harlem and Buffalo, he was drawn to civil rights and social justice struggles early on. Working with street prostitutes, the homeless, and migrant workers, Maglott helped to create outreach programs, and investigate instances where farm workers were held against their will, owing farmers money after long work days, and charged exorbitantly for their food, transportation, and lodging. He went undercover to expose the corrupt system, and the investigation resulted in a change in policies.
Maglott attended the Parson's School of Design (The New School) while working for the United Nations as a researcher attached to the UN Commission on Apartheid. When costs mounted and job offers began pouring in, he left school to work full time as a graphics designer and art director for several major agencies. Maglott left this work and moved to Los Angeles in the early 1980s at the request of his friend, the musician Rick James. He toured with James, and worked periodically with Teena Marie and Prince, handling merchandise sales while they were on tour. Maglott eventually left California for Amsterdam, where he lived life as a bohemian expatriate artist for a few years before returning to the United States and the world of advertising and marketing.
A new relationship and disenchantment with the advertising business led Maglott to try his hand at domestic bliss when he and his partner became foster parents to two boys with disabilities. He taught special education classes, began a catering business, and served as the chief caretaker for the household. After eight years, he could no longer continue to care for the then-young adults, and the boys moved into group homes as their needs expanded. During this time, Maglott also served as a docent and researcher for Frank Lloyd Wright's Darwin D. Martin Complex, and worked to preserve Louis Sullivan's Buffalo Asylum Complex, the Michigan Street Baptist Church, and the Colored Musicians Club.
Maglott accepted a position with the Men Of Color Health Awareness (MOCHA) Project, a Rochester, New York-based HIV/AIDS prevention and case management program committed to serving the needs of gay Black men. He helped to open a Buffalo office, and assisted in the formation of the New York State Black Gay Network (NYSBGN). The MOCHA Project made history in 2000 when it hosted the first statewide summit of Black gay service providers for NYSBGN.
Maglott took a short break from the MOCHA Project to assist his friend, Byron W. Brown, with putting together a campaign for a New York Senate seat. When his MOCHA sabbatical ended, Stephen stayed on with Senator Brown as director of research. Maglott returned to New York City in 2005 when Brown launched a successful campaign to become Buffalo's first Black mayor.
Upon returning to New York, Maglott served as transition coordinator for newly elected State Senator Jeff Klein, and briefly served in various capacities on the campaign staff of Obama for America in the Commonwealth of Pennsylvania. In 2008, he accepted a position as director of correspondence for State Senator and Democratic Conference Leader Andrea Stewart-Cousins.
Wherever Maglott called home, he was actively involved in causes near and dear to his heart. In Buffalo, he served on the board of the Buffalo Caribbean Islands Festival, the National Conference for Community and Justice (NCCJ), and the Faith Leadership Roundtable of the City of Buffalo's Commission on Citizens' Rights & Community Relations, among many others. In New York City, he served as a media coordinator for Harlem Week events for the Greater Harlem Chamber of Commerce, and as the on-site coordinator of its successful HBCU College Fair.
In an email from April 2009, Stephen Maglott first discussed creating what would become his "soul work" (as friend Terri Noonan would later describe the Ubuntu Biography Project).
"The working title for the biography collection is 'The Ubuntu Project' (Zulu for 'I am, because we are') but the details of how this will be used are not complete," he wrote. "I have ruled out publishing these in book or calendar form, as I want to disseminate this info as widely as possible and use it as a tool to educate and empower same gender loving black men.  I'm not trying to make money off of this, but I'm not trying to go broke doing it either."
By September of 2009, Maglott had created a logo for the Project, and begun gathering biographical information on his honorees. Over the next several years, he fleshed out the Project, eventually creating a Facebook site for launch in 2014. Over the next two years, the Ubuntu Biography Project would grow to several hundred biographies, each lovingly and meticulously researched by Maglott. He would also reach out to as many of his subjects as possible, often striking up friendships, and charming honorees with his flirtatious and infectious personality.
In the final years of his life, Maglott's eyesight began to deteriorate and he worried about maintaining the Ubuntu Biography Project. He reached out to friends and community members to express his concerns, and to ask for assistance with the Project, if needed. On Saturday, August 13, 2016, at around 6:00 in the morning, Maglott's final biography (of Karen Williams) was posted to Facebook. Scheduled to meet up with friend Aundaray Guess later that day, Maglott instead sent a text to Guess that he was enroute to the hospital with chest pains. Stephen Maglott passed away hours later at the age of 62.
On September 7, 2016, Maglott was remembered at a memorial service hosted by the Malcolm X and Dr. Betty Shabazz Memorial and Education Center.
In a tribute to his friend, Tim'm T. West wrote about Maglott's race, which came as a surprise to many who perceived Maglott as a chronicler of people of color just like him.
"Stephen held a great deal of anxiety about his race," West remembered. "I recall a conversation back when we first got acquainted in 2010 when he 'outed' himself to me as white. It was a shocking revelation because I knew fewer men in my heart who were as Black…Stephen blurred many lines for me: mentor, father-figure in the absence of one I could be fully transparent with, homie, lover, and friend. He was also, in my eyes, a Black man."
On June 20, 2017, the Ubuntu Biography Project was renamed in honor of Stephen A. Maglott, and relaunched for Pride Month by Aundaray Guess and longtime Ubuntu fan Mark Zustovich. It was decided that most of Maglott's original material would be presented as he wrote it, with updates being added as necessary. Since then, dozens of new biographies have been added to the collection—carrying on Maglott's legacy and "soul work."
In his own words, Maglott described the genesis of the Project this way:
"The Ubuntu Biography Project was born out of a desire to tell the largely untold stories of LGBTQ men and women of African descent, and to celebrate their remarkable contributions to our world. These are created in the hope that they will serve to educate and empower the whole community, while they give same-gender loving/Trans men and women of African descent ample reason to find pride in who they are, and to find strength in the dynamic and loving community they are connected with. 
Ubuntu is a Nguni Bantu term of Central and South Africa that is literally translated as 'human-ness.' A more common interpretation of its meaning translates as 'I am, because we are.' It is an empowering affirmation of humanity's interconnectedness and of our collective responsibility to cherish one another. It links each of us to our desire to live and love freely, our shared interest in our creative and spiritual connections, and in humanity's common lineage to African ancestry. 
These biographies of remarkable men and women illuminate the story of our humanity through shared experiences, familiar hopes, our abundant love, our unique passions, our resilience in the face of challenges, and a common desire for community."
We fondly remember our founder, Stephen Maglott, for his tireless advocacy, his humble nature, and for never allowing us to forget the LGBTQ/SGL people of color and African descent who have enriched our community and the world.