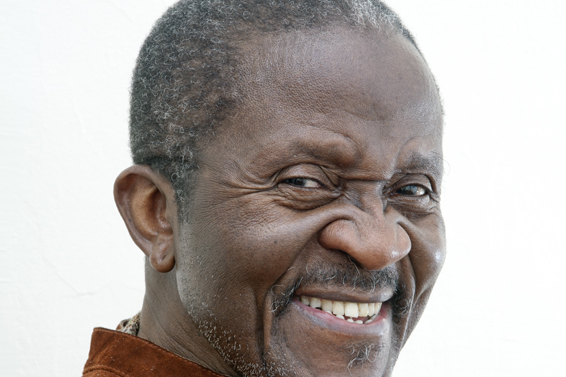 Andy Bey
Andy Bey was born on October 28, 1939. He is an accomplished pianist and jazz singer who is celebrated for his four-octave baritone voice.
Andrew W. Bey grew up in Newark, New Jersey with seven sisters, and later recorded with two of them. He was exposed to jazz as a child, and started singing in front of local audiences as early as eight. At some gigs, he was accompanied by tenor sax great Hank Mobley. Bey was 13 years old in 1952 when he recorded his first solo album, "Mama's Little Boy's Got the Blues." At 17, he formed Andy & the Bey Sisters with his siblings, Salome and Geraldine, in 1956. The group did a 16-month tour of Europe, and recorded three albums before breaking up in 1967. In the 1960s and 1970s, Bey worked on the television show, "Startime," with Connie Francis, and sang for Louis Jordan.
Andy Bey is a commanding interpreter of lyrics who has a wide vocal range, and a big, rich, full voice.  Although widespread popularity has often eluded him, insiders have always known about Bey; John Coltrane cited Bey as his favorite vocalist. Bey's vocals were featured by Max Roach, Duke Pearson, and Gary Bartz, for whom he delivered very socio-political lyrics, including some searing condemnations of United States involvement in the Vietnam War.
The 1970s also found Bey recording "Experience and Judgment," which had strong Indian influences, and the beginning of a long association with pianist Horace Silver, who featured him prominently on many of the religious-themed albums he put out in the 1970s and 1980s. Bey continued to work with Silver into the 1990s, when he was featured on Silver's 1993 Columbia album, "It's Got to Be Funky," which marked a return to hard bop's mainstream, and did much better commercially than his more spiritually-themed music. In 1974, Bey and Dee Dee Bridgewater were the featured vocalists on Stanley Clarke's monumental album, "Children of Forever."
After a 22-year absence from recording, Bey returned with four albums that have become a permanent part of the musical landscape. Colleague Herb Jordan assisted Bey with a resurgence of his recording career. Their recording, "Ballads, Blues & Bey" in 1996, returned Bey to prominence, and he followed that with "Shades of Bey" in 1998, and "Tuesdays in Chinatown" in 2001, choosing to explore outside the world of jazz with covers of Nick Drake, Milton Nascimento, and others.
Later, he recorded "Experience and Judgment," which had Indian influences. Bey won the 2003 Jazz Vocalist of the Year award from the Jazz Journalists Association. The album "American Song" received a Grammy nomination for Best Jazz Vocal Album in 2005. In 2007, Bey released "Ain't Necessarily So," and in 2013, followed that with the acclaimed "The World According to Andy Bey" on the Highnote label.
Bey is an openly gay jazz musician who was diagnosed as HIV-positive in 1994. He turned to yoga and a strict vegetarian diet to maintain his health over the years, and his popularity as a performer continues unabated. "Did you know that gratefulness helps get rid of fear?" he said in an interview. "I'm so grateful to be able to do what I love, to have a purpose in life."
We thank Andy Bey for his artistry, his perseverance, and his many contributions to the joyful sounds of our community.