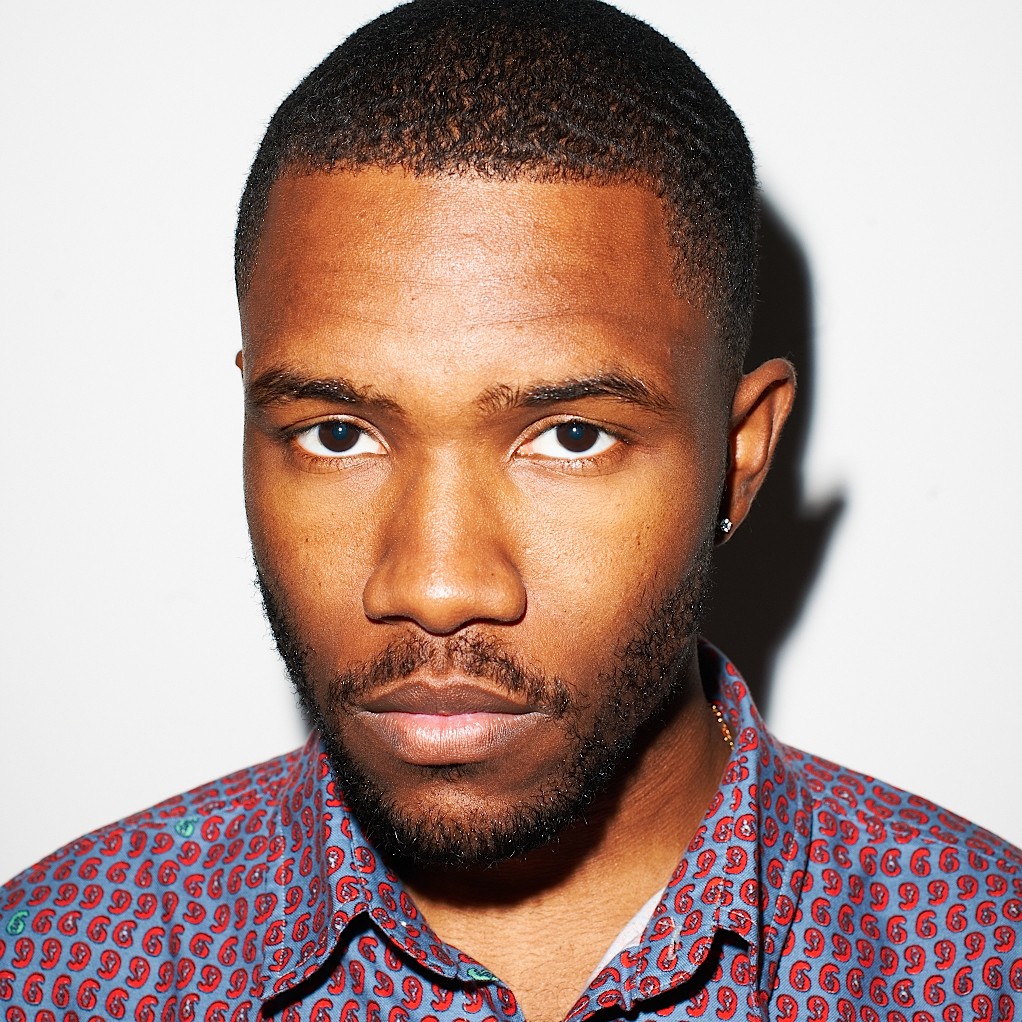 Frank Ocean
Frank Ocean was born on October 28, 1987. He is a Grammy Award-winning singer, rapper, composer, and celebrated performer.
Born as Christopher Edwin "Lonny" Breaux in Long Beach, California, Frank Ocean is the son of Calvin Edward Cooksey and Katonya Breaux. His family includes a brother and one sister. When Ocean was around five years old, he and his family moved to New Orleans, Louisiana, which proved to have a profound effect on him as a child with its different ambiance and musical influences including jazz, Cajun and delta blues. In his teens, Ocean would earn money by washing cars, mowing lawns, and walking dogs in order to create a studio in a rented space. Ocean moved into a dormitory when he entered the University of New Orleans, but Hurricane Katrina hit shortly thereafter, and he transferred to the University of Louisiana at Lafayette.
After Katrina severely damaged the space, looters carted away much of the equipment. Without a studio to anchor him, Ocean decided to leave his family and his hometown, and moved to Los Angeles, California, to continue doing what he loved most. During his stay in LA, Ocean recorded demos at a friend's studio, and submitted them to local labels. He earned a songwriting deal as a ghostwriter for artists such as Brandy, Justin Bieber, and John Legend. ocean soon realized that composing for others could be lucrative, but recognized that he didn't take the risk to relocate to Los Angeles to be comfortable.
In 2010, Ocean changed his name to Christopher Francis Ocean, inspired by Frank Sinatra and the 1960 film, "Ocean's Eleven." He also became a member of the alternative hip-hop collective Odd Future Wolf Gang Kill Them All (OFWGKTA). Ocean's friendship with Odd Future member Tyler, The Creator reinvigorated his songwriting, and he ceased ghostwriting and took his songwriting public.
Frank Ocean's desire to solo was still there, and an introduction to Christopher "Tricky" Stewart helped him get a solo contract with Def Jam Records. His first mixtape, "Nostalgia, Ultra," was released in February 2011 to good reviews. The mixtape focuses on interpersonal relationships, personal reflection, and social commentary, and seasoned music critics loved it. Def Jam made plans to release it as an EP, presided by the single "Novacane," Once released, "Novacane" and "Swim Good" both achieved chart success. The mixtape gained Ocean plenty of attention, and the interest of recording artists such as Kanye West, Beyoncé Knowles, and Jay-Z. He consequently appeared on West and Jay-Z's "Watch the Throne" album. Ocean co-wrote and was featured on two tracks: "No Church in the Wild" and "Made in America."
Ocean's debut studio album, "Channel Orange," was released in July 2012. The album was promoted with three charting singles: "Thinkin Bout You," "Pyramids," and "Sweet Life." He also made his debut television performance with "Bad Religion" on "Late Night with Jimmy Fallon." The same day, Ocean released his album a week ahead of schedule for digital download on iTunes, and composed an open letter, intended for the liner notes on "Channel Orange," that would preemptively address speculation about his same-sex attraction.
Ocean eloquently wrote: "Four summers ago, I met somebody. I was nineteen years old. He was too. We spent that summer, and the summer after, together. Everyday almost. And on the days we were together, time would glide. Most of the day I'd see him and his smile, I'd hear his conversation and his silence until it was time to sleep. Sleep I would often share with him. By the time I realized I was in love, it was malignant. It was hopeless. I sat there and told my friend how I felt. I wept as the words left my mouth. I grieved for them, knowing I could never take them back for myself. He patted my back. He said kind things. He did his best, but he wouldn't admit the same. He had to go back inside soon. It was late and his girlfriend was waiting for him upstairs. He wouldn't tell me the truth about his feelings for me for another three years. I felt like I'd only imagined reciprocity for years. Now imagine being thrown from a cliff. No, I wasn't on a cliff, I was still in my car telling myself it was gonna be fine and to take deep breaths. I took the breaths and carried on. I kept up a peculiar friendship with him because I couldn't imagine keeping up my life without him. I struggled to master myself and my emotions. I wasn't always successful."
Ocean would later write about coming out, "(It) was about my own sanity and my ability to feel like I'm living a life where I'm happy when I wake up in the morning, and not with this freakin' boulder on my chest." Ocean became one of the first major African American music artists to announce that he had fallen in love with someone of the same sex, notable because the industry has a reputation for homophobia. The album name, "Channel Orange," alludes to his first time falling in love, as it was summer and he perceived everything to be orange (a reference to the neurological phenomenon grapheme-color synesthesia).
Members of the hip-hop industry generally responded positively to Frank Ocean's announcement. Russell Simmons wrote a congratulatory article in "Global Grind," saying, "Today is a big day for hip-hop. It is a day that will define who we really are. How compassionate will we be? How loving can we be? How inclusive are we? Your decision to go public about your sexual orientation gives hope and light to so many young people still living in fear." Other artists who expressed their support included Beyoncé, Jay-Z, and Tyler The Creator, along with other members of OFWGKTA.
"Channel Orange" received universal acclaim from critics, and was credited by some writers for moving the R&B genre in a different, more challenging direction. Considered as his first commercial release on a traditional record label, "Channel Orange" featured unconventional songs that were noted for their storytelling and social commentary, and a dense musical fusion that drew on hip-hop, soul, and R&B. Ocean promoted the album with his 2012 Summer Tour, which featured final appearances at the Coachella and Lollapalooza festivals. The BBC announced that Ocean finished second place in its Sound of 2012 poll, and he performed an acoustic version of "Thinkin Bout You" at the 2012 MTV Video Music Awards.
In December of 2012, Ocean was nominated for six Grammys: Album of the Year and Best Urban Contemporary Album (won) for "Channel Orange"; Best New Artist; Record of the Year for "Thinkin Bout You"; Best Rap/Sung Collaboration for "No Church in the Wild" with Kanye West and Jay-Z (won); and Best Short Form Video for "No Church In The Wild." "Channel Orange" was named the best album of 2012 by many music and mainstream publications and critics.
In 2016, Ocean released the magazine "Boys Don't Cry" and the visual album "Endless" alongside his second studio album, "Blonde," which was released independently following several years of delays. Ocean decided not to submit "Blonde" for consideration at the Grammy Awards, stating "that institution certainly has nostalgic importance; it just doesn't seem to be representing very well for people who come from where I come from, and hold down what I hold down." "Time" named "Blonde" as the best album of 2016.
In 2017, Ocean provided featured vocals and songwriting on "Slide" with DJ and producer Calvin Harris, and hip-hop group Migos. The song went on to be certified double platinum by the Recording Industry Association of America, and became Ocean's first top ten single on the Billboard Mainstream Top 40 chart, peaking at #9.
In October 2017, Ocean published a photo essay, "New 17," and said, "If you liked two thousand and seventeen then you'll love two thousand and eighteen."
We thank Frank Ocean for his music genius, his courageous honesty, and for his many contributions to our community.