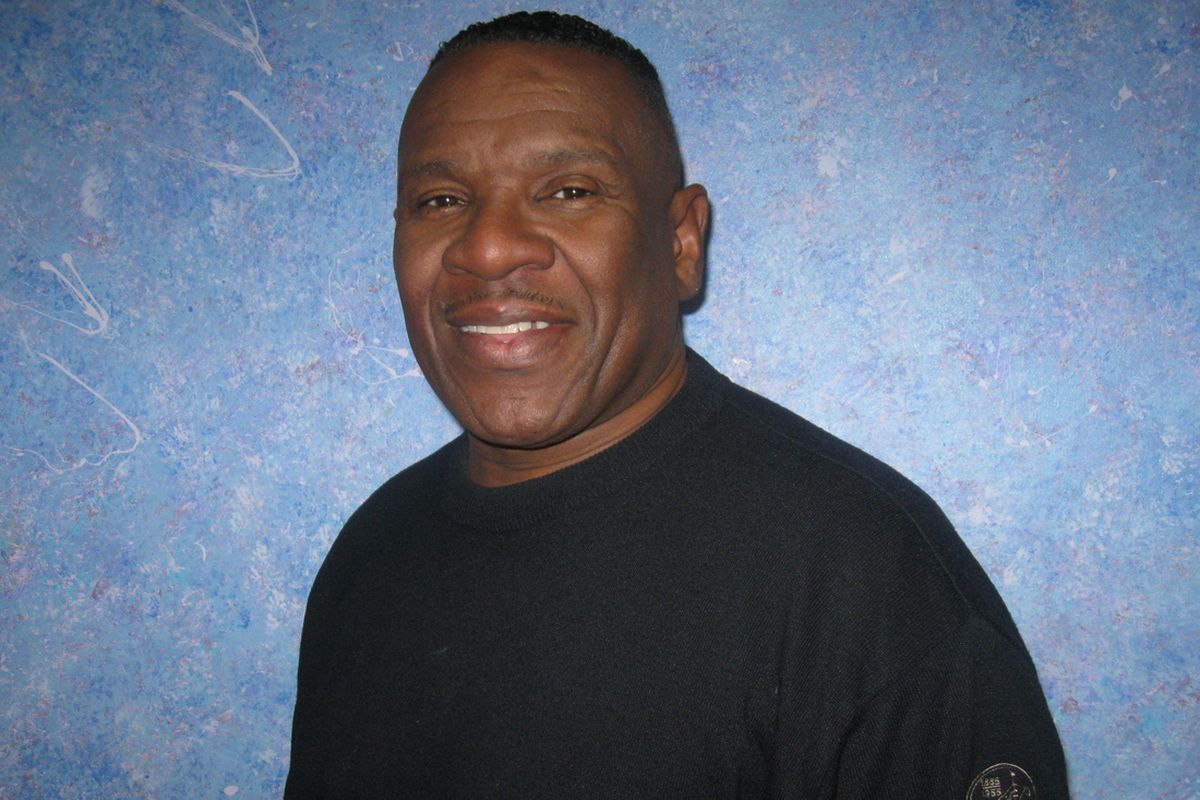 Roy Simmons
Roy Simmons was born on November 8, 1956 (to February 20, 2014). He is a former National Football League player who played offensive line for the New York Giants and the Washington Redskins' Super Bowl XVIII team in 1984. In 1992, he became only the second former NFL player to come out publicly as gay at the time, and, eleven years later, the first to reveal he was HIV positive.
Roy Franklin Simmons was born in Savannah, Georgia, one of six siblings by multiple fathers. He was raised primarily by his maternal grandmother, Loulabelle Simmons, who worked as a housekeeper. When he was 11 years old, Simmons was approached by a woman on the street who asked if he could clean her home. The woman left the house, leaving her husband alone to rape Simmons. Simmons was ashamed to tell anyone about the sexual assault, and later stated that it left him tormented and confused about his sexual identity.
Despite the trauma in his life outside of school, Simmons excelled in football at Beach High School, and received scholarship offers from multiple colleges before selecting the Georgia Institute of Technology. At Georgia Tech, he was a standout player whose size, strength, and speed caught the attention of the New York Giants, who drafted Simmons in the eighth round in 1979.
During the 1981 season, Simmons lost his starting job with the Giants, and left the team voluntarily before the start of the next season. He worked as a baggage handler at John F. Kennedy International Airport in New York City, and made an unsuccessful pitch to return to the Giants in 1983. Simmons would eventually be picked up by the Washington Redskins, who lost the Super Bowl to the Los Angeles Raiders that season, and play one year with the United States Football League before retiring from football in 1985.
What sports fans and the general public did not know about Roy Simmons off the field were two secrets: he had an out-of-control substance abuse problem, and was either bisexual or gay. When Simmons played for the Giants, he knew of at least one teammate who was gay, and the two of them had sex after a night of drinking and drugs. Simmons had also fathered a daughter with a high school sweetheart. The night before the Super Bowl, Simmons snorted cocaine, and among the family members and friends he had invited to Tampa to watch him play that Sunday were two women and a man—all his current lovers.
Although some teammates later said they suspected Simmons was gay, Simmons did everything in his power to keep it a secret. "In the NFL, there is nothing worse than being gay," Simmons told the "New York Daily News" in 2006. "You can beat your wife, but you better not be gay."
Simmons moved to San Francisco in 1990 after a teenage cousin told one of Simmons's girlfriends that he had a male lover. Simmons immersed himself in the city's LGBTQ culture—the good and the bad. "I had heard about San Francisco, the gay life," he later stated. "It was kind of crazy, but it was like, well, since you're in it, go all the way." The alcohol and drug abuse continued, and Simmons at various times was a drag queen and homeless sex worker.
In 1992, Simmons became the second former NFL player to come out as gay (David Kopay being the first 17 years earlier) during an appearance on the nationally syndicated "Donohue" show. The revelation, which surprised loved ones and former teammates, did little to improve Simmons's life. He revealed that he nearly jumped from the Golden Gate Bridge in 1993 but changed his mind when he remembered the words of his grandmother, who believed that committing suicide was a sin. Simmons would remain out of the public eye for more than a decade.
Simmons faced another serious challenge when he was diagnosed as HIV positive in 1997. "He [the doctor] called me in, and he gave me the results," he recalled. "My knees buckled. He told me that my tests came back positive. I guess the initial thought was I'm going to die. I've known people, some of them a month, and then they're gone."
In 2003, Simmons revealed that he was HIV positive, and that he was raped as a young boy. He became the first former NFLer to make his HIV status public, twelve years after basketball legend Magic Johnson announced his status and retirement on the same day.
A born-again Christian, Simmons spoke with the Christian Broadcasting Network (CBN) in 2005 about his growing faith and getting sober. But he also discussed his talks with his pastor, and renounced his former "lifestyle." "We spoke on and learned about homosexuality and the connotations and everything that go along with it. It's really against God's will," he told CBN. Years later, Simmons's brother, Gary, would downplay the statements. "At no time has he ever shied away from being who he was. Those who knew Roy know where he stood. Roy was a gay Black man who came out of the South," Gary Simmons said.
In 2006, Simmons testified before the Ohio House Judiciary Committee on a bill that would limit the time victims of sex crimes would have to file suit against their abusers. "Like many child [victims] of sexual abusers, I remember as though it was yesterday," Simmons testified. "My childhood innocence was stripped from me. Replacing my innocence has been a lifetime of fear, pain, and paranoia. My life became a living hell. I know now, after years of struggling internally, that the rape led to many dysfunctional areas and actions in my life."
Simmons also penned an autobiography, "Out of Bounds: Coming Out of Sexual Abuse, Addiction, and My Life of Lies in the NFL Closet," which chronicled his drug addiction, prostitution, and promiscuity.
On February 20, 2014, three days before Jason Collins would become the first openly gay active player in the National Basketball Association (NBA), Simmons died at his home in the Bronx of complications related to pneumonia. In 2015, he was inducted into the National Gay and Lesbian Sports Hall of Fame.
To this day, no active NFL player has come out publicly as gay, although Simmons is among 11 ex-players who have declared their sexuality, or who are—or were—known to be gay (according to "Outsports," seven have played in a regular season game; four others attended training camp).
We remember Roy Simmons for his contributions to football, and for being a trailblazer in our community.