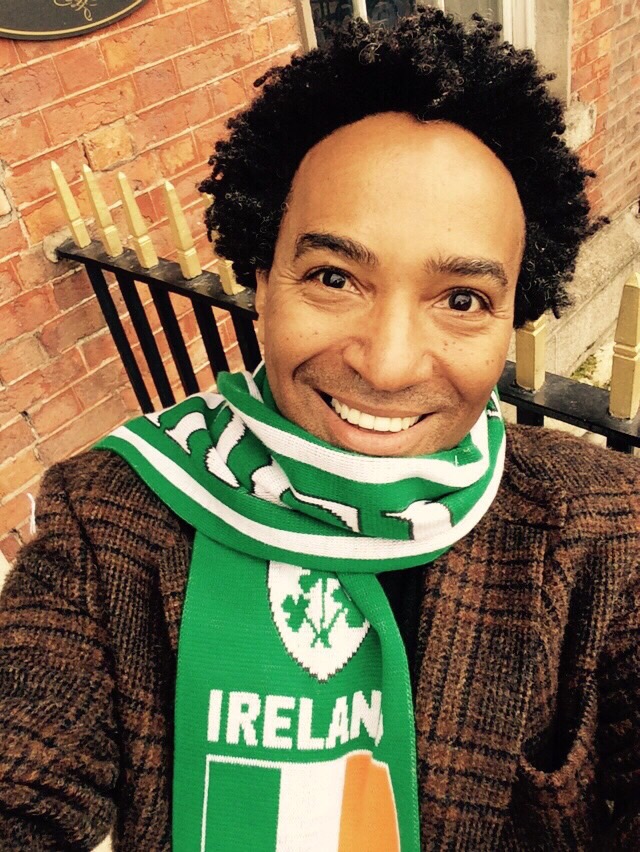 Thomas Glave
Thomas Glave was born on November 10, 1964. He is an award-winning Jamaican-American essayist and author who is also widely respected as an influential cultural critic.
Thomas Glave was born in the Baychester section of the Bronx, and lived there with his parents, but was frequently shuttled to family in Kingston, Jamaica, in the hope that he would be "as much Jamaican as American." Both he and his late sister were educated in private and Catholic schools in New York City. Glave began writing when he was around 4 or 5 years old, and started to take it more seriously when he got to high school. He also took dance lessons, and was enthralled at an early age by the ballet of celebrated choreographer George Balanchine.
Glave majored in English and Latin American studies at Bowdoin College, graduating with honors in 1993. He received his Master of Fine Arts degree in creative writing (fiction) from Brown University in 1998. Glave then spent one year in Jamaica as a Fulbright scholar, where he studied Jamaican historiography, and the intellectual and literary traditions of Jamaica and the Caribbean.
In his writings, Glave identifies himself as one of the many "diasporic Jamaicans," and even uses the term "Rasta battyman" ("battyman" being a pejorative Jamaican word for gay) in describing himself to others. He praises the spoken and written word in Jamaican culture, the culture's long valued traditions of language and storytelling, and the power that words both spoken and written hold at the center of Jamaican culture. Despite the country's problems with violence and homophobia, Glave feels bound to Jamaica's "mercurial, acrobatic language," and "the music of creole and patois that [he] long ago absorbed" and that emerges in the melodies of his own remarkable sentences.  His work, like that of James Baldwin, is also frequently marked by the pulpit cadences of African American church traditions.
Glave has taught at the University of Virginia, Cleveland State University, Brown University, Indiana University, and Naropa University, and was Leverhulme Visiting Professor at the Yesu Persaud Centre for Caribbean Studies at the University of Warwick in the United Kingdom. He is professor of English and Creative Writing at the State University of New York at Binghamton, where he teaches courses that include the work of James Baldwin, Nadine Gordimer, Paule Marshall, Maryse Condé, Simone Schwarz-Bart, Jamaica Kincaid, Toni Morrison, African and African American queer writers, and 20th- and 21st-century Caribbean and Latin-American queer writers.
Glave has also been a two-time New York Foundation for the Arts Fellow, and a Fellow of the Fine Arts Center in Provincetown (Massachusetts), in addition to having been Martin Luther King, Jr. Visiting Professor at the Massachusetts Institute of Technology (MIT), and a Visiting Fellow at England's Clare Hall, University of Cambridge.
Glave's short stories, articles, and essays have been published in anthologies as well as in several periodicals, including "Black Renaissance/Renaissance Noire," "Callaloo," "The Evergreen Chronicles," "Gay Community News," the "Jamaica Observer," the "Jamaica Sunday Herald," "The James White Review," "Kingston Noir," "The Kenyon Review," and "The Massachusetts Review." In 1997, he received the coveted O. Henry Award for his story "The Final Inning," published in "The Kenyon Review." Glave is often compared to the only other Black and gay O. Henry Award honoree, James Baldwin.
His first collection of short stories, "Whose Song? and Other Stories," published in 2000, brought him many accolades, including recognition by the "Village Voice" which named him the Writer on the Verge, and glowing reviews in "The New York Times Book Review," "The Washington Post," and other major North American publications. "Whose Song?" was also praised by a number of writers, including Nobel laureate Nadine Gordimer, Gloria Naylor, and Harry Belafonte.  The collection was a finalist for the American Library Association's Best Gay/Lesbian Book of the Year Award, and the Quality Paperback Book Club's Violet Quill Award for Best New Gay/Lesbian Fiction in 2001. Told with an unflinching attention to detail, stories like "The Final Inning," "Commitment," and "Whose Song?" focus on the mental and physical assaults Black gay men are often forced to endure because they are not allowed to express their identity freely, in life and even sometimes in death.
Glave's writing is informed by his multilingual and multicultural understanding of the Black diaspora. His work is deeply influenced by Jamaican, Jamaican-American, Caribbean-American, African American, and West African cultures. In 2005, Glave published "Words to Our Now: Imagination and Dissent," a collection of essays described by French Caribbean novelist Maryse Conde as "a consummate pleasure." "Words to Our Now" won Glave's first Lambda Literary Award, and was followed by "The Torturer's Wife" in 2008, a collection of fiction concerned explicitly and allegorically with the horrors of dictatorships, war, anti-gay violence, the weight of traumatized memory, secret fetishes, erotic longing, desire, and intimacy. "The Torturer's Wife" was a finalist for the Dayton Literary Peace Prize and a Lambda Literary Award. "Among the Bloodpeople: Politics and Flesh," Glave's most recent book, was published in 2013, and was also a finalist for a Lambda Literary Award. It has been praised as a "searing, beautifully evocative collection of essays."
"Our Caribbean: A Gathering of Lesbian and Gay Writing from the Antilles," edited by Glave, was released in 2008, and earned him his second Lambda Literary Award. It is an anthology of lesbian and gay writing from across the Caribbean, including work by internationally celebrated figures such as Reinaldo Arenas, Audre Lorde, Achy Obejas, Assotto Saint, Michelle Cliff, and Dionne Brand. The result is an unprecedented literary conversation on LGBTQ experiences throughout the Caribbean and its far-flung diaspora. Many selections were originally published in Spanish, Dutch, or Creole, and some are translated into English for the first time.
Glave is a founding member of the Jamaica Forum for Lesbians, All-Sexuals, and Gays (J-FLAG), an advocacy organization based in Kingston, Jamaica. At the Oslo Freedom Forum in 2011, he spoke about Caribbean–and specifically Jamaican–violence against LGBTQ citizens. He dedicated his address to "the many unknown and brave people of Jamaica, risking their lives on a daily basis, to work towards justice and peace…for LGBT people, and all people, in Jamaica."
Glave is also a frequent commentator on Jamaican culture and society. When speaking about the Jamaican national motto, "Out of Many, One People," he notes with irony that it seems not to include LGBTQ Jamaicans. Of his work there, he stated, "Jamaica is not alone in being a homophobic place. The U.S. is still a very homophobic country. So is England, where I also spend a lot of time every year. Anyplace where those of us who are not heterosexual (and) cannot feel comfortable becomes a challenge to our spirit–to our LGBT human spirit."
Glave goes on to say, "But in spite of all its terrible problems–and Jamaica really has some grave problems–I really do love the country, and feel that [when I was working in J-FLAG] I was giving everything I had…in my soul, body, and mind, to make my country, Jamaica, a better one. I wouldn't have it any other way." His writing is fueled not just by rage but by love for what Glave calls "the bloodpeople: the people of shared DNA, shared genes, and facial likenesses," and for Jamaica itself, which emerges in his prose as a place of extraordinary color and music and life, "the place that provides you with such indescribable joy in your heart–yes, in your very deepest heart."
Central to Glave's work is the assertion that the literary, the political, and the erotic are so tightly bound as to be inextricable; Glave writes about literature with the same urgency that fills his essays on anti-gay violence. In "The Four of Them," an essay in "Among the Bloodpeople" addressed to James Baldwin, Audre Lorde, Nadine Gordimer, and Toni Morrison, Glave describes how each of them provided him not just with a literary model, but with something much more precious: a warrant to exist.
Glave moves between several countries these days; his work keeps him in constant demand, and in motion. He maintains residences in New York and Birmingham, England, and is often in Jamaica. Glave remains centered and philosophical, stating, "I think more and more that the place we're inclined to call 'home' is a place where we feel loved and can give love–and each of these places are such places for me."
We thank Thomas Glave for his numerous contributions to literature and academia, and for his contributions to our community.