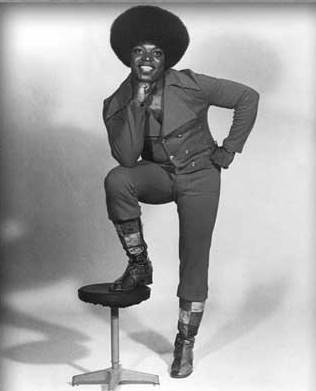 Cornell Gunter
Cornell Gunter was born on November 14, 1936 (to February 26, 1990). He was a well-known rhythm and blues and doo-wop singer in the 1950s and 1960s as a member of The Flairs and The Coasters, before joining the Los Angeles-based singing group The Platters, and being featured on their hits "Yakety Yak" and "Charlie Brown."
Cornelius E. Gunter was born in Coffeyville, Kansas, and moved to Los Angeles around 1942, where he studied at Jefferson High School. He became part of the original Platters in 1952, who were at that time known as the Flamingoes. Gunter probably sang with the group as back-up on Big Jay McNeely's "Nervous Man Nervous" in 1953. Around this time, he shortened his name from Cornelius to Cornel, and later, Cornell. His last name also went through changes, and he was sometimes billed as Cornell Gunther.
Cornell was an original member of the Platters when Herb Reed joined the group and shared leads with him up into 1953. In the early days of rock-n-roll, and especially in do-wop groups, it was common for members to join, leave, and rejoin groups in search of a good sound and a record contract. Cornell left the Platters and joined the Debonaires, where he sang lead on a "I Had A Love" as the Hollywood Bluejays. When that seemed to go nowhere, Cornell formed the Ermines, and joined the Flairs into 1955, rejoining them again later for ABC-Paramount Records.
Cornell Gunter also toured with Charlie Fuqua´s new Ink Spots, and recorded as a solo act during 1957 for Dot, Eagle, and Liberty Records. He sang the title song for the 1957 Susan Oliver movie, "The Green Eyed Blonde." Before his engagement with the Coasters, Gunter also launched a group called the Cornells (which never did record at the time, but included his friends Jesse Belvin and Joe Jefferson), and he claimed he was the piano player and lead vocalist on The Penguins hit, "Earth Angel."
The Coasters were known for their on-stage antics, and were considered skillful entertainers, more than recording artists. The band recorded for labels Rhino, Hollywood, Atlantic, Deluxe, Atco, and Direct Source, consisting of several members during their years together. In addition to Gunter himself, bandmates included Bobby Nunn, Leon Hughes, Will J. 'Dub' Jones, Billy Guy, Obie Jessie, Earl 'Speedo' Carroll, and, at times, the great King Curtis.
Will "Dub" Jones and Gunter joined The Coasters as replacements for Bobby Nunn and Leon Hughes in early 1958. After Gunter left the Coasters, he toured with Dinah Washington and sang background for the star in a quartet known as Dinah's Gents, or sometimes as D's Gents. He was 22 at the time.
Gunter had made several solo singles, including a cover version of Sam Cooke's "You Send Me" on Dot Records in 1957. In 1962, he recorded a solo album for Warner Bros. In late 1963, Gunter formed his own Coasters group in Los Angeles, comprised of singers of the declining Penguins, including Randy Jones, Teddy Harper and Dexter Tisby—for a short period managed by H.B. Barnum. Cornell's Coasters even recorded under the name of Cornell Gunter & The Cornells with his sister, Shirley, as a guest. They were heavily engaged in Las Vegas, and even toured Britain in the mid-1960s as The Fabulous Coasters.
Flamboyant and intentionally funny, Cornell Gunter and the Fabulous Coasters became stage favorites. and performed with various lineups in Las Vegas well into the 1980s. Cornell's bass singer, Nat "Buster" Wilson, was murdered in 1980 (parts of his body were found near Hoover Dam, and two years later, other remains were found in a canyon near Modesto, California). During the 1980s and 1990s, Cornell's group was a trio with Charlie Duncan and Edwin Cook.
In Las Vegas, Cornell Gunter was the star of the show. He was fabulous, he was flamboyant, and he was very talented. He brought down the house with his androgynous impersonations of Dinah Washington, Diana Ross, Carmen McRae, and other female stars. He flaunted his effeminate characteristics in his onstage performances, and audiences loved it.
In 1987, Gunter was inducted into the Rock And Roll Hall Of Fame along with the rest of The Coasters.
In early 1990, Gunter was in the process of making a new comeback at the Lady Luck Hotel in Las Vegas. On February 26, an unknown assailant shot Gunter shot twice in his head, sitting behind the wheel of his car. Trying to escape, he attempted to speed away, but due to his severe injuries, he drove into a brick walland his killer ran off. Sammy Davis, Jr. and Bill Cosby stepped forward and paid for Gunter's funeral expenses, and he was interred in Inglewood, California.
Several survivors of his group continued to tour as Cornell Gunter's Coasters Inc., and numerous competing groups used the Coasters name, but all of them failed to capture audience support or engagements.
We remember Cornell Gunter in appreciation for standing in his truth as an openly gay performer, for his contributions to American popular music, and for his support of our community.