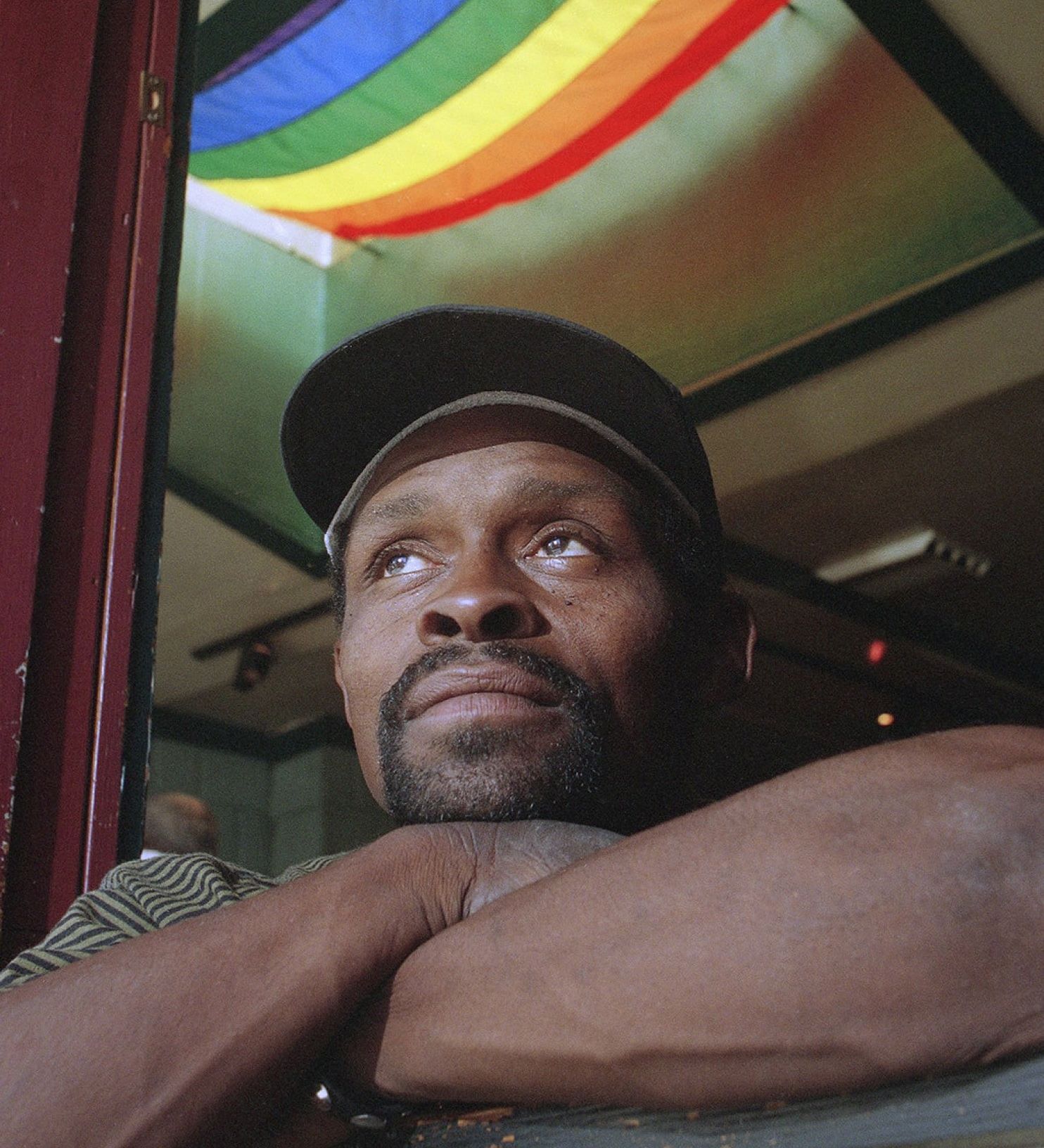 Glenn Burke
Photo: Mark Hundley/AP
Glenn Burke was born on November 16, 1952 (to May 30, 1995). He was a Major League Baseball (MLB) player for the Los Angeles Dodgers and Oakland Athletics from 1976 through 1979, and the first and only active MLB player known by teammates and team management to be same-gender loving.
Glenn Lawrence Burke was born in Oakland, California. His father, Luther, was a sawmill worker, and left the family when Burke was only 11 months old; his mother, Alice, supported Burke and his seven siblings working in a nursing home. Burke grew up attending church six times a week, singing in two choirs, and serving as an usher. He attended Berkeley High School, and later Merritt College in Oakland, California, and the University of Nevada-Reno.
Burke was an accomplished high school basketball star, leading the Berkeley High School Yellow Jackets to an undefeated season, and the 1970 Northern California championships. He was elected to the Tournament of Champions, and received a Northern California Most Valuable Player award. Burke was named Northern California's High School Basketball Player of the Year in 1970. He was able to dunk a basketball using both hands—a remarkable accomplishment for someone who was just over six feet tall.
Burke was considered capable of being a professional basketball player, but his first offer came from Major League Baseball. When he began his baseball career, Burke was declared by scouts as the "next Willie Mays." Burke was recruited by the Los Angeles Dodgers in 1972, and sent to play in the minor leagues in Utah, Washington, Connecticut, and New Mexico, before becoming an outfielder for the Dodgers in 1976.
Some in the clubhouse knew that Glenn Burke was gay, and persistent rumors percolated around his lack of girlfriends. But Burke remained wildly popular among his colleagues, known for his jovial personality, playing loud music, for his impressive dance moves, and for his spot-on Richard Pryor imitations.
In 1977, Burke ran onto the field to congratulate his Dodgers teammate Dusty Baker, after Baker hit his 30th home run in the last game of the regular season. Burke raised his hand over his head as Baker jogged home from third base. Not knowing what to do about the upraised hand, Baker slapped it, thus the two together were credited with inventing the "high five."
Burke's association with the Dodgers was, at times, a difficult one. According to Burke's 1995 autobiography "Out at Home," general manager Al Campanis offered to pay for a lavish honeymoon if Burke agreed to get married. Burke refused to participate in the sham, allegedly responding, "to a woman?" He also angered manager Tommy Lasorda by befriending the manager's estranged gay son, Tommy Lasorda, Jr. The Dodgers eventually dealt Burke to the Oakland Athletics for Billy North, by some accounts a much less talented player, suggesting to many that homophobia was behind the trade.
The trade, in 1978, was not a popular move in the Dodger clubhouse. One teammate recounted, "He was the life of the team, on the busses, in the clubhouse, everywhere." In Oakland, manager Billy Martin introduced Glenn Burke as a "faggot" in front of his teammates. He was given little playing time on the A's, and after he suffered a knee injury before the season began, the team sent him to the minors in Utah, and eventually released him from his contract. Burke would play his last professional baseball game on June 4, 1979. He would later write that it was more important to be himself than be a professional baseball player.
"Gay players live a double life to survive in baseball. But at least they know exactly where they're coming from," said Burke. "To me, it wasn't always hell living the double life. It could actually be kind of fun in certain situations. No one knew where I was coming from. I'd walk through the locker room like a real macho man. And after the Dodgers, A's, and the rest of baseball found out I was gay, they'd say, 'Glenn Burke?!' It threw them for a loop. It had to. And some of them might have looked in the mirror and thought, 'Shit, I could be gay, too.'"
Living as a gay man in Ogden, Utah, Burke's dream of starring in the major leagues was as far away as ever, and he walked away from professional baseball. "The browbeating got to him," his sister, Lutha, recalled. "I'm more than sure that being gay cost him his baseball career."
Back home in Oakland, Burke increasingly spent time across the Bay Bridge, in San Francisco's Castro district, the heart of gay culture. Suspicions about his sexuality swirled. A friend tried to steer him and his story to "San Francisco Chronicle" columnist Herb Caen, but Burke declined. Caen wrote only that a local ballplayer could be found on Castro Street.
While "out" to many of his teammates and friends, Burke appeared to have been unwilling to come out publicly, fearing the stings of discrimination and criticism of his personal life. But threatened with disclosure by media sources, he became the first former professional baseball player to come out of the closet when he discussed his sexuality in a 1982 "Inside Sports" magazine article, "The Double Life of a Gay Dodger," written by Michael J. Smith, with whom Burke had been lovers for six years. He also was interviewed for a landmark news story by Bryant Gumbel on "The Today Show."
Glenn Burke continued his athletic endeavors after retiring from baseball. He played regularly for the Pendulum Pirates, a gay softball team. He competed in the 1986 Gay Games in basketball, and won medals in the 100- and 200-meter sprints in the first Gay Games in 1982.
Although he remained active in amateur competition, Burke turned to drugs to fill the void in his life when his career ended. An addiction to cocaine destroyed him both physically and financially. In 1987, his leg and foot were crushed when he was hit by a car in San Francisco. After the accident, Burke's life went into physical and financial decline. He was arrested and jailed for drugs, and, for a time, was homeless on the streets of San Francisco, often congregating in the same neighborhood that once embraced him.
Burke's final months were spent with his sister, Lutha, in Oakland, California. He died of AIDS complications in 1995 at the age 42.
When news of his battle with AIDS became public knowledge in 1994, Burke received the support of his former teammates, and the Oakland Athletics organization. In interviews given while he was fighting AIDS, Burke expressed little in the way of grudges, and only one big regret—that he never had the opportunity to pursue a second professional sports career in basketball.
Four years after Burke's death, former Major Leaguer Billy Bean came out as gay. Like Burke, Bean had played for the Dodgers, but was deeply closeted as a player.
On August 2, 2013, Burke was among the first class of inductees into the National Gay and Lesbian Sports Hall of Fame. The following year, Major League Baseball decided to demonstrate an atmosphere of tolerance and inclusion, and invited Burke's family to the All-Star Game in Minneapolis—the league's first official recognition of Burke's early role in a movement just now gaining traction across the sports landscape. On June 17, 2015, the Oakland Athletics honored Burke as part of Athletics Pride Night. Burke's brother, Sydney, threw the ceremonial first pitch at the game. In 2017, a plaque honoring Burke was added to San Francisco's Rainbow Honor Walk, which celebrates deceased LGBTQ luminaries.
Glenn Burke helped to break the stereotype about same-gender loving men in professional sports. His pioneering courage and honesty is often cited as inspiration by other athletes who are struggling to be open about their sexual orientation.
We remember Glenn Burke in recognition for his pioneering honesty, his impressive athletic accomplishments, and his many contributions to our community.