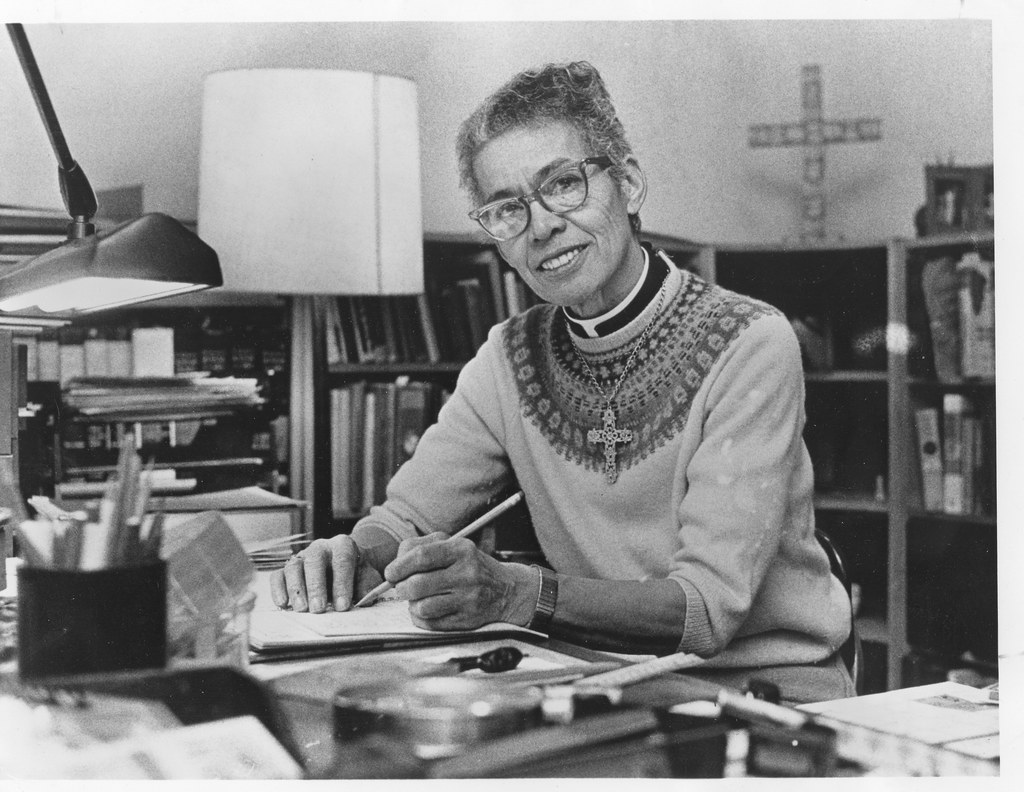 Rev. Dr. Pauli Murray
(1910-1985) 
"If anyone should ask a Negro woman in America what has been her greatest achievement, her honest answer would be, 'I survived!'"
Anna Pauline "Pauli" Murray was born in Baltimore, Maryland on November 20, 1910 to Agnes Fitzgerald Murray and William H. Murray, a schoolteacher. Just four years into Murray's life, her mother succumbed to a cerebral hemorrhage, forcing her father to seek the support of her maternal grandparents. Murray was raised by them and an aunt in Durham, North Carolina. It was in her aunt's first-grade classroom that she learned to read. Just thirteen years into her life, Murray lost her father, as well, when he was killed by a guard at a psychiatric hospital where he'd been committed. Despite these early tragedies, the Reverend Dr. Pauline Murray became a distinguished and accomplished civil and women's rights activist, lawyer, writer, and cleric.  
Murray moved to New York at age sixteen to attend Hunter College and graduated in 1933 with a Bachelor of Arts. When her application to the University of North Carolina was rejected, she sought support from the NAACP to challenge the decision, but they declined. Undaunted, Murray entered the Howard University School of Law in 1941 (the only woman in her class) and began studying to become a civil rights lawyer. While there, she founded the Congress of Racial Equity (CORE), published two landmark civil rights articles, raised awareness about Black women's unique and intersectional burdens under "Jane Crow" segregation, was elected Chief Justice of the Howard Court of Peers, the highest student position at Howard, and worked in defense of Odell Walker, an effort through which she built a friendship with President Franklin Roosevelt. In 1944, Murray graduated first in her class. Notably, the university chose not to bestow upon her the traditional honor of the Julius Rosenwald Fellowship for graduate work at Harvard University because she was a woman. This despite receiving a letter of support from President Roosevelt.
Murray went on to earn a Masters Degree in Law at the University of California at Berkeley. Her master's thesis, The Right to Equal Opportunity in Employment, was the first thesis on the topic. In 1950, Murray published "States' Laws on Race and Color," which Thurgood Marshall called "the Bible for civil rights lawyers." The NAACP used her arguments during the Brown v. Board of Education case. 
In addition to her legal work, Murray wrote two volumes of autobiography and a collection of poetry. Her first autobiographical book, Proud Shoes, published in 1956, traces her family's complicated racial origins, particularly focusing on her grandparents, Robert and Cornelia Fitzgerald. Cornelia was the daughter of a woman raped by her enslaver and his brother, while Robert was a free Black man from Pennsylvania who had come to the South as a teacher in the Reconstruction Era. She also published "Black Theology and Feminist Theology: A Comparative View," in the Anglican Theological Review.
Murray was appointed to the Presidential Commission on the Status of Women in 1961, and in 1963, she became one of the first to publicly criticize the sexism of the civil rights movement. In her speech, "The Negro Woman and the Quest for Equality," she noted that at the 1963 March on Washington, no women were invited to make major speeches or to be part of its delegation of leaders who went to the White House. In 1965, Murray published her famous article (coauthored with Mary Eastwood), "Jane Crow and the Law: Sex Discrimination and Title VII" in the "George Washington Law Review." The article discussed Title VII as it applied to women, and drew comparisons between laws allowing discrimination against women and Jim Crow laws. 1965 was also the year Murray earned a Juris Doctorate from Yale University—the first Black person to do so. She briefly taught law at the University of Ghana. 
Murray co-founded the National Organization for Women in 1966, and from 1968-1973, she served as the Distinguished Professor of Law and Politics at Brandeis University. Her essay, "The Liberation of Black Women," appeared in the book Voices of the New Feminism, which analyzed how Black women suffer from racism and sexism. She wrote books on a wide range of topics, and also published her poetry, which included Dark Testament and Other Poems in 1970. The volume contains what critic Christina G. Bucher calls a number of "conflicted love poems," as well as pieces exploring economic and racial injustice. A follow-up volume to Proud Shoes, Song in a Weary Throat: An American Pilgrimage, was published posthumously in 1987, and focused on Murray's own life, particularly her struggles with both gender and racial discrimination. It received the Robert F. Kennedy Book Award, the Christopher Award, and the Lillian Smith Award.
In 1977, Murray left academia for the Episcopal Church, becoming the first Black woman ordained as an Episcopal priest. A vote at the 2012 General Convention of the Episcopal Church named her to Holy Men, Holy Women, a book of the church which honors "people whose lives have exemplified what it means to follow in the footsteps of Jesus and make a difference in the world." This action made her an Episcopal saint.
Murray documented the development of her sexual and gender identity through much of her life. Her marriage as a teenager ended almost immediately with the realization that "when men try to make love to me, something in me fights." She described herself as having an "inverted sex instinct," and had several relationships with women. In her younger years, Murray occasionally passed as a teenage boy. Murray pursued hormone treatments in the 1940s to correct what she saw as a personal imbalance, and even requested abdominal surgery to test if she had "submerged" male sex organs. Her writings and her close relationships with so many publicly identified lesbians have been interpreted as her being same-gender loving. 
Pauli Murray died of cancer on July 1, 1985, in Pittsburgh, Pennsylvania. Her life and career reflect an intrepid spirit, a creative mind, and an unyielding commitment to advancing civil rights while advocating for the intersectional needs of women and sexual minorities.
Murray received numerous awards for her contributions to society, including honorary degrees from Dartmouth College, Radcliffe College, and Yale University. The Pauli Murray Awards, named in her honor, are presented annually by the Orange County Human Relations Commission to a person or business who has served the community with distinction in the pursuit of equality, justice, and human rights for all residents. The Pauli Murray Project in Durham, North Carolina honors those in service to others. In 2015, the National Trust for Historic Preservation named the childhood home of Murray, on Carroll Street in Durham, North Carolina, a National Treasure. The next year, Yale University selected Murray as the namesake of a new residential college, and the Pauli Murray Family Home was named a National Historic Landmark.
This biography is offered in loving memory of the Reverend Doctor Anna Pauline "Pauli" Murray for her bravery, her scholarship, her lived example, and her countless contributions to our community.