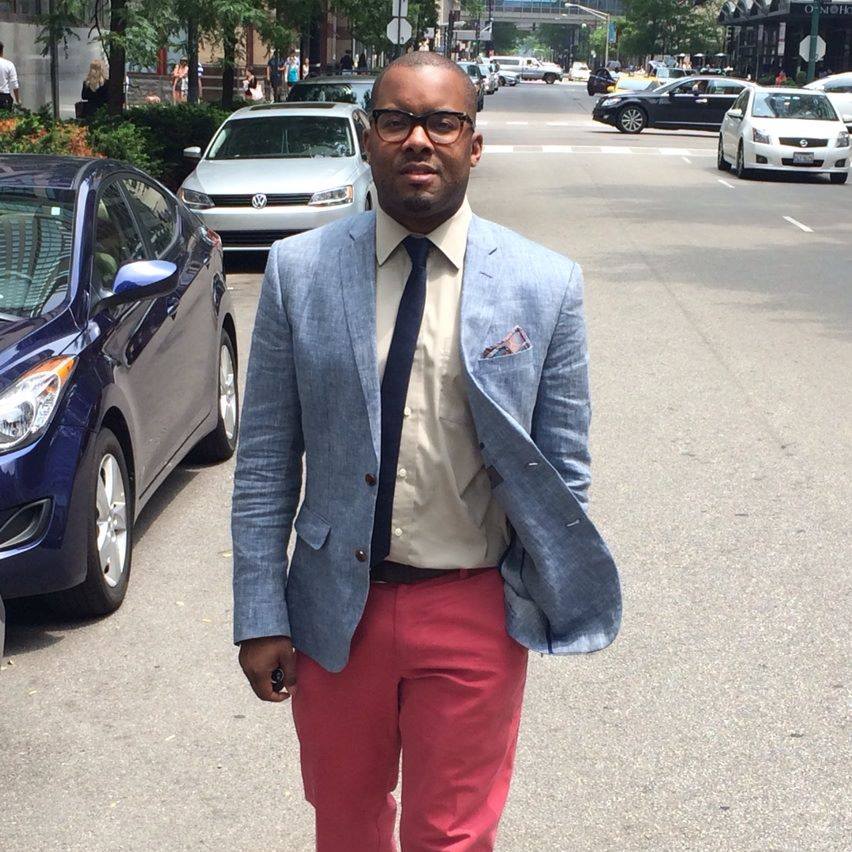 Jeffrey McCune
Jeffrey McCune was born on November 23, 1977. He is an author, professor, public speaker, and spiritual leader.
Jeffrey Quinn McCune, Jr. was born in Chicago, Illinois, to Sandra Brown (Hobbs) and Jeffrey McCune, Jr. He is the eldest of six siblings, raised in the household of Sandra Brown and Ronald Brown. McCune always says he has three parents, as all parties were active in his life. In 2015, Jeffrey married Terence McCune, a therapist to HIV+ black men in St. Louis, with whom he raises sons Caleb and Escobar.
In Chicago, McCune attended Avalon Park Elementary School (1991) and Kenwood Academy High School (1995). He enrolled at Cornell College in Mt. Vernon, Iowa, where he obtained his Bachelor of Special Studies in Communication, Theatre, and Secondary Education (1999). McCune followed that with a master's degree in Communication Studies, with a focus in rhetoric and culture, at University of Nebraska-Lincoln (2001). He completed his PhD in Performance Studies from Northwestern University (2007), with concentrations in Gender Studies and African American Studies. McCune was the first African American male to receive a PhD from this program. He is presently an Associate Professor in Women, Gender, and Sexuality Studies and African & African American Studies at Washington University in St. Louis, Missouri.
For McCune it all started in sixth grade, when he was asked by his teacher, Bettye Williams, to perform Dr. Martin Luther King, Jr. in the school play. Initially declining—claiming he was shy—his teacher insisted, and out of that experience, began a career in performance and public speaking. When he was 11, McCune asked his minister, Reverend James L. Demus III of Park Manor Christian Church, if he could share a sermon. After deep contemplation, Rev. Demus allowed McCune to become the youngest person to preach a full sermon from the pulpit. These experiences in elementary school were what McCune credits as the foundation for much of the work he does currently. Those performances—so closely connected to the politics of the everyday—opened a world of thought, being, and consciousness which informs him even today.
While in high school, McCune would gain a fuller love for performance. He not only was active in theatrical productions, such as Moliere's "Tartuffe" and Shakespeare's "Midsummer Night's Dream," he also began to pursue vocal music performance. Taking classes at Sherwood Conservatory of Music, McCune began to love the opera and every aspect of music, under the teaching of Bonita Hyman. His success in performance earned him the title of Mr. Kenwood Academy, and allowed him to advance to the national vocal competition of the NAACP Act-SO awards. While at Cornell College, McCune shifted his focus to literature, race and cultural politics, and rhetoric of performance.
During the time that McCune transitioned from a music major to a communications and theatre major, he came to a new understanding of his sexual identity. Having grown up in a religious home, a minister of the gospel, and living in communities which always felt antagonistic to sexual difference, he began to claim a Black same-gender loving identity. While this may at first seem only a personal admission, the discovery would lead to research and work which engaged the interplay of race, gender, and sexuality. McCune's personal experiences with sexuality allowed him to begin to investigate unique and particular experiences of other men and women.
Jeffrey McCune is the author of the award-winning book, "Sexual Discretion: Black Masculinity and the Politics of Passing" (University of Chicago Press, 2014). The book introduces the concept "sexual discretion" to better articulate how Black sexualities work "down low." Taking interviews with "men on the down low," analyzing media images and messages, and performing literary analyses, the book unveils the workings of discrete/discreet politics in the everyday lives of Black men. It moves away from the carceral closet and its logic to offer "sexual discretion" as a performance which enables Black men (and women) to better negotiate dominant gender and queer sexuality.
"Sexual Discretion: Black Masculinity and the Politics of Passing" has been celebrated by the National Communication Association as the 2015 GLBTQ Book of the Year, chosen for the American Library Association's Rainbow Reading List, and cited frequently across the fields of gender and sexuality studies, sociology and anthropology, African American studies, and performance studies.
In 2014, McCune was appointed as the director of the Mellon Mays Undergraduate Fellowship Program, where he conducted a weekly seminar, and would assist undergraduate juniors and seniors as they prepare for the research and life of rigorous academics. "This is most rewarding, as it allows me to train undergraduate students, while also ensuring that they develop professional skills which may useful in their perspective fields," McCune said. Recently, one of the students he mentored and directed in the Mellon Mays program, Camille Borders, was named as a 2018 Rhodes Scholar. For McCune, "it is these moments…when a radical activist-intellectual-student is recognized for their early, yet rich contribution to the world…that makes all the hard work worth it!"
McCune left his post with the Mellon Mays Program in July 2017, to open the door for new leadership, as well as to complete some very ambitious projects. He is currently working on a play that explores everyday responses to anti-Black violence in America, called "AFTERLIFE." In addition, McCune is completing two book manuscripts.
The first, "READ!: An Experiment in Seeing Black," is interested in how we extend the scope of how and what we read, insofar as blackness and Black performance is concerned. "Reading generously is to give what you do not have; to provide a reading that may be unavailable to social and/or personal imaginaries," stated McClure. "A love for blackness, in this project, requires disobedience; a refusal of terms given by institutions or institutional systems to explain away blackness, more than to open up its possibilities and unrecognized offerings. Thus, "READ!" takes up institutional narratives, and provides anti-canonical engagements, a methodological approach I argue stems from being immersed in 'reading' practices learned in the Black queer community. Reading 'against the grain,' this manuscript engages hetero-patriarchy in neo-slave narratives, homophobia in hip-hop and the Black church, and the queerness of anti-Black police and state violence—in ways that suggest that the aspects of each which have been deemed wholly destructive, may also be generative."
Drawing from his internationally celebrated course, "The Politics of Kanye West," McCune is also finishing a book appropriately titled "On Kanye: A Philosophy of Black Genius." The manuscript uses West and his body of work as a case study for interrogating the significance of "Black genius" as an idea of possibility for Black people and Black culture. "This book argues that critical iconography understands and interprets most Black bodies in ways that traffic in anti-blackness, intentionally drawing attention away from the critical contributions Kanye West and others make to global culture and particularly hip-hop music," said McClure. From gender-queer fashion to the textual and sonic queering of hip-hop culture—destabilizing the conventions of the art—West provides a rich performance of Black excellence, while promoting "Black genius" as a brand for many other artists and musicians, according to McClure.
In addition to being a professor at Washington University, McCune is a performer-writer, as well as a firestorm public speaker. His written work can be found everywhere from "The Huffington Post" to the "St. Louis Dispatch." McCune can be heard and seen on "Bill Nye Saves the World" and Sirius XM's "Joe Madison Show."
McCune says, "While I always think about my success in relations to family and friends, I have also been inspired by so many living and deceased LGBT folks who wrote, danced, lived against the odds of violence, hate, and doubt. So many within this larger community support my work and encourage me to 'keep moving.' As we, LGBT folks of color, share so many experiences in common, sometimes the knowing that you are not the only one is lifesaving. This has especially been important in academia which too often marginalizes the work of queer people of color; too often Black LGBT academics are still waiting to be included, recognized, and integrated into the academic world. I have been encouraged by so many, to JUST DO IT!"
We thank Jeffrey McCune for his commitment to teaching and serving others, his impactful writing, and his many contributions to our community.