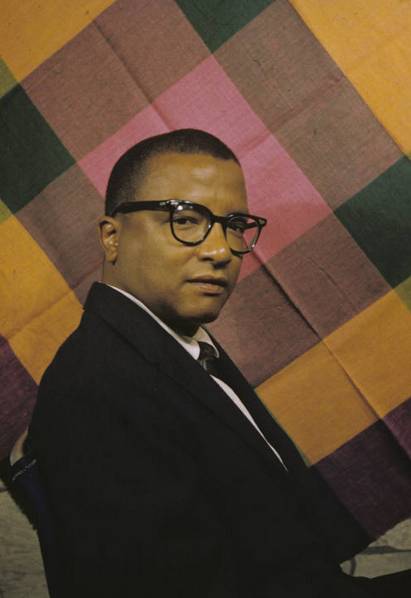 Billy Strayhorn
Billy Strayhorn was born on November 29, 1915 (to May 31, 1967). He was a composer, pianist, and arranger, best known for his successful collaboration with bandleader and composer Duke Ellington. Their dynamic working relationship endured for nearly three decades, and produced such definitive American jazz compositions as "Take the 'A' Train," "Chelsea Bridge," and "Lush Life."
William Thomas Strayhorn was born in Dayton, Ohio, the fourth of nine children. Gravely ill at birth and born into an impoverished family, he wasn't expected to survive. Strayhorn's mother's family was from Hillsborough, North Carolina, and after his family moved to the Homewood section of Pittsburgh, Pennsylvania, his mother, Lillian Young Strayhorn, sent Billy to Hillsborough to protect him from his father, James Nathaniel Strayhorn, who frequently went on drunken sprees. Billy Strayhorn was attracted to the piano that his grandmother owned, and played it from the moment he was tall enough to reach the keys. Even in those early years, when Strayhorn played, his family would gather to listen and sing.
Billy Strayhorn returned to Pittsburgh, and attended Westinghouse High School, where he began his musical career. He studied classical for a time at the Pittsburgh Music Institute, writing a high school musical, forming a musical trio that played daily on a local radio station, and, while still in his teens, composing (with lyrics) the songs "Life Is Lonely" (later renamed "Lush Life"), "My Little Brown Book," and "Something to Live For." Strayhorn was largely self-educated, and he was so interested in intellectual pursuits that one of his childhood nicknames was Dictionary. As a young man, Strayhorn had his own newspaper route, and worked as a soda jerk and delivery boy for the local drugstore, finally saving up enough money to buy his own piano. While in high school, he played in the school band, and by age 19, he was writing a sophisticated Cole Porter-style musical, "Fantastic Rhythm."
Though classical music was Strayhorn's first love, his ambition to become a classical composer was shot down by the harsh reality of a Black man trying to make it in what was then the nearly all-white classical music world. Strayhorn was introduced to the music of pianists like Art Tatum and Teddy Wilson at age of 19; these musicians guided him into the realm of jazz where he remained for the rest of his life. Strayhorn's first jazz exposure was in a combo called the Mad Hatters, who played around the Pittsburgh region.
In 1938, at the age of 23, Strayhorn met the 39-year-old Duke Ellington, who was performing in Pittsburgh's Crawford Grill. An impromptu backstage audition showcased Strayhorn's stunning talent at the piano, and Ellington contemplated hiring him on the spot, although, at the time, there was no real job to fill. A few months later, Strayhorn was writing arrangements for Ellington's orchestral music, and living relatively openly as a gay man, a rare feat for an African American man during that time.
Over the next 29 years, Strayhorn made an inestimable contribution to American songwriting and culture—all while working without a contract. His presence allowed Ellington to increase his workload and expand his artistic palette. Strayhorn worked as a composer and collaborator, assuring that the Ellington Orchestra's music was top notch.
In a highly publicized dispute over composing royalties in late 1940, ASCAP, the music licensing organization, forbade its members from broadcasting any songs over the radio. Ellington, one of ASCAP'S most celebrated composers, needed radio broadcasts to promote record sales, which in turn paid his orchestra's salaries. During a hurried cross-country train ride to join Ellington for a live broadcast from a Los Angeles nightclub, Strayhorn, not a member of ASCAP, got almost no sleep for six straight days, writing song after song after song. Strayhorn's prolific, engaging new work kept the Ellington Orchestra afloat for months. And when it was time for a new radio theme—Ellington's own "Sepia Panorama" was still not allowed on the airwaves—Ellington chose Strayhorn's "Take the 'A' Train," premiering it in early 1941.
Taking advantage of Strayhorn's feel for musical theater, Ellington and Strayhorn co-wrote the groundbreaking musical, "Jump for Joy," which opened in Los Angeles in 1941. A daring and risky venture for the times, the show masqueraded as a musical review, and featured an all-black cast. "Jump for Joy" was, in fact, a social satire that fiercely attacked racism.
Ellington's hiring of Strayhorn launched an impressively productive recording period, regarded by many critics as the most significant and creative phase of Ellington's career. And, from the early 1940s on, Strayhorn's training in classical and long-form music became central and indispensable to the orchestra. Together, the collaborators began to write longer, more complex suites and, in 1943, they performed the first of these works, "Black, Brown and Beige," an unprecedented 43-minute jazz work, at Carnegie Hall. Most assume that Ellington was responsible for these long-form innovations, but Strayhorn was, at the very least, co-composer of many of these ambitious new works. Recently discovered Strayhorn compositions reveal much about his role, as he kept pushing both himself and Ellington in ambitious new directions.
Not only was Strayhorn the sole composer of Ellington's signature piece, "Take the 'A' Train," but he also wrote other defining works, including "Passion Flower," "Lush Life," and "Chelsea Bridge," and co-wrote "Satin Doll" and "Such Sweet Thunder." In the early 1950s, tired of his secondary role, Strayhorn left Ellington to pursue his own interests.
Even after rejoining Ellington several years later, Strayhorn concluded that his musical contributions were still not sufficiently acknowledged in public. Although his distinguished songs, arrangements, and virtuosity at the piano gave him status among musicians, few others realized what he had achieved for Ellington as his tireless co-writer and arranger. Fewer still appreciated that this generous, deferential man had created some of the most important and enduring American music of the 20th century.
Billy Strayhorn met his first partner, African American musician Aaron Bridgers, through Elington's son, Mercer Ellington, and they remained together until Bridgers moved to Paris in 1947.
A man of passionate beliefs, Strayhorn became a committed civil rights advocate, and was a close friend of Dr. Martin Luther King, Jr. In 1963, he arranged and conducted the Ellington Orchestra in "King Fought the Battle of 'Bam" for the historical revue, "My People," dedicated to Dr. King.
Strayhorn's strong character left an impression on many people who met him. He had a major influence on the career of Lena Horne, who wanted to marry Strayhorn, and considers him to have been the love of her life. Strayhorn used his classical background in guiding Horne's singing technique toward improvement. They eventually recorded songs together, and in the 1950s, while he attempted to pursue a solo career of his own, he created a few solo albums and revues for the Copasetics (a New York show business society), and took on theater productions with his friend Luther Henderson.
Billy Strayhorn was diagnosed with esophageal cancer in 1964, which eventually caused his death in 1967. He finally succumbed in the early morning on May 31, 1967, in the company of his partner, Bill Grove. His ashes were scattered in the Hudson River by a gathering of his closest friends.
While in the hospital, Strayhorn had submitted his final composition to Ellington. "Blood Count," which was used as the first track to Ellington's memorial album for Strayhorn, "…And His Mother Called Him Bill," was recorded several months after Strayhorn's death. The last track of the album is a spontaneous solo version of "Lotus Blossom" performed by Ellington, who sat at the piano and played for his friend while the band (who can be heard in the background) packed up after the formal end of the recording session.
The former Regent Theatre in Pittsburgh's East Liberty neighborhood was renamed the Kelly-Strayhorn Theater in honor of Strayhorn and fellow Pittsburgher Gene Kelly in 2000. In 2015, Strayhorn was inducted into the Legacy Walk, an outdoor public display in Chicago, Illinois, which celebrates LGBTQ history and people.
We remember Billy Strayhorn in deep appreciation for his remarkable and memorable music, and for his many contributions to our community.