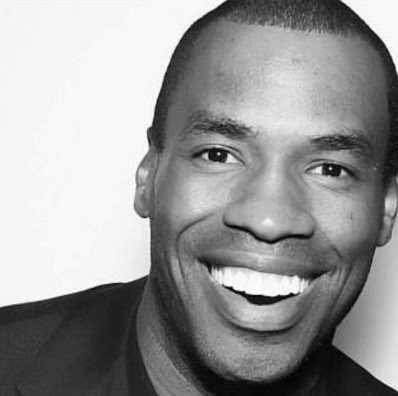 Jason Collins
Jason Collins was born on December 2, 1978. He is a former professional basketball player who played 13 seasons in the National Basketball Association (NBA). After the 2012–13 season concluded, Collins publicly came out as gay. He became a free agent and did not play again until February of 2014, when he signed with the Brooklyn Nets to become the first publicly gay athlete to play in any of four major North American pro sports leagues. In April of 2014, Collins was prominently featured on the cover of "Time" as one of the "100 Most Influential People in the World."
Jason Paul Collins was born in Northridge, California, the son of Paul and Portia Collins. He was born eight minutes ahead of his twin brother, Jarron, who also became an NBA player. Jason and Jarron graduated from Harvard-Westlake School in Los Angeles, where they won two California Interscholastic Federation state titles.
Jason Collins attended Stanford University, where both he and Jarron played for the Stanford Cardinals in the Pacific-10 Conference. He was an All-American, and finished his college career ranked first in Stanford history for field goal percentage (.608) and third in blocked shots (89). Both he and his brother were wooed in a failed attempt to get them to attend the University of California at Los Angeles (UCLA). They were guests at an exorbitant recruiting dinner that eventually led to the firing of coach Jim Harrick at UCLA.
Following their college careers, Jason and Jarron went to different teams. Jarron Collins was selected by the Utah Jazz, and Jason was drafted by the New Jersey Nets of the National Basketball Association (NBA) in the first round of the 2001 draft. As a rookie, Jason Collins played a significant role in the Nets' first ever NBA Finals berth in 2002 against the Los Angeles Lakers. During the Finals appearance, Collins acknowledged that he is 6' 8" tall, not seven feet as had been listed since his junior year of college.
Over the next twelve years, Collins would play for several NBA teams, including the Nets (both New Jersey and Brooklyn), the Memphis Grizzlies, the Minnesota Timberwolves, the Atlanta Hawks, the Boston Celtics, and the Washington Wizards. He gained a reputation as a physical player and a team leader.
In the cover story of the May 6, 2013 issue of "Sports Illustrated," written by Collins and posted on the magazine's website the previous week, he came out as gay, becoming the first active male athlete from one of the four major North American professional team sports to publicly do so. He wrote that he wished to maintain his privacy in regard to specific details of his personal life, and that he was not in a relationship at that time. Collins also stated that he chose to wear jersey number 98 in homage to the late Matthew Shepard, whose 1998 murder is considered a hate crime, and led to the Matthew Shepard and James Byrd, Jr. Hate Crimes Prevention Act. Collins called the number "a statement to myself, my family and my friends." On the day it was released, the story drew a record 3.713 million visitors to the magazine's website.
Collins was in an eight-year relationship with former WNBA center Carolyn Moos, and the two were engaged to be married, but realizing that he had no control over his same-gender desires, Collins called off the wedding in 2009. Moos expressed conflicted feelings and said she only learned Collins was gay shortly before the "Sports Illustrated" cover story. Collins admitted that he never disclosed his attraction for other men to anyone before he was 33 years old.
Following his announcement, Jason Collins generally received high praise and support for deciding to publicly reveal that he is gay. Fellow NBA star Kobe Bryant praised his decision, as did others from around the league, including NBA commissioner David Stern. President Barack Obama, First Lady Michelle Obama, former president Bill Clinton, and Collins' corporate sponsor, Nike, were also among those offering their praise and support for Collins.
However, ESPN basketball analyst Chris Broussard stated that he did not believe that Collins can "live an openly homosexual lifestyle" and be a Christian, but thought that Collins "displayed bravery with his announcement." Collins responded by saying, "This is all about tolerance and acceptance, and America is the best country in the world because we're all entitled to our opinions and beliefs but we don't have to agree. And obviously I don't agree with his statement."
The British newspaper "The Guardian" called Collins' revelation significant for LGBTQ acceptance "as professional sports had long been seen as the final frontier." Given the interest in major league team sports in the United States, the "Christian Science Monitor" wrote that Collins' announcement was "likely to put wind in the sails of this trend" of acceptance of gay rights in U.S. public opinion. Former tennis player Martina Navratilova, who came out as a lesbian in 1981, called Collins a "game-changer" for team sports, which she referred to as one of the last areas where homophobia remained. In an extensive interview with Oprah Winfrey, Collins paid homage to Navratilova and openly gay former NBA great, John Amaechi.
Collins was recognized by Absolut Vodka in a tweet, and JetBlue Airlines with a special ad that announced, "Thanks Jason, today we're all on the same team." The Gay, Lesbian and Straight Education Network (GLSEN) and askmen-dot-com presented him with their 2013 Courage Award. He introduced Seattle rapper Macklemore at MTV's 2013 Video Music Awards, where the rapper performed his gay rights anthem "Same Love," which won the award for Best Video with a Social Message.
But as the NBA's 2013-2014 season began, Jason Collins remained an unsigned free agent. That all changed on February 23, 2014, when he signed a 10-day contract to rejoin the Nets, who had since moved to the New York City borough of Brooklyn. Nets coach Jason Kidd, who became good friends with Collins while teammates in New Jersey from 2001 to 2008, was an advocate for signing Collins.
Collins played 11 minutes that night against the Lakers at the Staples Center, becoming the first publicly gay athlete to play in any of the four major North American pro sports leagues. He was scoreless, but provided solid defense in the post as the Nets outscored the Lakers by eight while he played, and took the game 108 to 102. "The New York Times" called his 2014 signing with Brooklyn "perhaps basketball's most celebrated and scrutinized 10-day contract."
Collins' number 98 jersey rose to the top spot for sales at the NBA store, and the league announced that proceeds from the sales, as well as proceeds from auctions of Collins' autographed game-worn jerseys, would benefit two LGBTQ-supporting charities, the Matthew Shepard Foundation, and GLSEN. In March of 2014, Collins signed with the Nets for the remainder of the season.
On November 19, 2014, Collins announced his retirement from the game of basketball after 13 seasons in the NBA. The 35-year-old Collins made the announcement in a first-person story for "Sports Illustrated," writing that basketball saved him. "It feels wonderful to have been part of these milestones for sports and for gay rights, and to have been embraced by the public, the coaches, the players, the league and history."
Collins elected to officially announce his retirement while he was in New York City for a Billie Jean King Leadership Initiative event, and it was Bucks head coach Jason Kidd's first game back in Brooklyn. Kidd had been the Brooklyn coach the previous season, and Collins singled him out for the "courage" he showed in bringing him on board.
After making history and becoming a well-known sports figure, Jason Collins uses his stature as a role model to help numerous charities and give back to the community. "My goal right now is to empower others," Collins said.
Collins is in a relationship with Oscar-nominated film producer, Brunson Green.
We thank Jason Collins for his trailblazing courage, his inspiring leadership, his unfailing optimism, and for his continuing support for our community.