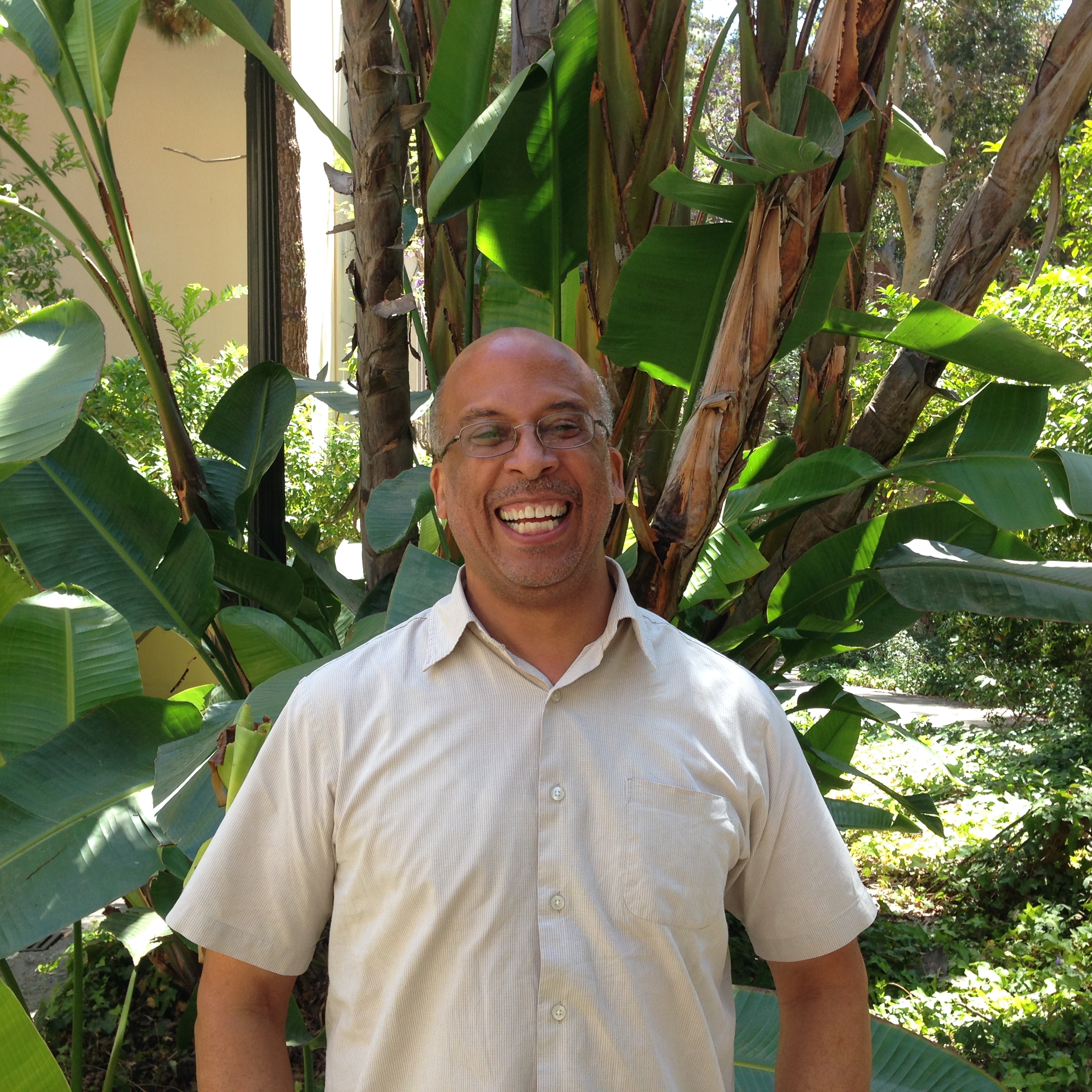 Gregory Darnell Victorianne
Gregory Darnell (Gd) Victorianne was born on December 4, 1959. He is a longtime sexual health community activist, organizer, and researcher, as well as an accomplished educator, and prevention and policy advocate. Victorianne is also a highly respected self–publisher, music critic of "tribes, scribes and vibes" on the Africa Diaspora, and a connoisseur of the "beautiful" game of soccer (football).
Victorianne was born in Chicago, Illinois to Florence and Bernard Victorianne, Sr, the youngest of three male siblings. His family relocated to Los Angeles, California, where he attended John Burroughs Junior High School, and was a member of both the school newspaper and yearbook committee. Victorianne was a member of the Boy Scouts, and also self-published a roller derby/games fanzine covering the popular banked track action sport. He also became a philatelist, starting a stamp collection in the early 1970s that now includes more than 5,000 rare stamps.
Victorianne enrolled in Fairfax High School, where his passion for writing continued as the editor-in-chief of the school newspaper as a senior. It was during that time he became aware of social injustice around the world, particularly apartheid in South Africa, which he learned about by reading the controversial banned book "House of Bondage" by Ernest Cole, a harrowing pictorial of the plight of Black Africans in South Africa, along with "Magubane's South Africa" by photojournalist Peter Magubane. These works, along with the reading essays by Steve Biko, changed Victorianne's life and encouraged him to become more aware of oppression against minority people.
After continuous censorship of his writings and battles with school administrators, Victorianne and other students formed the school's first campus underground newspaper, "WE SPEAK," which received recognition from the University of California Los Angeles (UCLA) Black Student Union and "Nommo" newsmagazine for its thought-provoking, conscious-raising commentaries. He fostered a new passion for politics by volunteering for Los Angeles mayor Tom Bradley, the city's first African American chief executive. After graduation from school, Victorianne came out to his family, who were supportive of his identity as a same-gender loving man.
Victorianne attended California State University, Northridge, where he explored the meaning of his sexuality in a public way. Through a variety of campus activities and organizations, Victorianne learned about the cultural and political significance of race, class, gender, and sexuality, and its impact on his own identity as a Black, gay man. He was active with the Black Student Union, Black Business Association, and was a staff writer for the "Black World" newspaper. Victorianne became involved with the 1984 Jesse Jackson's Rainbow Coalition presidential campaign, and went on to graduate with a double major in Pan-African studies and social psychology, with a minor in radio, television and film.
After graduation, Victorianne joined the law firm of Peterson, Ross Schloerb & Seidel, where he served as a law clerk for ten years. During this time, he remained active as a volunteer for local politicians. He was part of a collective of midnite ramblers who had a weekly radio show, "All Us We" on KPFK-FM Public Radio, covering offbeat happenings, and providing social commentaries on topics affecting the lives of minorities.
Seeing many of his friends infected and dying of AIDS at the beginning of the epidemic, Victorianne volunteered with the Minority AIDS Project as a street/club outreach worker, and received its Volunteer of the Year Award in 1992. He continued to develop his organizational and leadership skills, and volunteered with the National Black Lesbian & Gay Leadership Forum, serving for ten years as the point person for its annual conference. Victorianne was the conference chair for the 13th annual conference in Chicago, Illinois, during one of the city's most brutal snowstorms in decades.
In 1995, Victorianne relocated to Boston, Massachusetts, to join the staff of Men of Color against AIDS (MOCAA) as its coordinator of public policy/community outreach in HIV prevention. He later joined Pathway Health & Wellness Center, a grassroots agency with a focus on acupuncture and holistic health care for persons living with HIV/AIDS, serving as its client services/volunteer coordinator. Victorianne was a consultant for Northeastern University's Student Life Department and AIDS Action Committee for their World AIDS Day events and Black gay men's retreats.
Victorianne was a member of the Bayard Rustin Breakfast Committee in Boston from 1995 to 1998. He served on the Community Advisory Board at Fenway Health Center Research Department, and volunteered for the campaigns of the Honorable Kenneth E. Reeves, of Cambridge, Massachusetts, the city's first openly gay, African American mayor. Victorianne also received the Wayne S. Wright Advocacy Award presented by the Multicultural AIDS Coalition, Inc., for providing a positive impact for minorities in the New England region.
In 1998, Victorianne packed up his bags and moved back to Chicago to spend more time with his family, and enjoy the richness of his hometown. While in Chicago, he worked at Howard Brown Health Center in the Research Department as the co-study coordinator for the HIV Prevention Trials Network (HPTN) 015 EXPLORE Study. Victorianne shared his skills with the Chicago Black Lesbian & Gays Annual Conference, and was a member of ADODI Chicago. He also volunteered for then-Senator Barack Obama on his presidential campaign, assisting in reaching out to the Black LGBTQ community in Chicago.
After ten years of cold winters, Victorianne returned to Los Angeles and worked at the UCLA Center for Behavior & Addiction Medicine (CBAM) as its community engagement/recruitment and retention coordinator. Victorianne was part of the HPTN 061 BROTHERS (Broadening the Reach of Testing, Health Education & Resources) and HPTN 073 Pre-Exposure Prophylaxis (PrEP) Initiation and Adherence among Black Men who have Sex with Men (BMSM) studies in three United States cities. A man of many talents, he was also responsible for countless other administrative duties.
Victorianne has contributed to several scientific articles, including the groundbreaking "The Language of Black Gay Men's Sexual Behavior Implications for AIDS Risk Reduction" ("The Journal of Sex Research," Vol. 29, Issue 3), "Homonegativity, Substance Use, Sexual Risk Behaviors, and HIV Status in Poor and Ethnic Men Who Have Sex with Men in Los Angeles" ("Journal of Urban Health," Vol. 86, Issue 1), and a book chapter on "Public Health Issues: Surrounding Methamphetamine Dependence" in "Methamphetamine Addiction from Basic Science To Treatment" (Guilford Press).
Recognizing a need for some "nasty sex, deep reads, and in your face artwork" that was lacking in most Black LGBTQ publications in 1992, Victorianne was the creator and publisher of the hard-to-acquire but widely acclaimed and beloved "Buti Voxx," a notorious guerilla 'zine that also featured sizzling entertainment reviews, and community commentaries that "pissed off some, lectured others, and praised many."
Self-published for a decade, "Buti Voxx" was distributed at Black LGBTQ Pride celebrations, conferences, and retreats. It received several accolades and set the stage for some of the more sophisticated erotica published today.  In addition, Victorianne contributed music commentaries of the African Diaspora to several other Black LGBTQ magazines, including "Alternatives," "ARISE," "JFY," "SBC," and the specialty "Dysonna" and "Straight No Chaser" magazines.
Victorianne continued his community involvement with the Black Gay Research Group as membership chair from 2008 to 2012, and served as the summit chair for the 2010 conclave, where he received the Executive Award for his leadership. He has been a member of the National Black Gay Men's Advocacy Coalition, Los Angeles PrEP Working Group, Black Los Angeles HIV AIDS Coalition (BLAAC), and currently sits on the Los Angeles Black MSM/W PrEP Workgroup.
Victorianne has been a self-proclaimed sports junkie and avid soccer (football) fan since 1975, when he watched Brazilian legend Pelé at the Los Angeles Coliseum, creating magic with his skills. He has been present at more than a hundred matches worldwide, including five World Cups (Spain, USA, France, South Africa, and Brazil), and he proudly displays over 150 soccer scarves, beanies, and jerseys.
Victorianne is passionate about his work, and finds encouragement from his many friends and chosen family members around the world. He took an 18-month break from work to focus on some projects that have been lingering for many years, including 20 years of Black LGBTQ archives (books, broadsides, flyers, journals, magazines, programs, and correspondences) provided to the "In the Life Archive" at the Schomburg Center for Research in Black Culture, part of the New York Public Library in Harlem. He is also working on a 1980s/90s British acid jazz/soul pop-up photo exhibit.
Today, Victorianne works at Charles R. Drew University School of Medicine & Science/OASIS Clinic, the first HIV/AIDS clinic in South Los Angeles, as its PrEP Community Awareness/Navigator, providing community awareness of sexual health prevention strategies in the Watts/Compton/Willowbrook area. He resides in the Hancock Park district of Los Angeles.
We thank Gregory Darnell Victorianne for his numerous contributions, and for his support of our community.