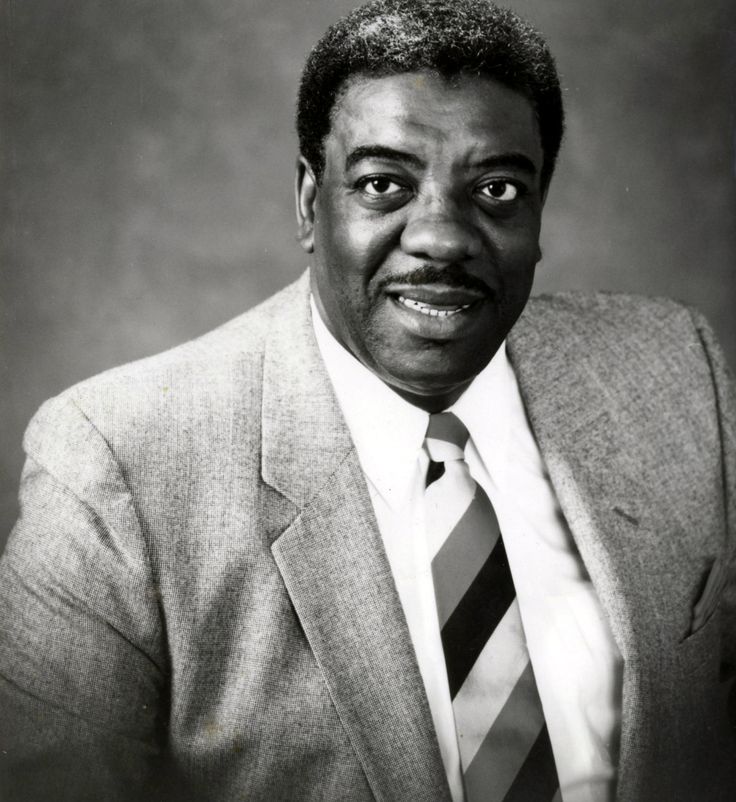 James Cleveland
The Reverend Dr. James Cleveland was born on December 5, 1931 (to February 9, 1991). He was a celebrated gospel singer, arranger, composer and, most significantly, the driving force behind the creation of the modern gospel sound, bringing the stylistic daring of hard gospel, jazz and pop music influences to arrangements for mass choirs. Cleveland is popularly known as the King of Gospel.
James Cleveland was a native of Chicago, Illinois who began singing as a boy soprano at Pilgrim Baptist Church, where gospel pioneer Thomas A. Dorsey was their minister of music, and Roberta Martin was pianist for the choir. His parents were unable to afford a piano, so Cleveland crafted a makeshift keyboard out of a windowsill, somehow learning to play without ever producing an actual note. He strained his vocal cords as a teenager while part of a local gospel group, leaving the distinctive gravelly voice that was his hallmark in his later years. The change in Cleveland's voice led him to focus on his skills as a pianist, and later as a composer and arranger. For his pioneering accomplishments and contributions, he is regarded by many to be one of the greatest gospel performers to ever live.
In 1950, Cleveland joined the Gospelaires, a trio led by Norsalus McKissick and Bessie Folk, who were associated with Roberta Martin. Martin hired him as a composer and arranger after the group disbanded. Cleveland's arrangements of songs such as "(Give Me That) Old Time Religion" and "It's Me O Lord" transformed them, giving a rocking lilt and insistent drive to old standards.
Soon after, James Cleveland went to work for Albertina Walker—popularly referred to as the Queen of Gospel—and her backup group, the Caravans, as a composer, arranger, pianist, and occasional singer and narrator. In November 1954, Walker provided Cleveland with the opportunity to do his very first recording. He continued to record with The Caravans until States Records closed down in 1957. Cleveland left and returned to the Caravans a number of times to join other groups, such as the Gospel All-Stars and the Gospel Chimes, where he mixed pop ballad influences with traditional shouting. In 1959, he recorded a version of Ray Charles' hit, "Hallelujah I Love Her So," as a solo artist.
James Cleveland signed with Savoy Records in 1962, going on to release a huge catalog of Black gospel recordings, many of which were recorded in a live concert setting. His first big gospel hit was his version of the Soul Stirrers' song, "The Love of God," backed by the Voices of Tabernacle from Detroit. Rev. Cleveland migrated to California to become Minister of Music at Grace Memorial Church of God in Christ in Los Angele, and worked with keyboardist Billy Preston and the Angelic Choir of Nutley, New Jersey. Cleveland's recording of "Peace Be Still" (1963), an obscure 18th-century madrigal, sold hundreds of thousands of copies thanks to Cleveland's comforting growl and emotional command.
His popularity grew to great acclaim, causing him once again to return to the road, this time with the newly organized James Cleveland Singers, along with Billy Preston. From the 1970s until 1990, Cleveland would bring together a number of artists to back him on appearances and records. He backed acts as well, contributing to one of Elton John's songs, "Boogie Pilgrim," Cleveland would also continue to appear and record with some of the greatest gospel choirs of that time. As he toured around the country, his reputation in the nation's Black, gay and Christian enclaves grew as well, providing him with a social life and fan base outside of the church.
Cleveland capitalized on his success by founding his own choir, the Southern California Community Choir, as well as a church, the Cornerstone Institutional Baptist Church. As his church grew, Cleveland's influence stretched even further. Like Thomas A. Dorsey before him, he taught others how to achieve the modern gospel sound through his annual Gospel Singers Workshop Convention, put on by the Gospel Music Workshop of America (GMWA), an organization that Cleveland founded along with Albertina Walker.
James Cleveland won many awards for his groundbreaking compositions, including four gospel Grammy Awards. The gospel style he pioneered paved the way for the emergence of the mass choir that is so popular today. Cleveland toured extensively throughout his life, and became a fixture at gay parties in the cities where he performed. While not publicly out, his sexual orientation was a poorly kept secret in the entertainment world, and within Black, gay circles.
The Reverend Dr. James Cleveland died on February 9, 1991. According to his foster son, Christopher Harris, he died of complications from AIDS. Cleveland is interred at the Inglewood Park Cemetery in Inglewood, California.
As for Cleveland's sexuality, Harris told the "News Journal" in Wilmington, Delaware that "people in [Cleveland's] inner circle knew, people at church knew, but they pretended it didn't exist. I guess what you don't see you can't say. But I can."
Throughout his career, Cleveland appeared on hundreds of recordings, and received a star along the Hollywood Walk of Fame. He also was awarded an honorary Doctorate degree from the Trinity Bible College.
We remember Reverend Dr. James Cleveland in in recognition of his many contributions to gospel music and to our community.