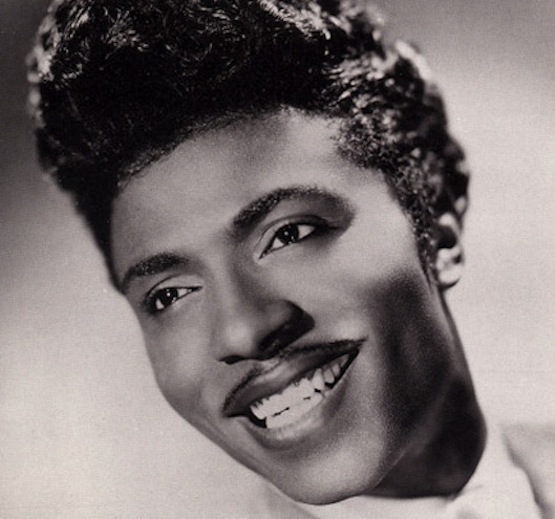 Little Richard
Little Richard was born on December 5, 1932. He is a legendary musician, singer, actor, comedian, and songwriter who was inducted as part of the inaugural class of the Rock and Roll Hall of Fame, and received the Grammy Lifetime Achievement Award in 1993. Little Richard is often referred to as the Architect of Rock and Roll, and this innovative musical genius is considered key in the transition from rhythm and blues to rock and roll in the mid-1950s.
Richard Wayne Penniman was one of 12 children born in Macon, Georgia to Leva Mae Stewart and Bud Penniman, a stern man who made his living selling moonshine and didn't do much to hide his disdain for his young son's signs of homosexuality. Raised in his earliest years in the Seventh Day Adventist Church, the younger Penniman preferred the Pentecostal faith that other relatives practiced, and by age 10, he started performing faith healings in which he would sing gospel, preach, and heal other parishioners.
At the age of 13, Penniman was ordered to move out of the family home; never repaired was his relationship with his father, who was shot dead outside a bar when Richard was 19. The childhood that Penniman did manage to create was largely shaped by the church. Two of his uncles as well as his grandfather were preachers, and Penniman was deeply involved with the church, singing gospel and eventually learning to play the piano. He loved the livelier style of music, and the holy dance and speaking in tongues that he saw in Pentecostal congregations.
After moving out of his family's home, Penniman was taken in by a white family who owned a club in Macon, where he eventually began performing and honing his talent. By his mid-teens, he was touring and performing under the name Little Richard. He played spiritual music and blues, and sang with a growling, thrilling grind to his voice that sometimes bordered on yelling. His idols were gospel divas like Sister Rosetta Tharp and Mahalia Jackson. Imitating his role models, Little Richard did up his hair and feminized his style of performance.
In 1951, Little Richard caught his first major break when a performance at an Atlanta radio station yielded a record contract with RCA. But with a repertoire of mainly mild blues numbers that masked the searing vocals and piano that would later come to define his rock music, his career failed to take off as he had hoped.
In September of 1955, Little Richard began recording in a style he had been performing onstage for years, featuring varied rhythms, a heavy backbeat, funky saxophone grooves, over-the-top gospel-style singing, moans, screams, and other emotive inflections, accompanied by a combination of boogie-woogie and rhythm and blues music. This new music, which included an original injection of "holy roller" funk into the rock and roll beat, inspired many of the greatest recording artists of the twentieth century including James Brown, Otis Redding, Michael Jackson, and Jimi Hendrix.
Mainstream recording artists tried unsuccessfully to duplicate Little Richard's original style, but they still made hits in the segregated south, including Elvis Presley, Pat Boone, Jerry Lee Lewis, and many others who profited from Little Richard's unique creativity, and played it to their advantage. To their credit, 1960s mega groups The Beatles and The Rolling Stones frequently paid homage to Little Richard's inspiration and influence in their successful careers.
One of Little Richard's earliest and most enduring hits was a recording of a re-worked version of "Tutti Frutti," a bawdy anthem to anal sex. The sanitized version of "Tutti Frutti" was an instant Billboard hit that reached No. 17 on the charts. In 2007, a panel of renowned recording artists voted the song number one on Mojo's The Top 100 Records That Changed the World, and it ranked #43 on Rolling Stone's list of The 500 Greatest Songs of All Time.
Little Richard, along with a road band, performed his hits in sports stadiums and concert venues across the United States through 1956 and 1957. He succeeded in bringing both Black and white Americans to his concerts, at a time in the U.S. when laws still dictated that public facilities (including concert venues) be divided by race.
Fueled by his earlier connections to the church, Little Richard saw his doubts about rock music deepen. In 1957, he abruptly and publicly quit performing rock, and committed himself to the ministry and gospel songs. In January of 1958, he enrolled in a Bible college to become a preacher and evangelist, and began performing only gospel music for a number of years. He then moved back and forth from rock and roll to the ministry, until he was able to later reconcile the two roles in his life. He recorded his debut religious album, "God Is Real," in 1959.
That same year, Little Richard married Ernestine Campbell, a woman he met at an evangelistic meeting in Washington, DC. They would divorce in 1963, but during the marriage Little Richard adopted Danny Jones, the son of a fellow parishioner who had passed away.
Little Richard continued in the ministry but was experiencing marital problems and some difficulty living his ideal of a disciplined Christian life. Although rock and roll sales were in a slump in America in 1962, Little Richard's records were still selling well in England. For several months that year, The Beatles, then still an obscure English band, co-resided with him at the Star Club in Hamburg, Germany, during which time Little Richard advised them on the proper technique for performing his songs.
British promoter Don Arden then booked Little Richard on a joint headlining gig with Sam Cooke for a 1962 tour of Great Britain, with the Beatles as an opening act. Little Richard thought he was going to perform gospel music, but Arden had promoted the concert as a rock and roll show. On the first night of the tour, Little Richard began performing gospel music, but gave in to the pressure and began singing his secular hits. He walked off to a wildly excited, standing ovation—a frenzied crowd reaction that was to be repeated wherever he appeared.
Little Richard recorded many other influential hits, including "Long Tall Sally," "Slippin' and Slidin,'" "Lucille," "Keep A-Knockin," "Good Golly, Miss Molly," "By the Light of the Silvery Moon," "Whole Lotta Shakin' Goin' On," "Goodnight Irene," "I Don't Know What You've Got But It's Got Me," "Freedom Blues," "In the Middle of the Night," "Great Gosh A' Mighty! (It's a Matter of Time)," and so many other groundbreaking hits, often covered by both Black and white artists.
In addition to his records, Little Richard appeared in several early rock films, such as "Don't Knock the Rock" in 1956, and "The Girl Can't Help It" and "Mister Rock 'n' Roll," both in 1957.
While he has not always been out, Little Richard was one of the first popular Black artists to publicly discuss his bisexuality and same-gender attraction. Little Richard, a self-described voyeur, began having sexual encounters with both men and women by his early teens. In 1984, he described himself as "omnisexual" after he was asked about his sex life. In 1995, Little Richard told "Penthouse" that he always knew he was gay, and "Mojo" magazine described him as "bisexual" in 2007. In 2017, Little Richard gave a rare interview to the Christian-oriented Three Angels Broadcasting Network, during which he called homosexuality "unnatural." The comments were met with anger from the LGBTQ community
Little Richard battled health problems in the last several years, but continued to perform when he could. In 2016, a new CD, "California (I'm Comin')" contained previously unreleased material from the 1970s, including an a capella version of his 1975 single, "Try To Help Your Brother."
We thank Little Richard for his lifelong contributions to music and entertainment.