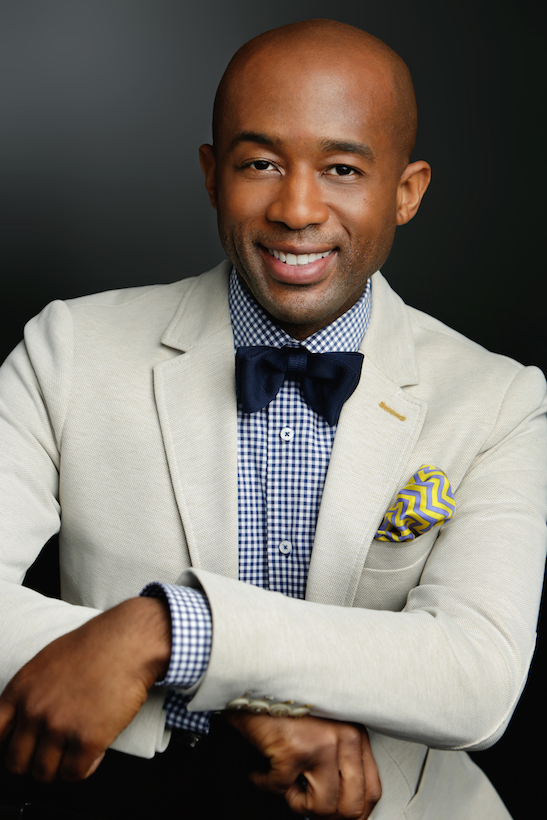 Mikel Welch
Mikel Welch was born on December 14, 1979. He is a celebrity interior designer, a season seven contestant on HGTV's "Design Star," and an on-air personality, design expert, and senior set decorator for the Emmy Award-winning "The Steve Harvey Show." Welch has designed rooms for such luminaries as First Lady Michelle Obama, Oprah Winfrey, Bishop TD Jakes, Tyler Perry, and Halle Berry.
Mikel Welch was born in Detroit, Michigan, the son of Winston Welch, who was a minister, and Kathy Young-Welch, a radio personality and talk show host. As a young boy living in Southfield, Michigan, Welch busied himself with the construction of sofas and dining tables for imaginary houses. It was evident to his family that creativity and a passion for design were embedded in Welch from birth.
Welch attended Southfield Lathrup High School, graduating in 1997. Following high school, Welch enrolled at Morehouse College, where he obtained his Bachelor of Arts degree in business administration. He came out as a gay man in his sophomore year of college, and found it to be a very challenging experience. Growing up in a very conservative household headed by a minister only intensified the conflict. Welch's parents initially tried to pin his attendance at an all-male college as the source of his sexual orientation, but according to Welch, they "eventually came around, over time."
After stepping away from work in corporate America, Welch followed his passion to begin working as an apprentice for several interior designers. At just 27 years of age, he opened Dwell Interior Design Solutions in Atlanta, which he maintained until making the decision to relocate to New York City. In Manhattan, Mikel worked for interior design firm Valerie Onor Designs, among others.
The early years were not easy for Welch. "In 2010, I was living in New York City and struggling, living on food stamps," he recalled. "I had given up everything I had with my corporate job to chase a dream because I always knew God had a greater plan for me. So now, I want to encourage others to step out on faith and trust God. I want people to feel the same joy that I have when I'm out designing homes for my clients. My road wasn't easy but I stayed the course, and God has now opened up doors that I never could've imagined."
The public first became familiar with Welch's signature style—his bow tie, and relaxed, fun and enthusiastic personality—when he appeared on HGTV's "Design Star" in 2012, where he finished as a top four contender. That same year, Welch joined "The Steve Harvey Show" as a set designer. But this wasn't his first brush with television. Welch worked behind the cameras as a set designer for the Style Network's hit reality show, "Jerseylicous," in 2011.
Welch was chosen to be one of 26 designers participating in the 2015 Lake Forest Showhouse & Gardens, one of the country's top showhouses. As part of this, he reimagined the office suite of the late filmmaker, John Hughes. Welch served on the Inaugural Designer Committee of the 2015 Antiques, Garden & Design Show at the Chicago Botanic Gardens.
Welch has appeared as a design expert on WGN-TV, and CBS-TV's "The Talk," and has made special guest appearances on behalf of West Elm, CB2, and Pottery Barn. Welch and his designs have been featured by "The Huffington Post," "HGTV Magazine," "CS Magazine," "Modern Luxury Interiors," "Essence," "Crain's Chicago Business," "Splash," Chicago's NBC-TV, HGTV's "Shop This Room," and The Fabulist on E! Network.
In 2013, Welch served as the master of ceremonies for the Ruth Ellis Center's Voices Benefit for LGBTQ youth in Detroit. "I think it's important for the Black SGL/LGBTQ community to have a voice," Welch told the Ubuntu Biography Project. "I feel like the media portrays us in such a negative light, so it's always great to see positive images of Black gay men represented in our community."
Today, Welch oversees his interior design business, Mikel Welch Designs, and divides his time between several cities. Welch is a huge fan of hip-hop and house music, and is quick to add, "Don't let my bowtie fool you. In my next life I would really like to become a DJ. If interior design does not work out for me, I am definitely going to learn how to spin records."
Interior design is very much working out for Welch, who dreams of having his own home makeover show in the future. "I love being able to visualize a space in a manner that my client's wouldn't have anticipated. The pleased look on a client's face after the room is revealed is the greatest compliment."
We thank Mikel Welch for his lifelong commitment to design and creating exciting spaces that evoke beauty, classic elegance and comfort, and salute him for his many contributions to our community.