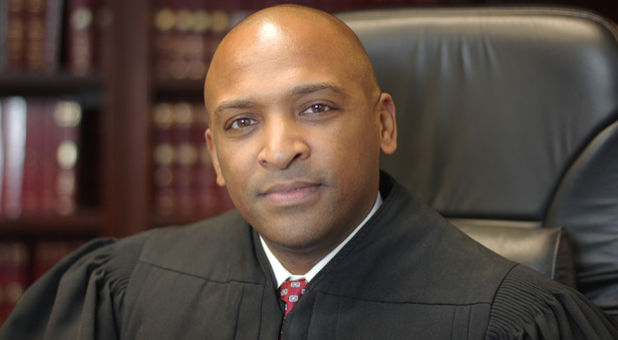 Darrin P. Gayles
Darrin P. Gayles was born on December 16, 1966. He is a highly respected jurist, and a United States District Court Judge for the Southern District of Florida. Following President Barack Obama's historic nomination, the United States Senate unanimously confirmed Judge Gayles by a 98-0 vote, making him the nation's first openly gay, African American man to serve on the federal bench.
The Honorable Judge Darrin Phillip Gayles was born in Peoria, Illinois, the eldest of two children born to Janie Banks Gayles and the late James E. Gayles. He attended Howard University, where he graduated in 1990. Gayles was selected as one of the inaugural Patricia Roberts Harris fellows. While at Howard, his fellow students elected Judge Gayles to serve as their representative on the prestigious Howard University Board of Trustees. Judge Gayles subsequently obtained his law degree from George Washington University Law School in 1993.
Judge Gayles began his legal career in 1993 as an assistant state attorney in Miami-Dade County, Florida (among the last class of assistant state attorneys hired by former U.S. Attorney General Janet Reno). Judge Gayles was hired by the United States Department of Justice in 1997 as an assistant district counsel for the Immigration and Naturalization Service (INS). In 1999, Judge Gayles was hired as an assistant U.S. attorney for the Southern District of Florida, and served in that office's appellate, major crimes, and narcotics sections until his appointment to the County Court in 2004.
Judge Darrin P. Gayles previously served for more than ten years as a judge of Florida's 11th Judicial Circuit. He was appointed to the County Court of that circuit by former Florida Governor Jeb Bush in 2004. In 2011, former Florida Governor Charlie Crist elevated him to the Circuit Court, where he served until his federal appointment. Judge Gayles was retained on both courts without opposition in 2006 and 2012, respectively.
As a distinguished and respected jurist, Judge Gayles is a leader in South Florida's legal and civic communities. In 2009, he was appointed by the chief judge of the Eleventh Judicial Circuit to co-chair the Circuit's Long Range Planning Committee. In 2012, the chief judge also appointed him to co-chair the Circuit's Committee on Professionalism. As co-chair of that committee, he oversaw the Circuit's first Professionalism and Civility Summit, and the New Attorney Breakfast. Judge Gayles has been a lecturer and panelist for the American Bar Association, Florida's Conference of County Court Judges, and many of South Florida's voluntary bar associations regarding professionalism and civility in the legal profession and substantive legal issues.
Judge Gayles is also a member of the Judicial Council of the National Bar Association (NBA), and chaired the Judicial Council's local convention committee for the NBA's 2013 Annual Convention in Miami Beach, Florida.
Judge Darrin P. Gayles was a longtime trustee of the historic Greater Bethel African Methodist Episcopal Church in Miami. He has also been an active volunteer with several local and national community service organizations, including 100 Black Men of South Florida, Congresswoman Frederica Wilson's 5000 Role Models of Excellence Project, and Big Brothers/Big Sisters. Judge Gayles has been the featured speaker at several churches, schools, and civic organizations, and gave the keynote address to 3,000 new U.S. citizens at a naturalization ceremony in August of 2004 at the Miami Beach Convention Center.
Widely praised for being both tough and compassionate, Judge Darrin P. Gayles has been the recipient of numerous awards, including the League of Prosecutors' 2014 Justice Award, the George Washington University Black Alumni Association's 2008 Making an Impact Award, the National Black Justice Coalition's 2008 Outstanding Public Service Award, and the Saint Thomas University Black Law Students Association's 2007 Mentor of the Year Award. Judge Gayles has also been recognized as one of South Florida's Most Powerful Black Business Leaders of 2013, and as one of South Florida's Most Influential Black Professionals Under 40, compiled in 2006 by "Success South Florida Magazine."
Gayles lives in Miami, Florida, with his life partner, Raymond Zayas.
We thank the Honorable Judge Darrin P. Gayles for his dedication to justice, his inspiring judicial accomplishments, his commitment to community service, and for his many contributions to our community.