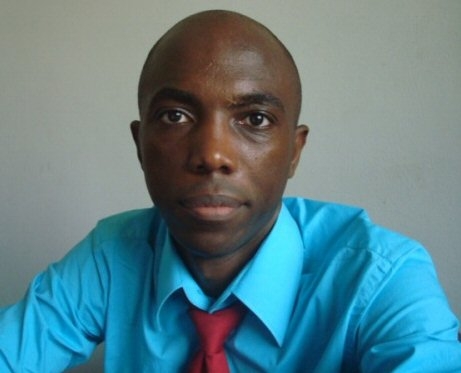 Stéphane Tchakam
Stéphane Tchakam was born on December 16, 1971 (to August 13, 2012). He was a skillful writer, and a revered Cameroonian journalist, social critic, and LGBTI activist.
Stéphane Tchakam was born in the small village of Bayangam, in the Central African nation of Cameroon. When he was just seven years old, he was reading the Tunisian intellectual publication, "Jeune Afrique," and absorbing its ideas about a post-colonial Africa and human rights. An intensely bright student who could always be seen "with a pencil and backpack," Tchakam attended Park Repiquet School, and primary school and Bilingual High School in Melen, Yaoundé, followed by law school at the University of Yaoundé. After his studies were interrupted due to lack of financial resources, Tchakam was accepted into the École Supérieure des Sciences et Techniques de l'Information et de La Communication, where he received his journalism credentials in 1996.
Tchakam began his journalism career in the late 1990s at the "Mutations" newspaper, and then moved to the government daily, the "Cameroon Tribune," where he served for eight years as head of communication service as its chief communications officer for the Littoral region of the Republic of Cameroon. In 2009, Tchakam resigned to work for the daily "Le Jour" as a reporter for its Douala desk. In 2012, he began work as news editor for "Le Jour" based in Yaoundé. Tchakam was also an editor of the newspaper "The Day," and a respected music journalist for Radio Nostalgie Cameroon.
While editors valued his often brilliant political perspectives, Tchakam aspired to be a cultural journalist, to focus his unique voice on culture and the arts, even when, as he would write, "… employers felt that I was better used elsewhere." He was a passionate dilettante, and his love for the arts was returned to him by artists from around the African continent, but especially in his native country. Tchakam was a huge fan of Miriam Makeba, and wrote the article "Miriam Makeba, was Africa" in tribute to her many contributions, after her passing.
Tchakam was revered by colleagues for his professionalism and work standards, but described by one Cameroonian publication as a "militant homosexual." He was a man of great conviction who took his role as a journalist seriously, which sometimes put him at odds with less committed editors. Tchakam once said, "This is more binding, more demanding, more meritorious and that's what there is most noble and difficult in journalism." He saw beauty in the people, the land, the arts and the powerful words of Africa, and sought to elevate both his beloved nation, and his readers with his profound writing. He used his warm humor (he once said that laughter "was a symbol of freedom"), his intellect, his powerful reasoning, and his skillful writing to disarm foes and win friends in an openly hostile nation.
Stéphane Tchakam was openly gay in a country where homosexuality is punishable by prison. Defiant and fiercely proud of being gay, Tchakam functioned as an outspoken advocate in the LGBTI community, and a co-founder of the LGBTI support organization, Alternatives Cameroon. "It is not others that define me. I am myself and I decide what is good for me," Tchakam insisted.
Tchakam pushed for greater exposure of gay and lesbian accomplishments and contributions in the media, and encouraged other Cameroonians to come out; friends described him as "the voice of the voiceless." He was revered as an activist with a "positive passion" for sexual minorities in Cameroon, and deeply committed against any form of discrimination, including discrimination found within the LGBTI community. He often reminded professional, more affluent members of the community to be more sensitive to the needs of their poor and disenfranchised LGBTI brothers and sisters.
Known by many as "Pa'a Cha," Stéphane Tchakam's efforts were also internationally oriented. He understood the value of telling the world about the struggles of Cameroonians, in a respectful and compelling way. He was responsible for communication to the African branch of the International Lesbian and Gay Association, known as Pan Africa ILGA. In tribute to his efforts, the organization honored him by saying, "[he] was a man determined to play a role in the transformation of his country. His brilliant mind, his generosity and strength undoubtedly continue to guide [and] support the LGBTI in Cameroon."
In 2008 and 2009, Tchakam received the Mediation Press Trophy for his extraordinary reporting, an honor bestowed by Cameroonian media professionals, and he even served on the board of the organization. To honor him, the "Journal of Cameroon" republished a portrait of Tchakam.
In late July of 2012, Tchakam began to complain of not feeling well. A relative visited his home in Makepe, to bring him fish broth and plantain. But as his condition worsened, Tchakam complained of being in pain, and was transported to Douala General Hospital. A violent attack of malaria subsided after a few days, and he was sent home to rest. Tchakam looked forward to returning to work, but just as it appeared he was getting stronger, complications ensued. He was returned immediately to the hospital, suffering from malaria and severe anemia. Tchakam died of his illness on the morning of August 13, 2012. Later in the day, his body was sent to Yaoundé at the request of his family.
Shock waves reverberated throughout the Cameroons press corps, the arts community, and especially the LGBTI community. Tchakam was a vibrant and joyful voice that was suddenly and unexpectedly silenced. His legions of friends flocked to the hospital in total disbelief. They prayed, pleaded and openly wept, seeking comfort in each other's company. But their beloved Stéphane was indeed gone.
Tributes poured in from around the nation. The "Cameroon Tribune," "SlateAfrique," the "Journal of Cameroon," and his colleagues at "Le Jour" published memorials, tributes, and obituaries. Prominent human rights lawyer Alice Nkom admitted, "The loss of Stéphane Tchakam is a huge earthquake. We will miss him. He is irreplaceable."
Steave Nemande, a co-founder of the health and human rights group Alternatives Cameroon, remembered Tchakam as "someone very cultured and full of joie de vivre. He was a first-class advocate for LGBTI causes. He was a founding member of Alternatives Cameroon, where he served as board member and treasurer for many years. He deserves the credit for the recent trend toward objective treatment of homosexuality in the press in Cameroon, especially in the newspapers he edited. This is a big loss for gay rights activists. Many people will remember him as very friendly and warm, a person who was always ready to help a young colleague."
We remember Stéphane Tchakam in deep appreciation for his brilliant journalism, his passionate support for the arts, and his uncompromising contributions to our community.