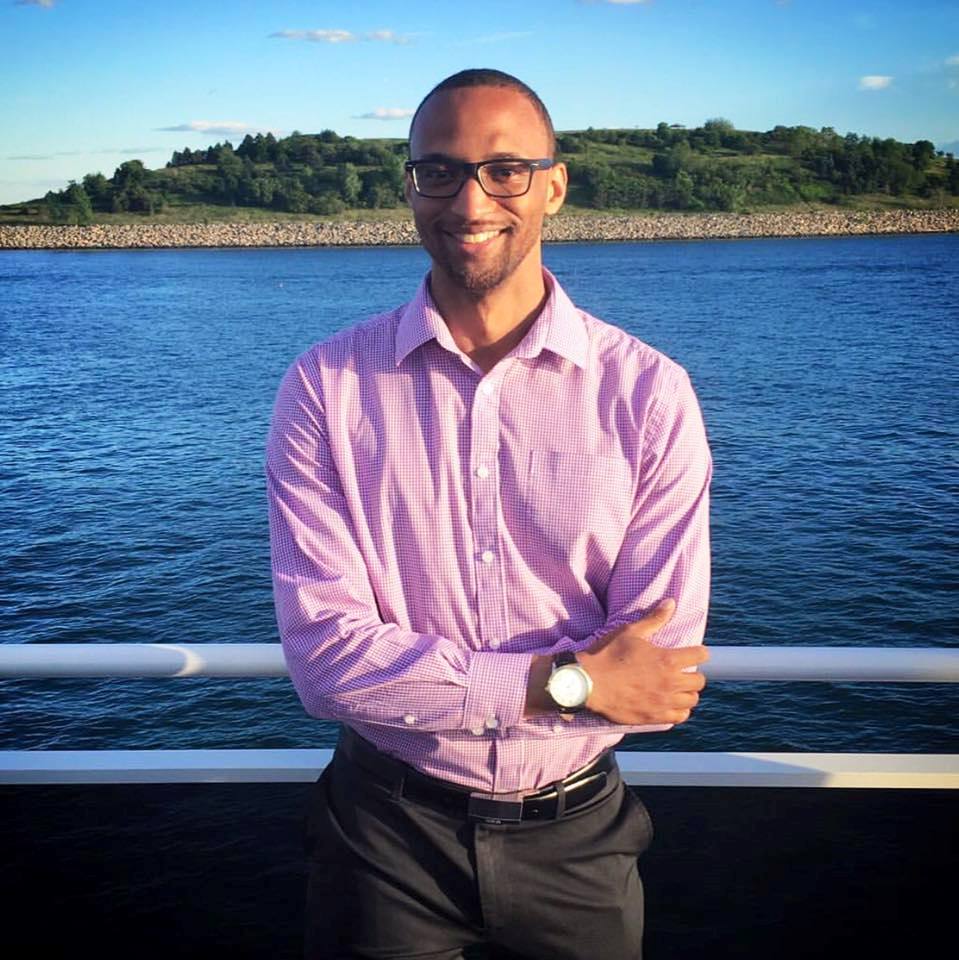 Corey Yarbrough
Corey Yarbrough was born on December 22, 1985. He is an educator, a social justice activist, writer, educator, motivational speaker, and co-founder and executive director of the Hispanic Black Gay Coalition.
Corey Yarbrough was born in Norfolk, Virginia, the son of Albert Yarbrough and Sandra Yarbrough. He has two brothers (one living), a sister, and six nieces and nephews. Yarbrough attended Booker T. Washington High School and graduated in 2003. He was searching for a college where he could "pray the gay away" and enrolled at Jerry Falwell's Liberty University on a debate scholarship. While at the institution, Yarbrough ironically realized that being a Black gay man was not a shameful part of his identity that should be altered, but a powerful asset that spoke to a greater calling. In 2005, he transferred from Liberty University to earn a degree in justice studies at James Madison University in Harrisonburg, Virginia. While there, Yarbrough participated on the varsity debate team, earning the Mid-Atlantic District Champion honors in 2006, and qualifying for the National Debate Tournament in 2006 and 2007.
Following his graduation, Yarbrough completed the Bill Emerson National Hunger Fellowship with the Congressional Hunger Center. Under the program, he worked with Pittsburgh communities to develop effective responses to the barriers faced by eligible households in applying and receiving government assistance. Afterward, Yarbrough worked with the National Coalition for the Homeless to expand the organization's civil rights agenda. In doing so, he drew media attention to violence against individuals experiencing homelessness, and launched a national campaign to register homeless and low-income individuals to vote.
In 2008, Corey Yarbrough moved to Massachusetts to work as a community organizer on a successful campaign for state education reform. A year later, he began working for Let's Get Ready, a non-profit organization that provides low-income students with free SAT test preparation, admissions counseling, and other support services needed to gain admission to and graduate from college. As program manager at Let's Get Ready, Yarbrough managed eight college prep programs annually, and organized college enrichment events for program participants, including professional development trainings, career days, and financial aid seminars.
In 2009, Yarbrough co-founded the Hispanic Black Gay Coalition (HBGC) with his fiancé, and became the organization's executive director two years later. HBGC works to inspire and empower Hispanic, Latina/o and Black LGBTQ individuals to improve their livelihood through activism, education, outreach, and counseling. HBGC takes a comprehensive approach to meeting the mental, physical, social, and spiritual needs of its constituency. Services and programs offered by the organization include: HIV/STI testing and counseling, youth leadership development, "coming out" peer support, partner abuse/domestic violence support, LGBTQ youth mentorship, and spiritual care. The work of HBGC has been nationally recognized and featured in "The Boston Globe," "The Advocate," "The Huffington Post," and "Bay State Banner." In 2012, the organization was honored by AIDS Action Committee for its innovative work in HIV prevention and LGBTQ empowerment.
Corey Yarbrough's passion for working with Black, Latina/o, and Afro-Latino/a LGBTQ communities stemmed from the lack of visible leadership and programs that existed for these democraphics in Boston. Additionally, many of the social disparities faced by LGBTQ people (such as HIV infections, homelessness, depression, and high school graduation rates) disproportionally impact Black and Latina/o LGBTQ people. While society often tries to create divisions between Black and Brown communities, Yarbrough believes that creating more spaces to share experiences, build solidarity, and exchange resources will lead to powerful healing, coalition-building, and collective action to create a better world where Black and Latino/a LGBTQ people can be visible, celebrated, and successful.
Yarbrough announced in 2016 that he was resigning as executive director of the Hispanic Black Gay Coalition to pursue other opportunities and create space for another LGBTQ leader of color to thrive in that role. He became the founding director of operations for Brooke High School in Boston, part of the Brooke Charter Schools system.
Yarbrough served on the executive board for the Massachusetts Commission for Gay and Lesbian Youth, and sat on the steering committee for the Boston Alliance for Community Health (BACH), where he served as co-chair of the Community Engagement Committee throughout 2014. He is a former writer for "Healthy Black Men," and a member of the 21st Century Fellows Program, a leadership development initiative for LGBTQ managers of color.
In 2013, Corey Yarbrough was featured in 50 Black LGBT People Every Black Youth Should Know, a list compiled by National Black Youth Pride Services. In 2014, he was named an LGBT Game Changer by "Mused," and was included on the National Black Justice Coalition's list of 100 Black LGBT/SGL Emerging Leaders To Watch. Yarbrough also was awarded the 2015 Healthy Leadership Award from the Boston Alliance for Community Health. The honor recognizes a Boston resident who has worked to improve the health of the community through addressing racial and ethnic health inequities. In 2016, Yarbrough was given the Lavender Rhino Award by The History Project, presented annually to an emerging activist or organization in the Boston area.
As a person who has experienced sexual assault, the suicide of a brother, and deep feelings of inadequacy, Yarbrough is highly invested in supporting others in finding power in their identity and experiences, and using that power to transform the world around them. He is influenced by many social justice leaders, such as Bayard Rustin, Angela Davis, and Malcolm X, and pulls inspiration from the powerful words of James Baldwin, Audre Lorde, and bell hooks. Musically, Yarbrough loves Janet Jackson, and listens to his favorite album, "The Velvet Rope," at least once a week.
Yarbrough lives in Boston with his husband, Quincey J. Roberts. The two have started a family, co-parenting a beautiful son, Quincey Jr., with longtime friend Victoria Mills. Their story of finding love and founding a non-profit organization together as a Black gay couple has been featured in "The Rainbow Times," "Love Works" With Juan and Gee, and "The Tenth Zine."
In his spare time, Yarbrough enjoys tennis, travel, watching movies, and reading. He is also a proud member of Union United Methodist Church, the only LGBTQ-affirming historically Black church in Boston.
We thank Corey Yarbrough for his commitment to leadership, education, and public service, for his advocacy on behalf of Black and Hispanic LGBTQ men and women, and for his many contributions to our community.