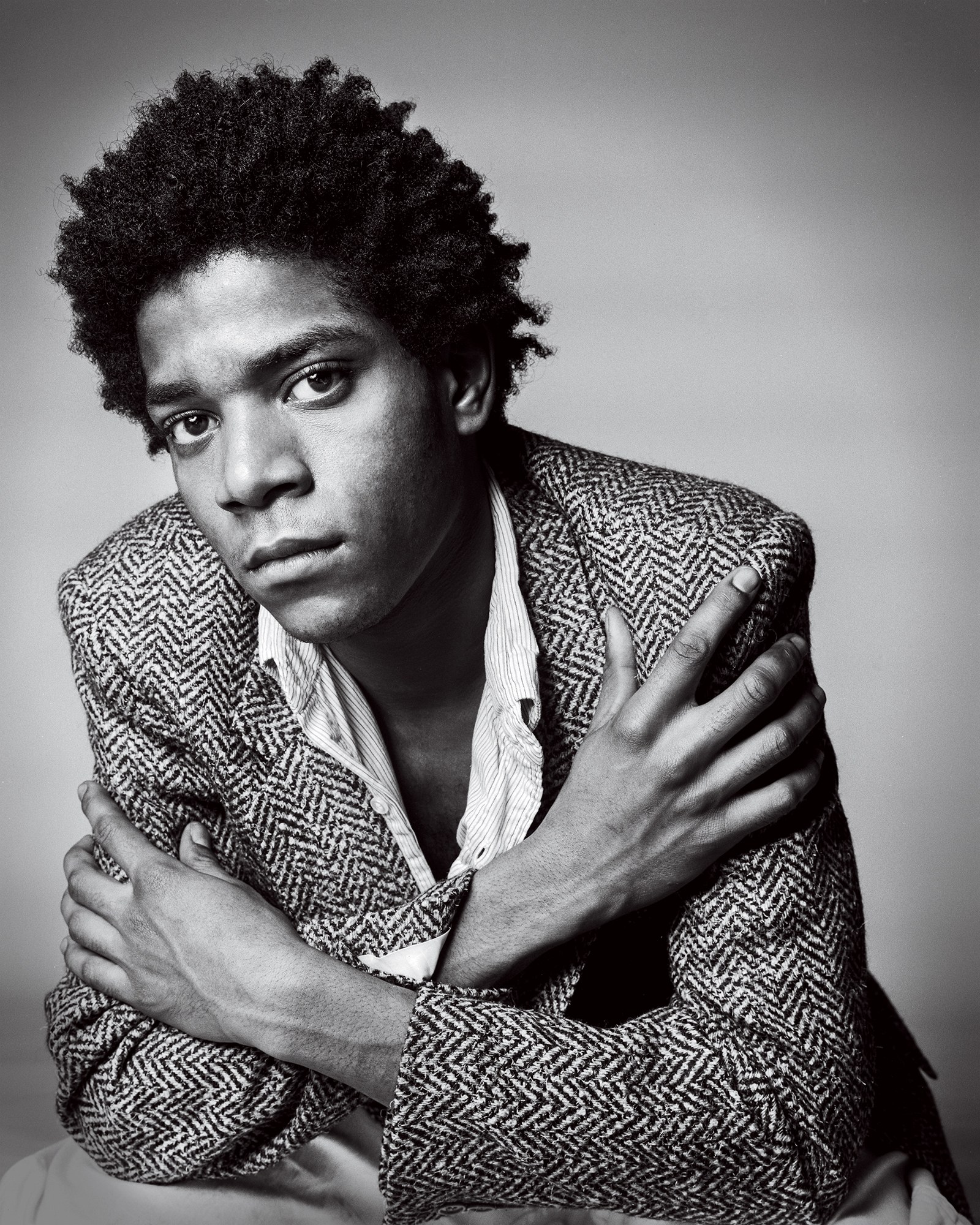 Jean-Michel Basquiat
Photo: Richard Corman/CPi Syndication
Jean-Michel Basquiat was born on December 22, 1960 (to August 12, 1988). He was a painter, graffiti artist, pop icon, actor, and musician. Generally considered one of the greatest artists of the 20th century, Basquiat's works became a major force in revitalizing American art. In 2017, Basquiat's "Untitled"—depicting a skull—sold for $110.5 million, the most ever paid at auction for a United States-produced artwork and for a painting by a Black artist.
Jean-Michel Basquiat was born in the New York City borough of Brooklyn, and grew up in a middle class family. His father, Gerard Basquiat, was an accountant born in Port-au-Prince, Haiti, and his mother, Matilda Andrades, was born to a Puerto Rican family in Brooklyn. Basquiat's diverse cultural heritage was one of his many sources of inspiration and his iconography. He was fluent in French, Spanish, and English, and read voraciously in these languages, including Symbolist poetry, mythology, and history. At an early age, Basquiat displayed an aptitude for art, and was encouraged by his mother to draw, paint, and to participate in other art-related activities.
In 1977, when he was 17, Basquiat and his friend, Al Diaz, started spray painting pithy messages as graffiti art on subways and buildings in lower Manhattan, adding the infamous signature of SAMO© ("same old shit"). In 1978, Basquiat left home for good, and quit school just one year before graduating from high school. He lived with friends and began selling hand-painted postcards and T-shirts. That same year, the "Village Voice" published an article about his cryptic aphorisms rendered as graffiti. Following a feud with Diaz, Basquiat's SAMO era ended with the epitaph "SAMO IS DEAD" written on the walls of SoHo buildings.
Basquiat sold sweatshirts and postcards featuring his artwork on the streets before his painting career took off. His work began to attract attention around 1980 after a group of underground artists held a public exhibition they christened the Times Square Show. Basquiat's unique visual lexicon of "graffiti symbols and urban rage" challenged accepted notions of art. His vivid paintings incorporated such diverse images as African masks, quotes from Leonardo da Vinci and "Gray's Anatomy," Egyptian murals, pop culture, and jazz.
In 1981, poet, art critic, and cultural provocateur Rene Ricard published "The Radiant Child" in "Artforum" magazine, helping to launch Basquiat's career to an international stage. He appeared in the music video "Rapture" by Blondie, and filmed the movie "Downtown 81," which didn't see its completion and release until well after Basquiat's death. Basquiat continued exhibiting his works around New York and internationally, and by 1982, he was at the forefront of what was called the Neo-expressionist movement.
Although he never publicly identified as bisexual, Basquiat was known to be attracted to both men and women, including Madonna, the then-unknown performer he began dating in 1982. That same year, Basquiat met Andy Warhol, with whom he collaborated extensively from 1984 through 1986, forging a close, if strained, friendship. According to one biography, he was also briefly involved in a relationship with artist David Bowes. According to Jennifer Clement, author of "Widow Basquiat," Basquiat "was attracted to people for all different reasons. They could be boys, girls, thin, fat, pretty, ugly. It was, I think, driven by intelligence."
Jean-Michel Basquiat had several critically reviewed exhibitions, and was included in the 1983 Biennial Exhibition at the Whitney Museum of American Art. Embraced by the art world, Basquiat soared to international fame. In 1982, his work was exhibited in New York, Los Angeles, Rome, Rotterdam and Zurich, and he was the youngest artist ever to be included in the prestigious German exhibition, Documenta 7. In 1985, he appeared on the cover of "The New York Times Magazine."
By 1984, many of Basquiat's friends had become quite concerned about his excessive drug use. He began to exhibit signs of paranoia, and isolated himself from the world around him for long stretches. Basquiat had developed a very serious cocaine and heroin habit by this point, which started from his early years living among the junkies and street artists in New York's underground. Celebrities like Paul Simon were paying tens of thousands of dollars for his paintings, and he was suddenly flush with new wealth, with little advice on how to handle or invest for his future. Basquiat was reportedly spending most of his money to maintain his addictions.
In 1986, Jean-Michel Basquiat traveled to Africa for the first time, and his work was shown in Abidjan, Ivory Coast. In November, a large exhibition of more than sixty paintings and drawings opened at the Kestner-Gesellschaft in Hannover, Germany, and that was quickly followed by shows in both Paris and New York. Basquiat attempted to kick his heroin addiction by leaving the temptations of New York for his ranch in Maui, Hawaii. He later returned to New York, embracing sobriety and claiming to be drug-free.
The death of his dear friend and mentor Andy Warhol, in 1987, was very distressing for Basquiat, and it is speculated by Phoebe Hoban in "Basquiat: A Quick Killing in Art," her 1998 biography on the artist, that Warhol's death was a turning point that helped spin his drug addiction and depression beyond his control. The artist's close friends once again became increasingly concerned about his drug use and erratic behavior. Jean-Michel Basquiat was found dead in his loft on Great Jones Street in Manhattan's NoHo neighborhood. He was only 27 when he died of an overdose of heroin and cocaine on August 12, 1988.
Jean-Michel Basquiat was beloved by the art world for his impactful iconography, his colorful, late 20th century street art, and his celebrity in the avant-garde world of wealthy art patrons. He was a Black street kid who excelled in the stuffy world of white philanthropy and arts patronage. But those conflicting worlds often clashed within him, and created conflicts that were, at times, a challenge to contain. The title of Greg Tate's "Flyboy in the Buttermilk" alluded to Basquiat's role in the downtown art scene, which he portrayed as a bland, white sea in which Jean-Michel drowned.
The authentication committee of the estate of Jean-Michel Basquiat was formed by the gallery assigned to handle the artist's estate. Headed by Basquiat's father, the committee reviewed more than 2,000 works of art between 1994 and 2012. Fake Basquiat works began to pop up everywhere, and it became the mission of the committee to authenticate items.
Basquiat's life was the subject of a 1996 biopic directed by Julian Schnabel and starring Jeffrey Wright, as well as the documentaries "Jean-Michel Basquiat: Radiant Child" produced by Basquiat's friend, Tamra Davis, and 2017's "Boom for Real: The Late Teenage Years of Jean-Michel Basquiat."
Jean-Michel Basquiat's work continues to command high prices, and gallery shows are staged around the world, including at London's Barbican through early 2018.
We remember Jean-Michel Basquiat in recognition of his many astounding artistic accomplishments, and thank this highly talented creative explorer for his many contributions to the arts, and to our community.