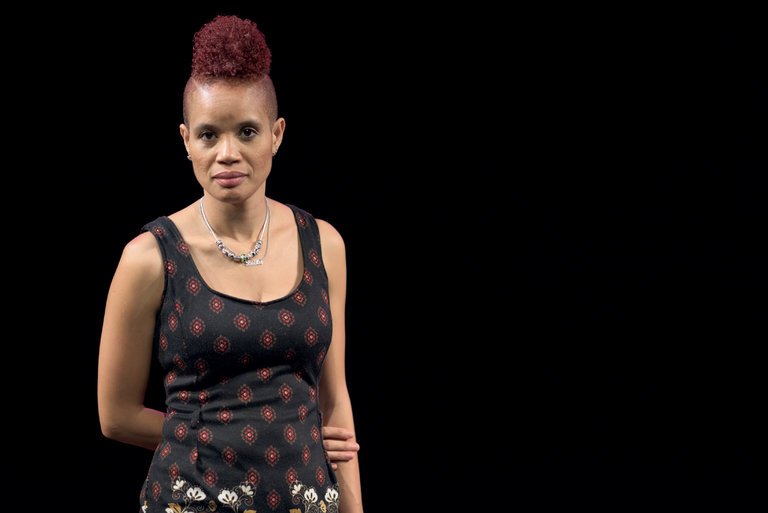 Staceyann Chin
Photo: Loren Wohl for The New York Times
Staceyann Chin was born on December 25, 1972. She is a highly respected spoken word poet, performance artist, and an LGBTQ rights and political activist. Her work has been featured in the "New York Times," the "Washington Post," and the "Pittsburgh Daily," and her appearances include "60 Minutes," "Showtime at the Apollo," and "The Oprah Winfrey Show," where she discussed the challenges of growing up gay in Jamaica.
Staceyann Chin was born in Lottery, Jamaica, on Christmas Day. No one was aware that Chin's mother was pregnant until the baby—dangerously small—was delivered on the floor in the home of Chin's grandmother. She came into the world unwanted by an Afro-Jamaican mother who fled to Canada, and without her Chinese-Jamaican father around. Chin's deaf and illiterate grandmother raised her and her older brother, Delano, but when Chin was nine, their mother returned from Canada to reclaim her children. Chin spent the remainder of her youth in an unfamiliar and dysfunctional home in Paradise, Jamaica, dividing time between relatives and boarding school. She graduated from Mount Alvernia High School in Montego Bay.
Of her biracial Chinese-Jamaican and African-Jamaican heritage, Chin humorously stated, "I identify with all of [my ethnicities], but I understand that I am only part of some things…and I don't fully belong to anything. But that's okay, you know? Being a mutt gives you access to worlds unlimited."
Being abandoned by her mother and not having a father who would claim her as his own would later inform Chin's writing, and make her more resilient and have a larger worldview. On top of those struggles, Chin discovered she was attracted to women during her college years, and came out as a lesbian in Jamaica; she was sexually assaulted by twelve boys. She eventually relocated to New York City, where she made new friends, and began writing poetry in a café on the Lower East Side of Manhattan.
An out poet and political activist since 1998, Chin made her mark on the arts scene in New York City. In addition to performing in and co-writing the Tony-nominated "Russell Simmons Def Poetry Jam" on Broadway, Chin has appeared in Off-Broadway one-woman shows and at the Nuyorican Poets Café, and has held poetry workshops worldwide. Chin is quick to say her activist life began with a fury of performance poetry. She was the winner of the 1999 Chicago People of Color Slam; first runner-up in the 1999 Outright Poetry Slam; and winner of the 1998 Lambda Poetry Slam, the 1998 and 2000 Slam This, and WORD: The First Slam for Television. She was a finalist in the 1999 Nuyorican Grand Slam, and also took the American Amazon Slam title in Aarhus, Denmark, in 2000.
Chin's poetry can be found in her first chapbook, "Wildcat Woman," and featured in "Stories Surrounding My Coming" and numerous anthologies, including "Skyscrapers, Taxis and Tampons," "Poetry Slam," "Role Call," and "Cultural Studies: Critical Methodologies." Chin's voice can be heard on CD compilations out of Bar 13 NYC-Union Square and Pow Wow productions.
In 2009, Chin published her autobiographical novel, "The Other Side of Paradise—A Memoir," to widespread acclaim and praise from critics. It's an inspiring and moving account of how a girl born into denial and contempt grew up resilient, sane, and full of purpose.
Staceyann Chin's "activist driven" work has garnered praise in various publications. Her one-woman show, "Border/Clash," received glowing reviews for both its humor and insight. She has also been featured by public access television cable TV programs in Brooklyn and Manhattan, as well as many local radio stations, including WHCR and WBAI. The Joseph Pap Public Theater has featured her on more than one occasion, and she has toured internationally, with performances in London, Denmark, Germany, South Africa, and New York's own Central Park SummerStage.
Staceyann Chin has been a host on Logo TV's "After Ellen" internet show, "She Said What?" and a co-host of Centric's "My Two Cents." In 2009, she performed in "The People Speak," a documentary feature film that uses dramatic and musical performances of the letters, diaries, and speeches of everyday Americans, based on historian Howard Zinn's "A People's History of the United States."
In 2011, Chin announced that she was pregnant with her first child through in-vitro fertilization. In addition to writing for the "Huffington Post" about her experiences as a pregnant, single lesbian mother, her struggles to become a parent became the subject of her 2015 one-woman show, "MotherStuck!"
In 2015, Chin was named by Equality Forum as one of its 31 Icons of the 2015 LGBT History Month.
Chin is a longtime resident of Crown Heights, Brooklyn, where she lives with her daughter, Zuri.
We thank Staceyann Chin for her empowering poetry and writing, her moving advocacy, her inspiring resilience and determination in the face of challenges, and for her many contributions to our community.