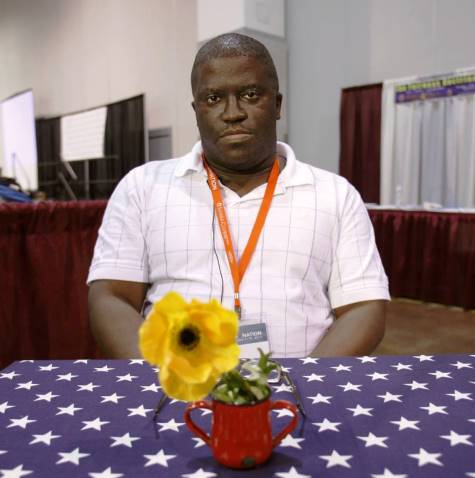 Alvin A. McEwen
Alvin A. McEwen was born on January 18, 1971. He is a prolific LGBTQ writer, blogger author, and activist widely respected for his role in exposing the hate and harm of religious extremists.
Alvin A. McEwen was born in Columbia, South Carolina, and attended A.C. Flora High School in Forest Acres, South Carolina, where he graduated in 1989. While in high school, McEwen served as the student body vice president, editor of the school newspaper, and as both president and captain of the quiz team. In the summer of 1988, McEwen was selected to attend the South Carolina Governor's School for the Arts in the field of creative writing.
Following high school, McEwen enrolled at Winthrop University, and obtained his Bachelor of Arts degree in mass communication with a print journalism emphasis and a minor in history. He was an editor of the campus's minority publication, "The Roddey McMillan Record," and was a proud fraternity brother of the Epsilon Eta chapter of Pi Kappa Phi. In addition, McEwen was the two-time recipient of the Winthrop University Mass Communication Leadership Award, and received a South Carolina Press Association Award.
McEwen is a prolific writer with bylines in the "Huffington Post," "Salon," "Pam's House Blend," "Alternet," "Daily Kos," "Firedoglake," and "LGBTQ Nation." He also has mentions on americablog.com, goodasyou.org, People for the American Way, pageoneq.com, CNN.com, "The Washington Post," "Media Matters for America," crooksandliars.com, thinkprogress.org, "Andrew Sullivan's Daily Dish," "Newsweek," "Daily Beast," and foxnews.com.
Alvin A. McEwen is the blogmaster of Holy Bullies and Headless Monsters, his highly respected blog which he began in 2006, and he is the author of the online publication, "How They See Us: Unmasking the Religious Right War on Gay America," published in 2013 (get your copy here: https://howtheyseeus.wordpress.com/). These two projects, as well as a vast majority of McEwen's work, deal with how anti-gay groups spread blatantly dishonest propaganda about the LGBTQ community.
"I cover this issue because I don't think it gets the attention it deserves," McEwen said. "I have seen on so many occasions over the years how fake Christian groups accuse the LGBT community of being pedophiles, or disease-ridden folks consumed with having lots of sex. And they accuse the community of wanting to jail Christians. These groups rely on lies, junk science, or cherry-picked research, and quotes to give their lies some credibility. And for some reason, there has not been much talk on the subject. It's something which distresses the hell out of me."
In his community, McEwen has remained very active. For six years, he was a board member of South Carolina Pride, and was a co-founder of Palmetto Umoja, the first South Carolina group to deal with issues regarding LGBTQs of color. For several years, McEwen was a board member of South Carolina Black Pride, and is presently a board member of the Harriet Hancock LGBT Center board.
In June of 2009, McEwen became the first gay man of color to address LGBTQ issues on the editorial pages of "The State," South Carolina's largest newspaper. He is the 2007 recipient of the Harriet Daniels Hancock Volunteer of the Year Award, the 2010 recipient of the Order of the Pink Palmetto from the SC Pride Movement, and the Audre Lorde/James Baldwin Civil Rights Activist Award from South Carolina Black Pride in 2009. In addition, McEwen is a three-time nominee of the Ed Madden Media Advocacy Award from South Carolina Pride. In 2014 and 2015, McEwen's blog received a GLAAD nomination for outstanding blog, an honor he won in 2017. The blog also received the Pride Index Esteem Award for Outstanding Blog (2015).
Alvin A. McEwen has encountered discrimination on both aspects of his identity. "The LGBT of color community gets short changed so many times by both communities," according to McEwen. "The Black community on a whole won't talk about us unless it's to chastise us for being gay. And it's a matter of hypocrisy there. It wasn't that long ago that racists used the Bible to keep Black folks as a second class. Any African-American who forgets that, while attacking gays, are woefully ignorant of their own history. Now the LGBT community itself has a problem with cliques and such. I've been discriminated against because of my color and even my geographical location."
McEwen adds, "My biggest problem is that folks in the LGBT community don't know how to deal with me. So many are used to the stereotype of the Black gay male, which is either uber macho or uber feminine. I'm a bit more cerebral and pragmatic, so folks in the gay community sometimes don't know how to deal with me. And that's a problem when it comes to people who read my work. They can embrace the work if it's done by a stereotypically Glee-look-a-like gay guy who may live in D.C., New York, or CA. But it seems that a Black, Woody-Allenesque type gay man such as myself, has to work harder to get that same credibility."
McEwen loves reading "useless trivia" and history, and says that he's fascinated by history because it's like a soap opera, but with more at stake. He also enjoys reading about creepy things like female serial killers, which are more fascinating than males because they generally commit crimes for a purpose rather than a connection to their insanity. McEwen also likes to pick up "The Art of War," the Chinese classic book of strategy by Sun Tzu. "If more LGBTs read that book, we could move closer to equality," said McEwen.
In his free time, McEwen takes in old episodes of "Alfred Hitchcock Presents" or the "Alfred Hitchcock Hour" on YouTube. He's also a collector of action figures. "I've got boxes full of loose ones. I don't believe in saving them in the package. What's the use of buying toys to simply save them in their package. Open those suckers up," he said gleefully.
Alvin A. McEwen is deeply committed to his work, and finds little time these days for an active social life. The research and writing take up much of his life when he isn't working the full time job that makes his research and writing possible. He is always looking for new ways to keep his work new and fresh, which is great for those of us who appreciate his sometimes challenging work.
The legions of religious extremists have no shortage of bloggers and pastors eager to attack the LGBTQ community with lies and disinformation. On the side of truth and fairness, we have Alvin McEwen rebutting those legions of liars, and almost singlehandedly keeping their toxicity in check. He is often quoted as saying, "Lies in the name of God, are still lies."
McEwen's goal is to continue his crucial work, considering it his mission to engage the world in discussions about anti-gay propaganda. He's often frustrated to watch the LGBTQ community agitated over a celebrity's comment or gossip, but won't talk about, or don't know about policies and actions that are impacting their lives. "What Tom Daley and Dustin Lance Black are doing don't mean a thing to me. But having someone cause my community problems because some fool makes them think that gays are trying to put pastors in jail is a problem that we need to take care of, not laugh at," McEwen stated.
We thank Alvin A. McEwen for his life-long commitment to exposing the hate and harm of extremists, for his brilliant research and commentary, and for his many loving contributions to our community.