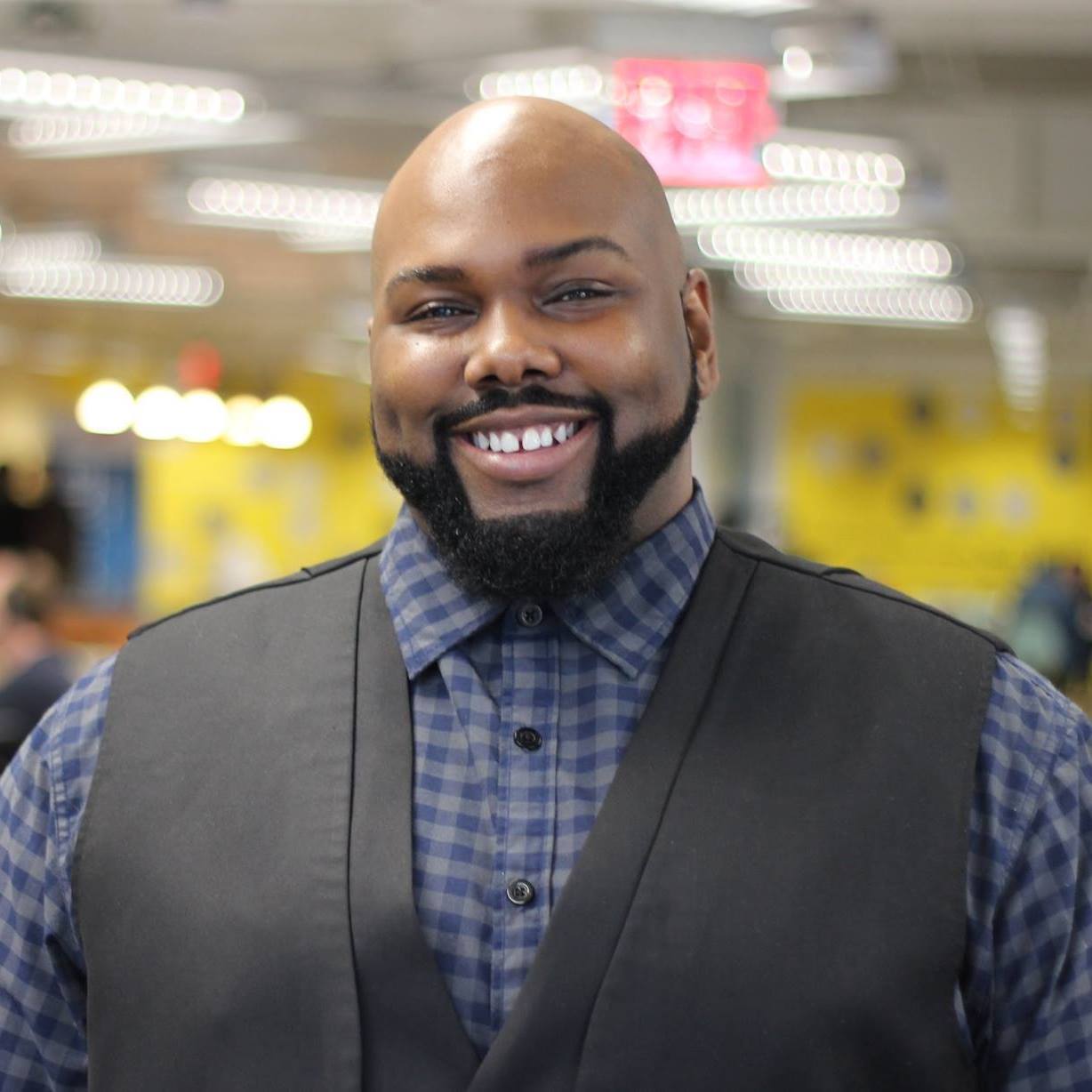 L. Michael Gipson
L. Michael Gipson was born on January 18, 1975. He is a writer, researcher, advocate, cultural curator, and arts critic who has served in the fields of music and literary criticism, education, HIV/AIDS, adolescent reproductive health, as well as youth and community development programming on the local, state, and national levels for more than twenty years.
L. Michael Gipson is a native of Chicago, Illinois, and lived there with his mother and siblings before he joined his father, a military intelligence officer, in Wiesbaden, Germany, where he excelled as an honor student. After returning to the United States when he was 16, Gipson came out to his family, and was subsequently kicked out of his home.
Situationally homeless but resourceful, a teenaged Gipson found an apartment with friends, and worked at various service positions to support himself. He was young, handsome, and athletic, and soon learned that commercial sex was his most marketable commodity. His life on the streets and the clubs was tempered by legitimate service jobs he held to make ends meet, in addition to his side hustles. One of those jobs was at a popular Chicago cafe where he met two dynamic Black doctoral candidates who saw great potential in 18-year-old Gipson, and began to mentor him.
This was an important turning point in L. Michael Gipson's life. At the time, he was attending Harold Washington College as a theater major. His mentors introduced him to a new world of Black LGBTQ writers, artists, and critical thinkers from all over the country, leading to his eventual departure for Washington, DC at age 19. After his initial visit, Gipson saw the potential that this largely affluent, Black metropolis held, and moved six weeks later.
After a brief stint as a go-go boy at the Edge Night Club, Gipson soon left commercial sex work. His involvement in DC's gay community increased through such organizations as the DC Coalition of Black Gays and Lesbians (DCCBGL), where he served in leadership positions. It opened him up to a new world of activism and advocacy at a time when HIV and AIDS were capturing public concern across America. A pioneer with Keesler and Ronald King at Whitman Walker Clinic, Gipson co-created S.I.M.B.A. (Safe in My Brothers Arms), an innovative home party-based HIV prevention initiative that targeted Black gay/bi men. He also simultaneously worked on urban youth issues at community centers. In 1997, in recognition of his efforts, Gipson was named Youth Activist of the Year by DCCBGL.
L. Michael Gipson transitioned from community to national work, and enrolled in the University of the District of Columbia (UDC) as a sociology major. He would eventually go on to graduate with a Bachelor in Fine Arts degree in creative writing from the esteemed liberal arts school Goddard College, in Vermont. In 2014, Gipson graduated with honors from Full Sail University with a Master's of Science degree in instructional design.
While in his 20s and still a student at UDC, Gipson served in various positions with three major national non-profit organizations, each better than the last. At the Human Rights Campaign, he was tasked with increasing membership, engaging in political education, and canvassing at various Pride celebrations around the country. Gipson went to work at Advocates for Youth, where he focused on young women of color and LGBTQ youth of color. He addressed health issues as a national trainer, and served as a developer of white papers, issue briefs, and fact sheets for activist and academic use.
After two years, Gipson accepted a position at the National Youth Advocacy Coalition under a Ford Foundation grant. He directed racial and economic justice programming and policies for the LGBTQ youth agency, and focused his efforts as a project officer on minority LGBTQ parity, representation, and inclusion in their youth agencies and local LGBTQ youth rights agendas.
It was during this time that Gipson participated as a model and spokesperson for one of several safer sex campaigns across the North and Southeastern regions, including the Washington, DC "DC Does It" campaign. His participation became very popular as he presented a new type of young, Black, HIV-negative activist focused on AIDS prevention, and he was seen as an important role model in the DC youth and young adult community.
During his early years in DC, Gipson became partners with James Jones IV, who served as the long-time R&B and jazz critic for "USA Today." Jones died tragically in 1996 due to complications related to AIDS when Gipson was only 21. His partner's untimely death at age 34 proved a catalyst for Gipson's enduring commitment to causes related to HIV/AIDS, and fostered his interest in music, literary, and film criticism.
After serving the DC community for eight years, Gipson moved to Cleveland, Ohio, and founded LMG Consulting Inc. (which would later become Faithwalk Enterprises, LLC). While in Cleveland, Gipson worked with BlackOut Unlimited on its Club 1722 Youth program, and in 2004, he co-founded the Beyond Identities Community Center (BICC), a multi-focused LGBTQ youth of color drop-in center to serve the developmental, social service, and sexual health education needs of more than 3000 minority youth. During Michael's tenure with BICC, he led several social marketing campaigns, directed youth theatrical productions, and produced short films like "Destinies Fulfilled" to educate LGBTQ youth about AIDS, but also highlight issues like youth molestation and sex work.
Before leaving Cleveland in 2006, Gipson served as the director of education for the AIDS Taskforce, the largest AIDS service organization in Ohio. Using his grassroots and national experience, he left to work for the DC Department of Health HIV/AIDS Administration as a senior administrator, where he developed a multi-year strategic plan to reduce HIV among District youth by thirty percent over three years.
Gipson left government work in 2008 to work full time as a consultant to area nonprofits and government agencies on youth development, public health, writing products, and a range of organizational development needs. In the autumn of 2010, he landed the executive director contract for the Washington Area Lawyers for the Arts (WALA), where he presided over a 30-year pro bono arts law institution supported by a small but dedicated staff, and a virtual army of creative entrepreneurs and legal services volunteers. Gipson left that position to pursue advocacy and public policy issues closer to his home in Michigan.
In 2014, Gipson moved to Detroit, Michigan, in the hopes of launching a new non-profit as part of that comeback city's revitalization movement. In November the following year, he accepted a position as deputy director of Equality Michigan, an important statewide advocacy group, whose crucial work was a good fit for Gipson's lifelong commitment to justice and equality.
Gipson's most recent venture is Faithwalk Enterprises, LLC. Faithwalk is a training, writing, and organizational development firm. Through Faithwalk, Gipson and his team have instituted research projects resulting in two Faithwalk generated manuals for clients, including "Transitioning HIV Positive Youth Into Adult Care" and "HIV/AIDS: What You and Your Community Can Do (A Guide to Building HIV/AIDS Services)," the latter developed for the federal Office of HIV/AIDS Policy.
Faithwalk clients have included: Altarum Institute, MetroTeen AIDS, Children's National Medical Center, Religious Coalition for Reproductive Choice, Black AIDS Institute, National Minority AIDS Council, AIDS Healthcare Foundation, Community Education Group, and the Dr. Lonnie E. Mitchell Behavioral Academy. Sub-contracting relationships have also resulted in report writing for the Centers for Disease Control and Prevention.
Gipson is the co-founder of the Black Alphabet Film Festival in Chicago (the city's first Black LGBTQ film fest), co-producer and lead writer for the 3919 Filmworks documentary film production team, and founder of Urban (W)rites, a partnership with the University of Michigan Prison Creative Arts Project. Gipson also has served on the board of directors for Chicago's Black Gay Men's Caucus.
As an author, Gipson's short stories, essays, and speeches have been published in several anthologies, including: "Poverty & Race in America: The Emerging Agendas" (Lexington Books); "Health Issues Confronting Minority Men Who Have Sex with Men" (Springer); "Mighty Real: An Anthology of African American Same Gender Loving Writing" (LuLu); "For Colored Boys Who Have Considered Suicide When The Rainbow Is Still Not Enough" (Magnus Books); and "From Us To You With Love: Black Men Writing About The Black Women They Love." His own debut short story collection is entitled "Collisions: a Collection of Intersections." Gipson also wrote and co-produced the documentary film short, "Indie Soul Journeys," which debuted at the 7th Annual Metropolitan Film Festival of New York City in December 2016.
As a journalist and cultural critic, his work has appeared in "Clik," "Pulse," "Arise," "Pride," "Amplify," "SWERV," "Urban Dialect," "Port of Harlem," "Gay People's Chronicle," "Lambda Literary," and Creative Loafing Atlanta. After serving as the music editor for 10 years, Gipson is now editor-at-large of soultracks.com. Gipson also premiered as the first Soul Sessions blog leader at BET/Centric for a year. He has written album liner notes and artists bios for E1 Entertainment, Kedar Entertainment, Soulspazm Records, Big Break Records, and Purpose Music Group, among others. Gipson has also managed the Baltimore-based soul act, Marcell & The Truth, and the Berkeley hip-hop artist/academic, rep life.
Gipson is deeply appreciated and respected as a blogger who publishes a popular daily microblog, "The Gipson Gazette," where he and over 6000 followers talk about film, music, culture, politics, and anything else that interest him and his readers that day.
For several years, Gipson was heard as a weekly guest commentator on the UK-based "Dave Brown Radio Show" on Solar/Sky Network Digital Radio, and on the weekly syndicated JL Jamz. Currently, he is a frequent guest commentator on the weekly sociopolitical podcast "Leading Questions with Calvin Moore."
Gipson makeshis home in Detroit.
We thank L. Michael Gipson for his remarkable leadership, for his impactful writing, for his compassionate energy, and for his many contributions to our community.