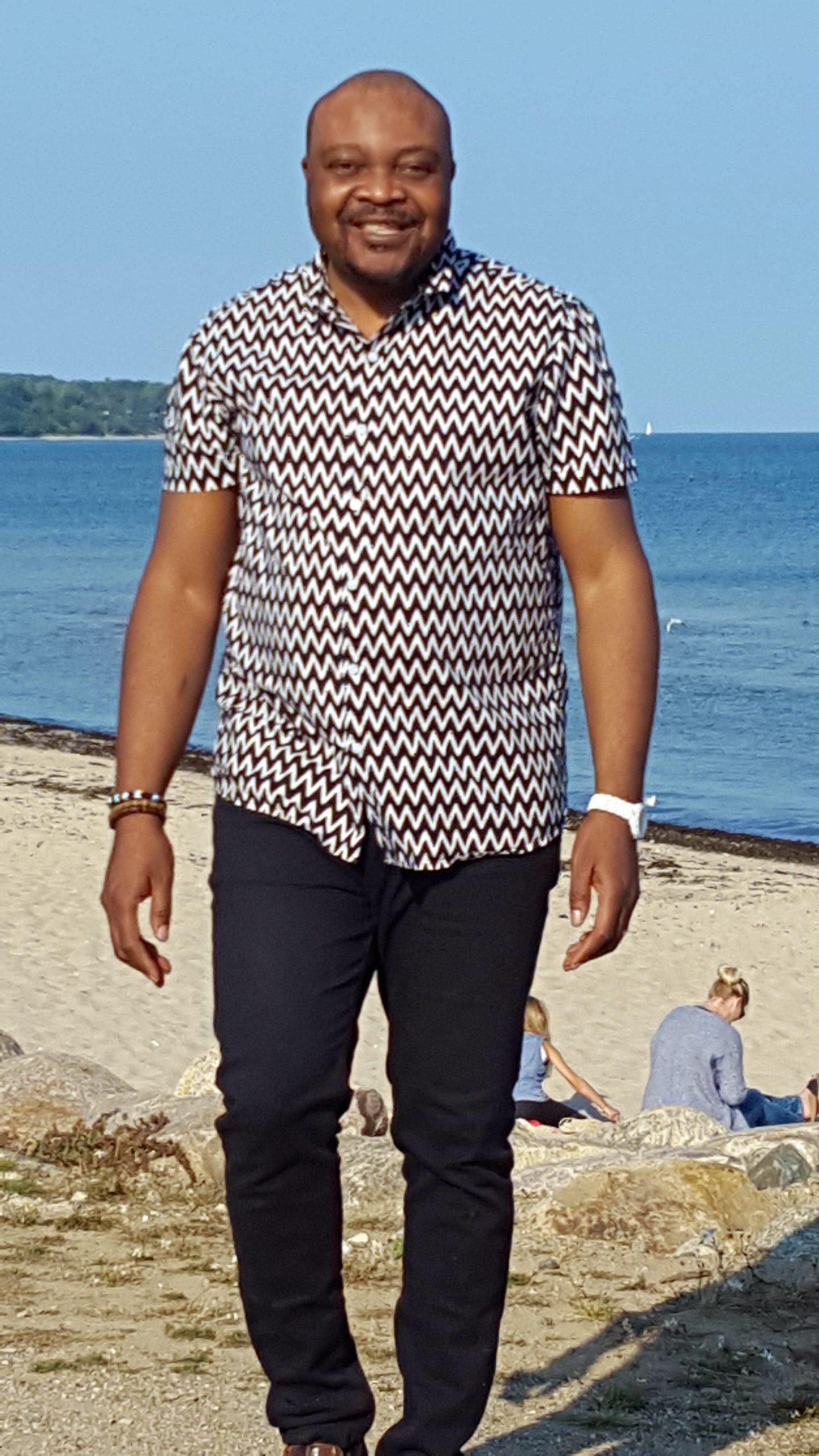 Davis Mac-Iyalla
Davis Mac-Iyalla was born on January 19, 1972.  He is a respected LGBTQ advocate, faith leader, teacher, and human rights defender.
Davis Mac-Iyalla was born in Port-Harcourt, Rivers State, Nigeria. He was baptized and confirmed in Saint Andrew's Anglican Church in Bakana, Nigeria, and attended primary and secondary education there. He enrolled in Teachers Training College in Degema, Nigeria. While in school, Mac-Iyalla was active in swimming and singing in the choir.  He was awarded the Best Punctuality Student of the Year award.
As a child, Mac-Iyalla's social circle included both boys and girls, but he gradually realized that he felt more affection toward boys. There was one in particular who was attracted to Mac-Iyalla, and they became friends. After school and during vacation, the pair visited one another, and found that they enjoyed being alone together. It was with him that Mac-Iyalla had his first intimate experience.
Davis Mac-Iyalla remembers occasionally hearing a church sermon which mentioned homosexuality, but his gay Christian friends told him the preacher had misinterpreted the Bible, so he did not think there was any conflict between his sexuality and what he was hearing from the pulpit. From his own study of the Bible, Mac-Iyalla concluded that homosexuality was neither sinful nor unnatural, but something intrinsic within him, and a fundamental part of his being with which he was born.
Mac-Iyalla began his career as a primary school teacher, and served in that capacity for nearly ten years. He later left Port-Harcourt to work with Bishop Ugede in the Nigerian Anglican Dioceses of Otukpo. At this point, Mac-Iyalla was principal of St John's Anglican Secondary School in Oturkpo, and administrative assistant to the Bishop. In July of 2005, a friend introduced Mac-Iyalla to Changing Attitude England, a group working for the full affirmation and inclusion of LGBTQ people within the Anglican Church.
In 2005, Davis Mac-Iyalla was arrested, imprisoned, and tortured by the police in Abuja for speaking out against the government and the Nigeria Anglican Church for their treatment and policies against their homosexual citizens. Once he was released from police detention, Mac-Iyalla fled Nigeria and went to the West African nation of Togo, hoping that it would be safer. He continued to receive death threats while living there, including a serious threat that was delivered to his door. Mac-Iyalla decided to flee Africa after he was violently attacked in the street in March of 2008. He was stabbed in the hand, and still bears those scars as a constant reminder of the danger those who are same-gender loving face in that part of the world.
Mac-Iyalla would relocate to England, a place he enjoyed visiting while living dangerously as a gay man in Nigeria. He was, at that time, advocating for change through Changing Attitude Nigeria, which he founded in 2005. He put his life on the line more than once, by standing firm in the face of direct and serious death threats. Mac-Iyalla's insistence that Nigeria's LGBTQ citizens be treated with respect and equality was met with stiff and sometimes violent resistance.
In spite of protests from Nigerian activists and human rights defenders, the Same Sex Marriage Prohibition Bill 2013 was signed into law on January 7, 2014. The measure had been opposed by Mac-Iyalla and others since 2006. The new law not only penalizes any Nigerian who enters into same-sex marriage with 14 years in prison, it punishes any person who registers, operates, or participates in gay clubs, societies, and organizations directly or indirectly, and makes any public demonstration of a same-sex amorous relationship in Nigeria. "This is the worst kind of human rights abuse; I am calling on the world to join us in the fight for equality and human rights. This draconian law needs to be removed and all anti-gay laws decriminalized in Nigeria," said Mac-Iyalla.
In May of 2014, Mac-Iyalla released his personal life story, "Fiyabo" (which means "survivor"), in response to the new law and the danger it brought to the LGBTQ community.
In addition to his service as the founder of Changing Attitude Nigeria, Davis Mac-Iyalla is a board member of a housing association in London that provides accommodations for single homeless people. He is also an elected Parish Council Member of Saint Thomas Finsbury Park in London. In that role, Mac-Iyalla contributed a chapter to the book "Rebuilding Communion, Who Pays the Price?" He continues to be a prolific online writer.
Mac-Iyalla founded the Interfaith Diversity Network of West Africa (IDNOWA) in 2016, a platform to raise awareness about the sad realities of LGBTQ persons in West Africa. IDNOWA aims to lobby at the grassroots level to the international community to make a greater effort to promote respect for human rights in West Africa. It is guided by the mission of truth, equality, love, and respect for all people.
In February of 2008, Davis Mac-Iyalla received the Bishop Desmond Tutu Award for Human Rights and Social Justice from the World Pride and Power Organisation. The honor reflected his tireless efforts over the course of fifteen years to advocate for LGBTQ Africans in the face of significant opposition from government and religious organizations.
Mac-Iyalla met his beloved partner, Olivet, in 2016, and ever since the two have been "building their relationship together in love."
We thank Davis Mac-Iyalla for his courageous activism, his tireless fight for human rights, and for his loving support of our community.