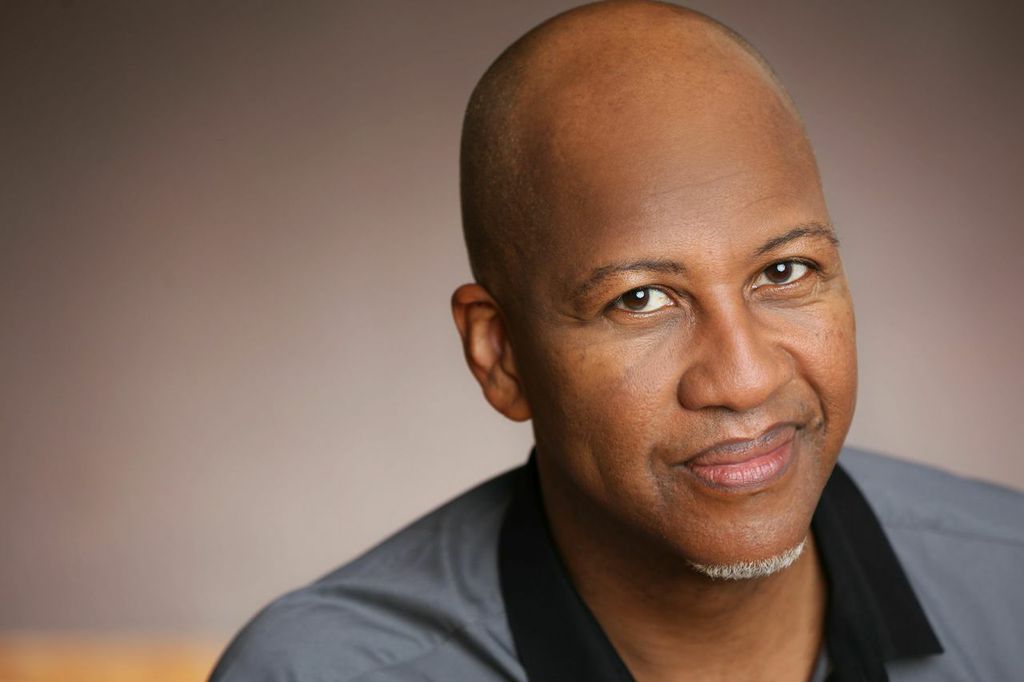 Djola Branner
Djola Branner was born on January 22, 1957. He is a celebrated theater artist and educator whose passion for integrating text, music, and dance as theatrical language has defined his methods in the classroom and studio, as well as in his approach to creating original drama.
Djola Bernard Branner, whose first name means "share the wealth" in Yoruba, was born in Los Angeles, California, to Henry Homer Branner, a house painter and musician, and Sadie Leora Branner, a homemaker who would work in, and eventually retire from, the aircraft industry after her divorce.
Branner graduated from Gardena High School in 1974, went on to attend the University of California at Riverside, and then matriculated at the University of California at Santa Cruz (UCSC), where he graduated with his bachelor's degree in psychobiology. His undergraduate degree was followed by a decade of soul searching—of traveling, journaling, working at a series of part-time jobs, studying dance, literature and creative writing, journaling some more, and developing what would become his own idiosyncratic approach to theater making.
Branner attended graduate school, earning his Masters of Arts degree in creative arts/interdisciplinary studies from San Francisco State University, and moved to New York to attend the Actors Studio Drama School and the New School for Drama, where he obtained his Master of Fine Arts degree in playwriting.
In the wake of the gay rights movement, Branner found himself at the University of Santa Cruz, where the critical inquiry into issues of race, gender, sexuality, culture, and class was alive and kicking. Coming out as gay opened Branner to several parts of himself that had been latent, including his path as an artist. It would be nearly a decade before he connected to other gay men of African descent, but his experiences on that college campus proved pivotal to his awakening as an artist, as well as a young man.
Branner's twenties and thirties were marked by his involvement in the poetry and dance scenes in San Francisco. Some of his biggest poetic influences were Ntozake Shange, June Jordan, and Langston Hughes. He also had the privilege of meeting and working with Black, gay luminaries Joseph Beam, Essex Hemphill, Assoto Saint, Steve Langley, Colin Robinson, and Marlon Riggs in the 1980s. Those experiences would shift the course of his life's work.
Branner would contribute to three seminal anthologies, "In the Life," "The Road Before Us," and "Here to Dare," and appear in three of Marlon Riggs' iconic films: "Tongues Untied," "Affirmations," and "Black Is, Black Ain't…" Branner's dance teachers included masters Blanche Brown, Jean Leon Destine, and, during her frequent trips to the San Francisco Bay area, Katherine Dunham. Ultimately, Branner would teach, choreograph, and perform Haitian dance for twenty-five years in private studios, including two in Barcelona, at City College of San Francisco, and at Stanford University.
Djola Branner's theatrical trial by fire came in 1990 with the formation of Postmodern African-American Homosexuals (better known as Pomo Afro Homos), a performance troupe he co-founded in San Francisco with Brian Freeman and Eric Gupton. Together, they would write and perform "Fierce Love: Stories from Black Gay Life" and "Dark Fruit," each show addressing the historic absence of three-dimensional Black, gay men in the theater. Their groundbreaking productions would tour nationally and internationally, garnering multiple grants and awards, and opening doors for other marginalized performers such as Craig Harris, Adodi Muse, and Deep Dick Collective. As the work gave voice to individuals historically absent from pop culture, media, and contemporary theatre, it would also permanently align Branner's art with community activism.
Pomo disbanded in 1994, and Branner moved to Minneapolis, Minnesota, where he began writing his own original work and performing in regional theatres. The list of his original plays produced in Minneapolis include "Sweet Sadie," "Homos in the House," "the house that crack built," and "Mighty Real: A Tribute to Sylvester." The list of regional acting credits is long, but favorite roles include Guy in Pearl Cleage's "Blues for an Alabama Sky," the preacher in Langston Hughes' "Black Nativity," and Doctor Gombo in Sharon Bridgforth's "blood pudding." Branner would garner multiple grants and awards for his work, including the prestigious Bush Foundation Fellowship for Performance Art in 2000.
Djola Branner is currently a full professor of theater at Hampshire College, part of a five college consortium in western Massachusetts, where he teaches playwriting and performance. His tenure at Hampshire began in 2007, and he was recently honored for ten years of service to the academic community. Branner's position allows him to integrate all of his training and experience, from his eclectic training as a poet, dancer, and choreographer, to his ground-breaking work as an actor and playwright. In the classroom and studio, he invites students to dramatize their own life experiences, and combine text, movement, and music as theatrical language.
Branner's most recent work continues his mission by pushing the boundaries of theatrical form, and giving voice to individuals historically absent from the stage. His first collection of plays, "sash & trim and other plays," published in 2013 by Lambda Award-winning RedBone Press, lends credence to this vision. As E. Patrick Johnson (who penned the introduction) states: "Djola Branner's first collection of dramatic work takes the reader on a journey through blackness and queerness in ways that stretch the imagination and chronicle the history of black peoples in the diaspora."
RedBone Press publisher Lisa C. Moore saw a gap between queer literature and Afro-centric literature, and has spent the better part of the past two decades addressing that gap. Her impressive roster of writers includes Samiya Bashir, Marvin K. White, Sharon Bridgforth, Ernest Hardy, and now, Djola Branner, whose work aligns perfectly with Moore's mission. Their collaboration has allowed Branner to continue pushing the boundaries of the contemporary American canon of dramatic literature, and simultaneously affirm his experience as a Black, gay man. Publication also affords him the opportunity to engage with Black and LGBTQ communities in very conscious and deliberate ways.
According to Branner, artists who continue to inspire and challenge him include: "Daniel Alexander Jones for sheer savvy; Sharon Bridgforth for beautiful/radical art grounded in her personal conversation with the ancestors; Barak Adé Soleil for utter fierceness; the late, great Laurie Carlos for innovation and sustained engagement; Kym Moore for bridging art and academia; Lisa Kron for always pushing the boundaries of autobiographical drama; Andre Lancaster for opening the door for more Black queer protagonists; Rhodessa Jones for continuously aligning arts and activism; and Marcus Gardley for pulling the past into the present and beyond."  Branner says his life has been richer for knowing each of these artists.
Djola Branner's circle of family and friends is wide. He has folk in Los Angeles, San Francisco, Oakland, San Diego, Minneapolis, New York, Toronto, Vancouver, and Barcelona. He currently resides in western Massachusetts, where a small community of like-minded academics and artists support a collective vision truth of equity, particularly in these troubled times. And, yes, he says he still hates the devastating cold of New England winters.
We thank Djola Branner for his contributions to the theater, written word, and academia, and for his support of our community.